1.
Courtyard Boulder Longmont
1410 Dry Creek Drive, Longmont, CO 80503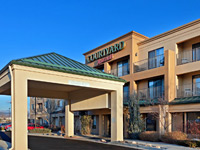 There are several new hotels along Dry Creek Road in southwest Longmont, near Twin Peaks Mall, including three adjacent properties from Marriott. For regular guests the main choice is the Courtyard, a handsome, 3 story building of 78 rooms that all feature the new, extra comfortable Marriott bedding, have free internet access, and are equipped with microwave/refrigerator. Most have a private balcony, looking out over the edge of the Rocky Mountains. Instead of the usual enclosed courtyard the hotel has an open garden area with gazebo, while interior facilities include a cafe serving breakfast only, a 24 hour business center, indoor pool & hot tub, and over 4,000 sq ft of conference space.

2.
Residence Inn Longmont/Boulder
1450 Dry Creek Drive, Longmont, CO 80503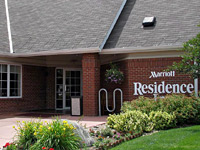 The best choice for extended stay or all suite accommodation in Longmont is undoubtedly the Residence Inn by Marriott. It has an easy-to-reach location just off Highway 119, the southwest approach to town - along a quiet side street but within 3 miles of all major sites including Twin Peaks Mall, Safeway Plaza, Boulder Country Fairgrounds and Longmont Airport. The rooms are exceptionally clean, and all have separate living/working/sleeping areas plus a full kitchen including a dishwasher. There are many restaurants nearby, but like all Residence Inns, both full breakfast and evening reception (Mon-Thu) are available free at the hotel. Leisure amenities are a pool, hot tub, fitness center and sports court. Meetings facilities are above average, with 6 rooms totaling 4,030 sq ft of space; largest single capacity 120.

3.
Hilton Garden Inn Longmont
470 S Martin Street, Longmont, CO 80501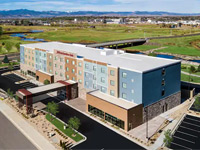 New for 2020, the Hilton Garden Inn is a south-central Longmont hotel, just off Ken Pratt Boulevard (Hwy 119) at the edge of a sizeable group of shops and restaurants; downtown is one mile north, I-25 six miles east. St Vrain Creek flows past close by, followed by a hike/bike trail. The 105 room hotel has a restaurant/bar (open for breakfast, dinner & evening drinks) on the premises, plus meeting space, an indoor pool and 24 hour fitness center.
4.
Hampton Inn Longmont
850 S Main Street, Longmont, CO 80501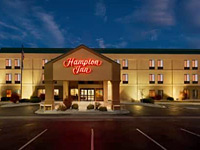 Hampton Inn Longmont is one of the smaller properties of this popular brand, with three floors and 62 rooms. The inn adjoins a shopping center that includes several restaurants and such stores as Staples, Lowe's and Ross, a few blocks south of the city center near the junction of US 287 with Hwy 119. Hotel highlights are the free hot breakfast (take-out version available), the mountain views from many of the rooms, the indoor pool and the spacious lobby, which has a fireplace and plenty of comfortable seating.

5.
SpringHill Suites Boulder Longmont
1470 Dry Creek Drive, Longmont, CO 80503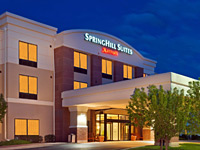 SpringHill Suites Boulder Longmont is the newest of a line of three adjacent Marriott hotels, and like the others (Courtyard and Residence Inn) it has a deserved reputation for excellent customer service, beautiful, clean rooms, a peaceful location, and relatively inexpensive rates. There are 90 rooms on offer - all studio suites containing a kitchenette area with microwave/refrigerator/sink, an extra sofa bed, and separate sections for working & living. A complimentary hot breakfast buffet is served each morning. Amongst the other facilities are a business center, meeting space, guest laundry, gift shop, fitness center, indoor pool and whirlpool. The hotel is 12 miles from Boulder and 3 miles from Longmont town center - alongside Hwy 119, near Twin Peaks Mall.

6.
Holiday Inn Express Hotel & Suites Longmont
1355 Dry Creek Drive, Longmont, CO 80501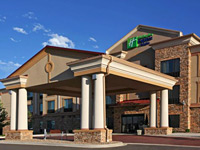 The Holiday Inn Express hotel in Longmont has established a reputation for cleanliness, good customer service and comfortable rooms. The hotel is part of an area of shopping and dining outlets at the southwest side of town just off Highway 119 from Boulder, within walking distance (half a mile) from the Twin Peaks Mall. Many of the rooms have views towards the Rocky Mountains in the west; all are nicely decorated and contain a microwave & refrigerator. The main leisure attraction is a sizeable indoor pool complete with 150 foot water slide, though the slide is only open 3 days a week. Other amenities are free continental breakfast, a hot tub, fitness center and business center.

7.
Candlewood Suites Longmont
1340 Dry Creek Drive, Longmont, CO 80503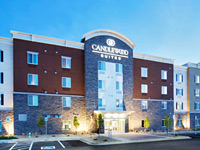 Candlewood Suites Longmont has an onsite convenience store where snacks and cookable meals may be purchased, and the hotel is within one block of over a dozen restaurants. Several large stores are also within walking distance, together with a 12 screen movie theater, part of Village at the Peaks. All guest suites include a full kitchen; other long stay facilities are a 24 hour laundry and a lending library. The 105 room hotel also offers a fitness center, free wi-fi, and a gazebo with bbq grills. The Candlewood Suites opened late 2016, situated on the southwest side of Longmont, along Hwy 119 from Boulder.

8.
Best Western Firestone Inn & Suites
11228 Business Park Circle, Firestone, CO 80504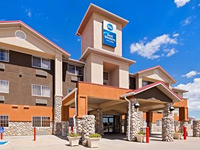 The Best Western hotel in Firestone, CO is part of a small group of lodging 6 miles east of Longmont next to I-25 (exit 240), in a lightly developed area close to the usual selection of fast food restaurants and gas stations but also within a couple of miles of Barbour Ponds State Park, which offers fishing, boating, picnicking and hiking. The 3 story hotel is quite new, and it contains 58 large, clean rooms (equipped with microwave/refrigerator), supported by a good range of facilities, principally free full breakfast, an indoor pool, fitness center, spa and business center. Denver city center and the international airport are both about 30 miles south, all along freeways.

9.
Fairfield Inn & Suites Longmont
1089 Hover Street, Longmont, CO 80503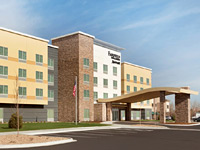 Fairfield Inn Longmont (open spring 2018) has a relatively quiet location along a side road west of Hover Street, close to the Hwy 119 intersection and Longmont Mall. There are numerous stores and restaurants within walking distance, and also a sports park. The 107 room hotel features a brightly decorated lobby and a dining area for the free hot breakfast, plus the usual facilities for business, meetings and leisure.

10.
Quality Inn Longmont
3815 State Hwy 119, Longmont, CO 80504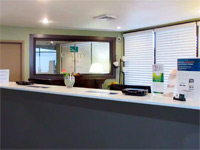 Free hot breakfast, free wi-fi, a business center and an onsite restaurant are the main amenities of Quality Inn Longmont, a two story, interior corridor hotel beside Interstate 25 at exit 240 (Hwy 119), close several other dining outlets. Guests are within walking distance of the lakes and trails of St Vrain State Park. All accommodations include a coffee maker, microwave and refrigerator. The city center is six miles west.

11.
Travelodge by Wyndham Longmont
3820 Hwy 119, Longmont, CO 80501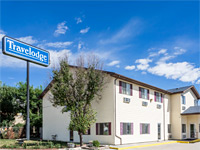 Rooms at the interior corridor Travelodge Longmont look out over a typical highway-side neighborhood of gas stations and fast food restaurants - at I-25 exit 240, seven miles east of the city center and about half way (20 miles) between Loveland and Denver. All guest accommodations contain a microwave, refrigerator and work desk, while the other motel amenities are an indoor pool, hot tub and lobby computer. Wi-fi and continental breakfast are complimentary.

12.
Econo Lodge Longmont
10811 I-25 Access Road, Longmont, CO 80504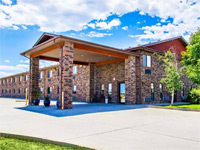 Another hotel east of Longmont alongside exit 240 of I-25, the Econo Lodge is quite a small but well maintained property of 50 east or west-facing rooms, located along the frontage road within a short walk of several restaurants. Better than average free continental breakfast is served, and the inn also provides an indoor pool, hot tub and guest laundry. The hotel is a popular stop for travelers from the east en route to
Rocky Mountain National Park
, entrance to which is 53 miles away.

13.
Super 8 by Wyndham Longmont/Twin Peaks
2446 N Main Street, Longmont, CO 80501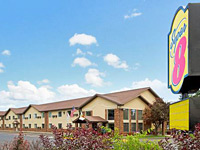 Super 8 Longmont/Twin Peaks provides the only chain lodging along the northern approach to town on US 287, located right at the edge of the suburbs at the intersection with Ute Highway, opposite Wal-Mart supercenter and near at least six restaurants. The motel occupies a small building surrounded by the parking lot, containing 64, refrigerator/microwave-equipped guest rooms on two floors, plus a business center and a dining area for the free continental breakfast. Wi-fi is also complimentary.

14.
Super 8 by Wyndham Longmont/Del Camino
10805 Turner Boulevard, Longmont, CO 80504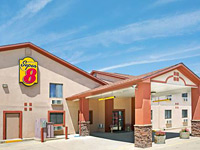 Super 8 Longmont is bordered by a residential estate to the west and a truck stop to the east, with I-25 just beyond; the interior corridor motel is accessed from exit 240 (Hwy 119) and serves interstate travelers more than visitors to the city, since the center lies 7 miles west. There are four restaurants close by and a few larger stores on the far side of I-25, including Home Depot. The Super 8 charges low rates and has a small number of amenities (free continental breakfast, guest laundry, lobby computer and free wi-fi).