1.
DoubleTree by Hilton Hotel Denver - Thornton
83 East 120th Avenue, Thornton, CO 80233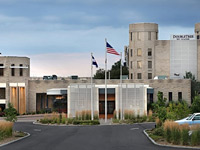 The DoubleTree by Hilton hotel in Thornton offers high quality accommodation with comfortable rooms and excellent customer service. The modern, full service property is located right next to I-25 at the 120th Avenue exit (223), a short walk from a good selection of restaurants and large stores. All day dining is available at the on-site restaurant, the meeting facilities can cater for events up to 300 attendees, while the many other facilities include free internet access, a 24 hour fitness center, well equipped business center, outdoor courtyard with fire pits, and an indoor pool/hot tub. The DoubleTree is 13 miles north of downtown Denver and 22 miles from the international airport.

2.
Staybridge Suites Denver North - Thornton
13719 Lincoln Street, Thornton, CO 80023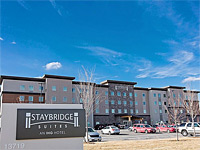 Open late summer 2020, Staybridge Suites Thornton enjoys a semi-rural location beside I-25 at the 136th Avenue exit (east side), 2.5 miles south of E-470, within walking distance of Thorncreek Golf Course and Thornton Premium Outlet Mall. There are several restaurants close by. All accommodations are suites, featuring a fully equipped kitchen. Free hot breakfast is provided each morning, and free receptions weekday evenings. A convenience store and fitness center are both open 24 hours.

3.
Hilton Garden Inn Denver/Thornton
14275 Lincoln Street, Thornton, CO 80023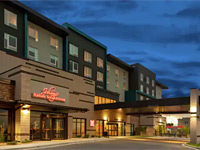 Hilton Garden Inn Thornton backs on to I-25 at the 144th Avenue exit, at the opposite quadrant from the Orchard Mall, and adjacent to several other restaurants and shops. The center of Thornton is three miles south, while downtown Denver is 15 miles away. The hotel has a restaurant on the premises, an Italian steakhouse (room service available), plus other amenities of a fitness center, hot tub, indoor pool and 4,000 square feet of function space. Accommodations comprise regular rooms and studio suites; most enjoy fine views of the Rocky Mountains. Snacks and sundries may be purchased from a 24 hour market.

4.
Holiday Inn Express Hotel & Suites Denver North-Thornton
12030 Grant Street, Thornton, CO 80241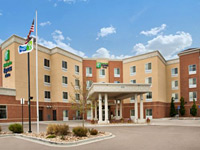 Facilities within a few minute's walk of the Holiday Inn Express in Thornton include a supermarket, a post office, a small mall, many restaurants and and a city park. The hotel sits just east of I-25 at the 120th Avenue exit, 13 miles north of downtown Denver, close to the districts of Northglenn and Broomfield as well as Thornton. Denver International Airport is 23 miles away. Deluxe free hot breakfast is served each morning; also available are an indoor pool, whirlpool, fitness center, business center and meeting space for up to 40 persons.

5.
Candlewood Suites Thornton
14362 Lincoln Street, Thornton, CO 80023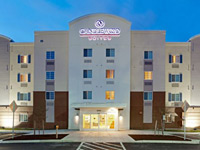 Candlewood Suites Thornton has an easily-reached location at the 144th Avenue exit of I-25, part of the Grove Shopping Center, and so within walking distance of a good selection of restaurants; more stores are close by on the far side of the interstate at Orchard Town Center. Denver International Airport is 23 miles east, mostly along E-470. The hotel offers 83 studio or one-bedroom suites featuring a work desk and a full kitchen. Laundry and wi-fi and complimentary. Snacks, drinks and meals may be purchased from the 24 hour convenience store, while grills in the outdoor gazebo provide an alternative cooking facility. The hotel also has fitness and business centers.

6.
SureStay Plus Hotel by Best Western Thornton Denver North
12101 Grant Street, Thornton, CO 80241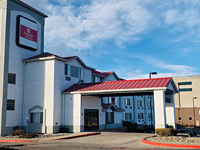 The SureStay Plus Hotel along Grant Street is one of a group of hotels either side of I-25 exit 223, on the border between the districts of Thornton, Northglen and Westminster, 15 miles north of downtown Denver. There are plenty of shopping and dining outlets nearby (including Thorncreek Crossing Mall), though also several lakes and parks. The three story hotel features 100 rooms, all generally small, clean, quiet, comfortable, and equipped with a refrigerator. Free full breakfast is served. For recreation the hotel has the usual three amenities of pool (saltwater), whirlpool and fitness center.

7.
Baymont by Wyndham Thornton
243 120th Avenue, Thornton, CO 80233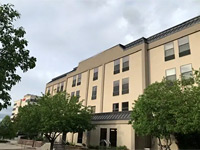 In Northglenn, north Thornton, the 78 room Baymont by Wyndham provides reliable, mid range accommodation to area visitors and travelers on I-25 which runs past just to the west - access is from exit 223 (120th Avenue). Facilities within walking distance include a city park, various restaurants and several stores including Target and Albertson's. Free hot breakfast is provided each morning, while wi-fi is also complimentary. Leisure facilities are the usual pool (indoor), whirlpool and fitness center.
8.
Motel 6 Denver - Thornton
6 West 83rd Place, Thornton, CO 80221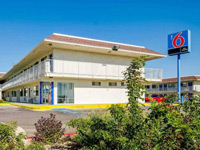 The Motel 6 in Thornton is centrally located in one of the main shopping areas of north Denver, within a few minutes of several popular outlets including North Valley Mall and the Thornton Center. The two story, exterior corridor building has a quiet location at the end of a side road alongside I-25 (by the 84th Ave exit), next to a couple of restaurants. Rooms look out either west towards a residential area or east over the outdoor pool and courtyard/parking lot. Wi-fi, guest laundry, cable TV and free coffee are the other amenities.