1.
Marriott Denver Airport at Gateway Park
16455 E 40th Circle, Aurora, CO 80011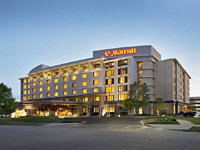 Recent renovations to all guest rooms have kept the Marriott Denver Airport at Gateway Park amongst the top hotels in the city, with modern features like flat screen HD TVs, iPod dock stations and granite countertops. The full service property occupies a sizeable site next to I-70 exit 285 (Pena Boulevard) - 12 miles from the airport, 12 miles from the city center & 14 miles from the Denver Tech Center - and amongst its many facilities are a restaurant/lounge (open for breakfast, lunch & dinner), a gift shop, fitness center, pool/whirlpool, and over 6,000 sq ft of meeting/event space. Like the other Marriott property opposite (the Residence Inn), a free shuttle is provided to the airport, 24 hours a day, departing every half hour.

2.
DoubleTree Hotel Denver Southeast
13696 East Iliff Place, Aurora, CO 80014-1319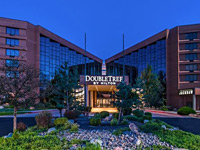 The full service, 248 room DoubleTree Denver Southeast enjoys a peaceful location at the Iliff Avenue exit of I-225, beside Heather Ridge Golf Club in a residential part of the city, close to several other golf courses & city parks, plus the more extensive natural landscapes of Cherry Creek State Park. The international airport is 18 miles north, all along freeways, while Denver Tech Center is 6 miles south. The on-site restaurant/pub (Fitzgerald's) is open for breakfast, lunch, dinner & evening drinks, and also provides room service until 11 pm. 14,000 sq ft of meeting space can accommodate events of up to 400 people. Guest rooms are available with microwave, refrigerator, sofa bed and living area.

3.
Residence Inn Denver Airport
16490 East 40th Circle, Aurora, CO 80011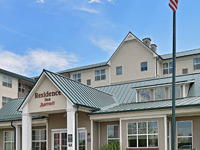 The Residence Inn of Aurora provides some of the highest quality accommodation near Denver International Airport, catering for both long stay guests and one night visitors in a beautiful, well equipped, four story building of 124 suites that all contain a full kitchen and separate areas for working, living & sleeping. A free 24 hour shuttle is operated to the airport, 12 miles northeast. The hotel benefits from the usual Marriott high standards of cleanliness and customer service; its above average amenities include free full breakfast, free evening social hour (Mon-Thu), indoor pool, hot tub, exercise room, gift shop, and basic meeting facilities.

4.
Gaylord Rockies Resort & Convention Center
East 65th Avenue, Aurora, CO 80019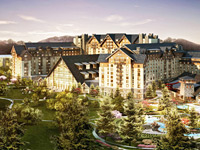 When completed late in 2018, Gaylord Rockies Resort & Convention Center will be the biggest hotel and convention center in Colorado, with 1,507 guest rooms (114 of which are suites), and nearly 500,000 sq ft of function space. The Marriott-managed resort includes no fewer than eight on-site dining outlets, a spa/salon, an extensive fitness center, a selection of shops, a putting green, various sports courts, and an outdoor/indoor pool plus river and water slides. The hotel lies at the center of a proposed 'airport city', occupying ranchland on the south side of Denver International Airport; between Tower Road and E470.

5.
Hilton Garden Inn Denver Airport
16475 East 40th Circle, Aurora, CO 80011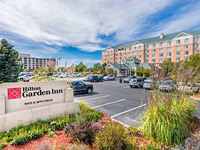 Like all Denver Airport hotels, the Hilton Garden Inn provides a complimentary 24 hour shuttle service to the terminal buildings, 12 miles northeast; the six floor, 157 room/suite property is part of a large group of hotels by the I-70/Pena Boulevard intersection, 12 miles from downtown Denver. Breakfast, lunch, dinner, evening drinks & room service are available on-site at the Great American Grill restaurant/bar, while the main other facilities include a 24 hour business center, a well-equipped fitness center, an indoor pool/whirlpool, the Pavilion Pantry convenience store and meeting space for up to 400 people.

6.
SpringHill Suites Denver at Anschutz Medical Campus
13400 East Colfax Avenue, Aurora, CO 80011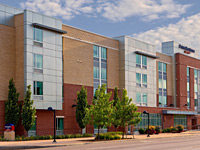 May 2011 saw the opening of a new Marriott hotel in east Denver: the 153 room SpringHill Suites Aurora/Fitzsimons, providing all-suite accommodation with modern decor and in-room amenities of a microwave, refrigerator, executive desk and sofa bed. The hotel is part of a quiet, semi-residential neighborhood along Colfax Avenue, opposite the Anschutz campus of University of Colorado Hospital; 15 miles from Denver International Airport and 8 miles due east of downtown Denver. Features include free hot breakfast, free wi-fi, an indoor pool/whirlpool, fitness center, business center and meeting space.

7.
Clarion Inn Denver International Airport
3300 North Ouray Street, Aurora, CO 80011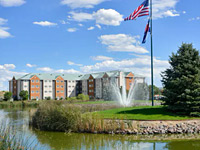 Recently converted from another brand, the Clarion Inn Denver International Airport has a conveniently-reached location right next to the I-70/Airport Boulevard intersection on the north side of Aurora, part of an extensive business district that also includes a few restaurants; more can be found on the north side of the interstate, together with many more hotels. But guests have an even easier choice of dining from the on-site Ambassador Cafe, open all day. The full service, 157 room hotel also offers free transport to the airport, an indoor pool, fitness center and business center. Rooms are available with kitchenette facilities.

8.
Cambria Suites Denver Airport
16001 E 40th Avenue, Aurora, CO 80011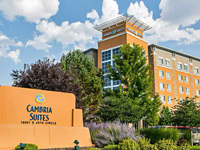 Open summer 2009, the new Denver property from the expanding Cambria Suites brand from Choice Hotels is an exiting addition to the range of full service Denver airport hotels; located along 40th Avenue in Aurora (12 miles from DIA), the handsome, modern hotel features an atrium lobby, lounge/bar, bistro restaurant (open for breakfast & dinner), 24 hour convenience store, indoor pool, and good facilities for business & meetings. The 150 oversized rooms offer enhanced amenities like LCD TVs, refrigerator & microwave, plug and play technology & pillow-top mattresses, and they look out over a quiet, partly residential neighborhood one block from interstate 70.

9.
Holiday Inn Express & Suites Denver - Aurora Medical Campus
14200 E Colfax Avenue, Aurora, CO 80011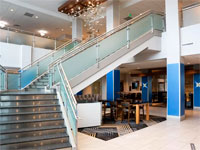 The Anschutz Medical Campus is half a mile west of the Holiday Inn Express Aurora, on the far side of I-225 which meets Interstate 70 2 miles north. The 127 room/suite hotel sits just off Colfax Avenue (US 40/287), in a mostly residential neighborhood though within walking distance of a good selection of restaurants. The main features are a indoor pool & sauna, 24 hour business and fitness centers and free hot breakfast buffet. The Colfax station on the light rail is half a block west, enabling easy travel to downtown Denver and the international airport. The property opened early 2019.

10.
Best Western Gateway Inn & Suites
800 S Abilene Street, Aurora, CO 80012-3684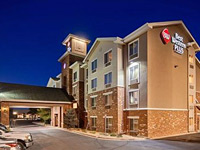 With a convenient location alongside I-225 near to restaurants, shops and the stores of Aurora Mall half a mile north, Best Western Gateway Inn & Suites is a popular stop for visitors to this part of east Denver. The hotel is 17 miles southwest of the international airport and 6 miles north of Cherry Creek State Park. Facilities are fairly standard for a low to mid range property, with free continental breakfast, an indoor pool, hot tub and fitness center the main amenities. There is also a free cocktail hour on weekday evenings. The 4 floor building has 67 rooms, each containing refrigerator & microwave.

11.
Fairfield Inn Denver Aurora
13851 East Harvard Avenue, Aurora, CO 80014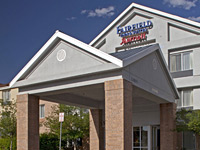 The 82 rooms & suites at Fairfield Inn Denver Aurora are all large, clean and equipped with a microwave, refrigerator & the extra comfortable Marriott bedding. Those facing east are the quietest, as the west side of the building overlooks I-225 - the hotel is right next to exit 5 (Iliff Avenue), close to Olympic Park, Heather Ridge Country Club and Cherry Creek State Park. Denver International Airport is 20 miles north. Guests at the Fairfield Inn can also take advantage of the free hot breakfast, free internet access, an indoor pool and hot tub. For meetings there are two rooms, the largest seating 75 attendees.

12.
Fairfield Inn & Suites Denver Aurora/Parker
24192 East Prospect Avenue, Aurora, CO 80016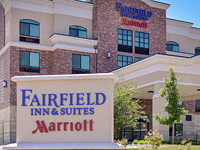 The Fairfield Inn is the first hotel near the recently opened Southlands fashion/entertainment/shopping center, at the southeast edge of Aurora beside E-470. All the many shops and restaurants are within one mile, and there are various golf courses, country clubs and city parks a short drive away. The 4 floor hotel has 131 refrigerator/microwave-equipped rooms & suites, an indoor pool/whirlpool and a business center. Wi-fi and breakfast are complimentary.

13.
Comfort Inn Denver Southeast
14071 E Iliff Avenue, Aurora, CO 80014-1404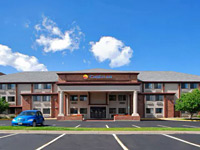 One of a group of hotels serving Aurora and the I-225 corridor, Comfort Inn Southeast is a medium sized (62 room - all with refrigerator/microwave) building next to the Iliff Ave exit of the freeway, on the opposite side to Heather Ridge Country Club. There are many restaurants close by. The Comfort Inn receives some of the better reviews for hotels in the neighborhood, on account of its helpful staff, good quality free deluxe continental breakfast, clean rooms and easily-reached location. Leisure amenities are limited to an exercise room and premium cable channels on the TV.

14.
Comfort Suites Aurora
14571 E Colfax Avenue, Aurora, CO 80010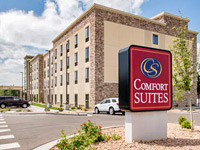 Comfort Suites Aurora (open winter 2017) enjoys a quiet setting, along Colfax Avenue (US 287) though shielded from the traffic by several adjacent buildings (including two restaurants), and bordering an RV resort to the rear. I-225 runs past two blocks west, and the Anschutz Medical Complex is close by on the far side. Complimentary amenities are wi-fi and hot breakfast, while the hotel also has all the usual facilities for leisure, meetings and business. Pets are welcome, for a fee. Colfax Station on the light rail network is half a mile away.

15.
Quality Inn Aurora
1011 S Abilene Street, Aurora, CO 85901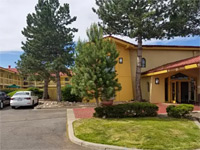 The pet friendly Quality Inn Aurora is a typical two floor, exterior corridor motel, with a good sized parking lot all around and a secluded courtyard garden plus outdoor pool to one side. There are three restaurants adjacent plus several stores including Home Depot and Sam's Club. Kitchenette rooms are available; all accommodations contain at least a microwave, refrigerator and coffee maker. Hot breakfast is complimentary. The hotel faces I-225 at the Mississippi Avenue intersection.

16.
Sleep Inn Denver International Airport
15900 E 40th Avenue, Aurora, CO 80011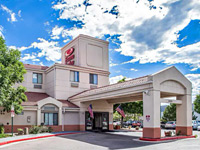 Aurora's Sleep Inn has a peaceful location next to a new residential development along 40th Avenue, close to the Airport Boulevard exit of I-70, and a 12 mile drive from Denver International Airport - free 24 hour shuttle available. Rooms are comfortable but basic; some have a microwave and refrigerator, while the hotel offers free continental breakfast, guest-use computer, and indoor pool and sundeck. There are a few restaurants within walking distance.
17.
Motel 6 Denver East - Aurora
14031 E Iliff Avenue, Aurora, CO 80014
Motel 6 Aurora is one of the more modern properties of this budget-priced chain; guest rooms are brightly decorated, stylishly furnished, and contained within a new-looking, interior corridor building. Facilities are still limited though; just wi-fi, free coffee, coin-operated laundry and an outdoor pool. The motel has a quiet setting, 250 feet back from the access road; a side street close to the Iliff Avenue exit of I-225. This location is 11 miles from downtown Denver and 19 miles from the international airport.