1.
Renaissance Denver
3801 Quebec Street, Denver, CO 80207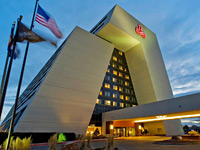 With 395 luxurious guest rooms and 24 meeting rooms (over 25,000 sq ft of event space), Renaissance Denver is one of the largest hotels in town, and it has quite a striking appearance; a 12 story building of smooth white concrete, with sloping sides, which also contains a restaurant/lounge, 3 concierge levels, a gift shop, fitness center, pool and hot tub. West facing rooms have views of the distant Rocky Mountains, while those on the east side look out over the new Stapleton retail/residential development - there are many restaurants, entertainment outlets and shops within one mile, including Quebec Square and the Shops at Northfield. The hotel operates a free shuttle to Denver International Airport, 18 miles east along I-70.

2.
DoubleTree Hotel Denver
3203 Quebec Street, Denver, CO 80207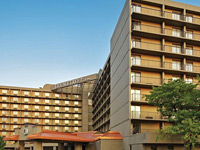 Although relatively far (19 miles) from the international airport, DoubleTree Hotel Denver still provides a complimentary shuttle service, running every half hour. In the other direction, the city center is just 6 miles away. The full service hotel is one of the largest in the area, with nine floors and 566 spacious, nicely decorated rooms, most of which include a balcony, and many have far reaching views across the city to the Rocky Mountains. Food and drink outlets are an all-day restaurant, lobby lounge, sports bar and Starbuck's counter; room service is also available all day. 32,000 sq ft of meeting space caters for events of all sizes.

3.
DoubleTree by Hilton Hotel Denver - Stapleton North
4040 Quebec Street, Denver, CO 80216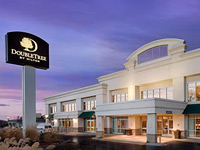 The elegant, modern exterior of DoubleTree Denver Stapleton North conceals a sheltered courtyard garden, centered on a large outdoor pool. The hotel sits along Quebec Street just south of I-70, one block from the edge of an extensive shopping/dining area and 18 miles from Denver International Airport, reachable by the free shuttle service, which also serves several other nearby locations. All-day dining (plus room service) is available onsite at Amberstone Grill & Bar. Business travelers can take advantage of 15,000 sq ft of meeting space, catering service, dedicated event staff and a 24 hour business center.

4.
Holiday Inn Denver East - Stapleton
3333 Quebec Street, Denver, CO CO 80207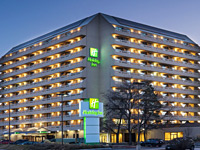 Holiday Inn Denver East is located along Quebec Street in the Stapleton district. The 11 story hotel is centered on a floor to ceiling atrium lobby, location of the lounge, bar & restaurant, and also features a fitness center, outdoor pool, whirlpool, gift shop, business center and over 20,000 sq ft of meeting/event space. The Holiday Inn has 300 guest rooms accessed via corridors around the lobby, all with a walk-out balconies providing nice views over the mountains or the city suburbs. The hotel is one mile south of I-70 exit 278, and six miles east of downtown Denver.

5.
Courtyard Denver Stapleton
7415 E 41st Avenue, Denver, CO 80216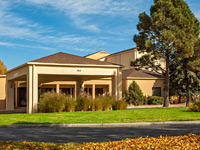 Half the 146 rooms at Courtyard Denver Stapleton overlook a peaceful courtyard garden at the center, providing a respite from the busy surroundings; the hotel sits next to the junction of Quebec St with I-70 (exit 278), just down the road from the new community of Stapleton. Downtown Denver is a quick 10 mile drive westwards along the interstate. Freshly cooked breakfast is available at the hotel's cafe, drinks & snacks can be purchased 24 hours a day from the convenience store, and there are many restaurants close by to provide other meals. Leisure facilities at the Courtyard are the standard pool, hot tub and fitness center.

6.
Residence Inn Denver Stapleton
4667 N Central Park Boulevard, Denver, CO 80238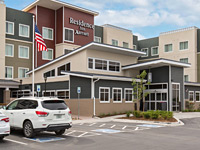 Residence Inn Denver Stapleton is part of a developing commercial area along Central Park Boulevard, a quarter of a mile east of the Shops at Northfield, and one block from the I-70 intersection. The international airport of 15 miles east, all along the freeway, while downtown Denver is 10 miles southwest. All accommodations at the Residence Inn are suites, available in studio, two bedroom and one bedroom configurations, and all include a fully equipped kitchen. Complimentary amenities are daily hot breakfast, weekday evening receptions, wi-fi and a grocery shopping service.

7.
Staybridge Suites Denver-Stapleton
8181 Northfield Blvd, Denver, CO 80238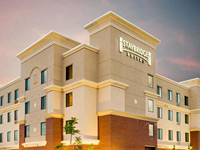 The first hotel at the Shops at Northfield Stapleton development is the 102 room Staybridge Suites Denver, built along Northfield Boulevard near the I-270/I-70 intersection, within easy walking distance of all the area shops and restaurants. There are several natural areas nearby including Northfield Ponds, a landscaped, riparian park. All guest accommodations at the Staybridge Suites feature a full kitchen, sofa bed, work desk and living area, while the hotel also has a fitness center, coin-operated laundry, business center & fitness center. Free hot breakfast is served each morning.

8.
Embassy Suites Denver Aurora
4444 North Havana Street, Denver, CO 80239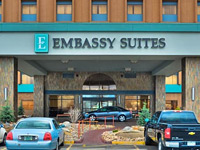 Guests entering Embassy Suites Denver Aurora are greeted by a grand, floor-to-celiing atrium lobby featuring tropical plants and a fountain, plus plenty of comfortable seating and a lounge/dining area - centerpiece of a large and popular hotel adjacent to interstate 70, 16 miles from the international airport (served by complimentary shuttle, running every 15 minutes). The spacious accommodation comprises 210 two-room suites, equipped with wet bar, separate sleeping/living area, free wi-fi, two TVs and two phones. The hotel's restaurant (Northfield's) is open for lunch, dinner & room service, while both hot breakfast and nightly evening reception are provided free of charge. Amongst the many other amenities are local area courtesy shuttle, gift shop, 24 hour fitness center, 24 hour business center and 5,200 sq ft of meeting space.

9.
Holiday Inn Express Hotel & Suites Denver East-Peoria Street
12140 E 45th Avenue, Denver, CO 80239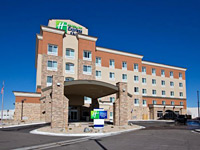 Open early 2014, the newly built, 81 room/suite Holiday Inn Express Denver East provides reliable, good value accommodation for I-70 travelers, located on the north side of the interstate at the Peoria Street exit, half way between Denver Airport and the city center. This part of the suburbs is mainly a business district but a selection of restaurants and small shops can be found close by. Free hot buffet breakfast, free wi-fi, fitness & business centers and an indoor pool are the main amenities. All guest accommodations contain a microwave and refrigerator.

10.
Best Western Plus Stapleton Hotel
3737 Quebec Street, Denver, CO 80207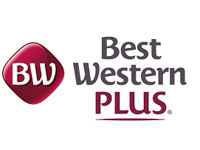 The Best Western hotel of east Denver is a relatively large property of four floors and 132 rooms, all with a microwave and refrigerator, some featuring a sofa bed and private balcony. The hotel is located just a few blocks from interstate 70, 17 miles southwest of the international airport and 6 miles from downtown Denver. Free hot breakfast is provided and there are many restaurants just across the street, plus several large stores such as Wal-Mart and Home Depot. The hotel also has a business center, outdoor pool, fitness center and meeting/event facilities for up to 100 people.

11.
Best Western Plus Executive Residency Denver-Stapleton Hotel
4590 Quebec Street, Denver, CO 80216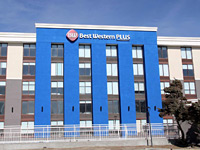 Beside I-70 at the Quebec Street exit, and close to the I-270 intersection, the Best Western Plus is a recently renovated, five story property occupying a spacious site at the edge of a business/industrial area, 8 miles from the city center. There are many restaurants and shops one mile away at Northfield Station, and also several walking trails, around Northfield Pond and along Sand Creek. Amenities include bbq grills, coin-operated laundry and a 24 hour fitness center. Complimentary full breakfast is provided.

12.
Comfort Inn & Suites Denver
4685 Quebec Street, Denver, CO 80216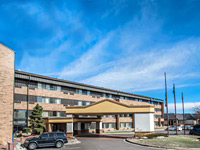 Towards the east edge of Denver, the Comfort Inn & Suites contains 4 floors and 138 rooms, looking out over a business district close to the I-270/I-70 junction, though far enough from the freeways for the place to be nice and quiet. The hotel is a few blocks north of Quebec Square, and 2 miles from the center of the adjacent Stapleton residential/retail development. Room rates are relatively low, and the inn has a fair range of facilities: free breakfast (including waffles), a fitness center, guest laundry, and several meeting rooms.

13.
Super 8 by Wyndham Denver Stapleton
7201 E 36th Avenue, Denver, CO 80207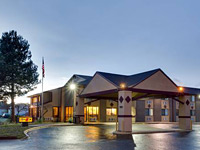 Super 8 Denver Stapleton benefits from a quiet location, shielded from the main road (Quebec Street) by a restaurant and another hotel, and bordering a residential estate to the rear. The two floor property has interior corridors, and the usual range of amenities, including an outdoor pool, a fitness center, meeting space and a business center. Continental breakfast (with eight items) and wi-fi are complimentary. The hotel is 0.7 miles south of I-70 (exit 278), and right opposite a sizeable shopping complex with such stores a Walmart, Home Depot and Sam's Club.

14.
Rodeway Inn & Suites Denver
4380 Peoria Street, Denver, CO 80239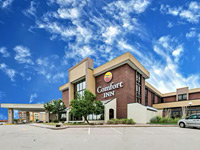 The pet friendly Rodeway Inn faces the Peoria Street exit of I-70 (northeast side), within a business/industrial neighborhood, though mostly surrounded by patches of grassland. Downtown Denver is 10 miles west. The four floor building is relatively old but recently renovated; it contains 137 good sized rooms accessed by interior corridors, plus a business center, indoor pool and lobby where free receptions are provided. A refrigerator and microwave are installed in all guest accommodations. Free hot breakfast is served each morning.
15.
Motel 6 Denver - Airport
12020 E 39th Avenue, Denver, CO 80239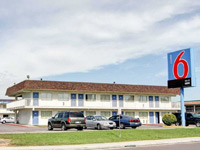 Motel 6 Denver is 13 miles from the international airport, a quick journey all along freeways (Pena Blvd and I-70). The motel is part of a business district on the south side of the interstate, and it has the familiar two floor, exterior corridor design, surrounded by the parking lot and with a sheltered outdoor pool on the south side, well away from the access road. Inside, rooms are brightly decorated and have modern fixtures & fittings. Wi-fi is available, and some accommodations are equipped with a microwave and refrigerator. Free morning coffee is provided. At least four restaurants are within one block.