1.
Marriott San Mateo San Francisco Airport
1770 South Amphlett Blvd, San Mateo, CA 94402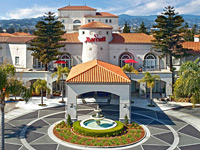 Despite its location along busy highway US 101 in the middle of the San Mateo suburbs, the full service Marriott hotel has a relaxing, resort-style setting, with courtyards, gardens, tropical plants and plenty of space - the 477 rooms & suites are contained within several low rise buildings, surrounded by grounds that cover 11 acres. The property is convenient both for San Francisco Airport (7 miles north, served by free shuttle), Silicon Valley to the south, and the east Bay cities via Hwy 92 which runs past one block away. Amongst the many facilities are an all-day restaurant, coffee house, outdoor pool, hot tub, fitness center, and 24,000 sq ft of meeting/event/banquet space.

2.
Holiday Inn & Suites San Mateo-San Francisco SFO
330 N Bayshore Blvd, San Mateo, CA 94401
The Holiday Inn hotel in San Mateo has an easy-to-reach location along Bayshore Boulevard, right next to US 101 which leads to SFO international airport 6 miles north. In the other direction, the freeway provides quick travel to Silicon Valley and San Jose (30 miles). The surroundings are largely residential but the hotel is a short walk from Coyote Point on San Francisco Bay, which has beaches, picnic areas, trails and a marina. The Holiday Inn offers 110 rooms including several sizes of suite, and a full service restaurant (room service available); other facilities include a pool, sauna, whirlpool, fitness center, business center and 2,500 square feet of meeting/event space.

3.
Residence Inn San Francisco Airport/San Mateo
2000 Winward Way, San Mateo, CA 94404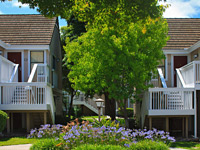 8.5 miles south of San Francisco International Airport, the Residence Inn by Marriott features 160 suites, some on 2 floors, divided into around 20 individual units - part of quite a large, tree-lined site on the east side of San Mateo, just off US 101. The hotel is a short walk from upmarket shopping & dining in nearby Foster City, including the many stores at Bridgepointe Mall. On site leisure facilities are the usual outdoor pool, whirlpool and fitness center, while for dining, the hotel provides both free full breakfast and a free evening reception (Mon-Thu) where beer, wine and a light dinner is served. A complimentary shuttle is available to/from the airport.

4.
Hilton Garden Inn San Mateo
2000 Bridgepointe Circle, San Mateo, CA 94404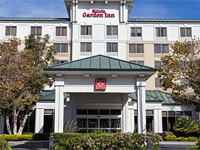 Some of the upper floor rooms at the large, full service Hilton Garden Inn San Mateo have views of San Francisco Bay - the hotel is located in the Foster City area, close to Hwy 92 and about half a mile from the shoreline. The neighborhood has a mixture of residences, shops, restaurants and other businesses, plus several water-side parks. Hotel highlights are the all-day Great American Grill restaurant/bar, the 24 convenience store, the outdoor pool/sundeck, the modern fitness center and the function space for up to 150 people. A free shuttle is operated to SFO airport, 9 miles north along US 101. All guest rooms contain a microwave and mini refrigerator.
5.
Hampton Inn & Suites San Mateo-San Francisco Airport
2940 S Norfolk Street, San Mateo, CA 94403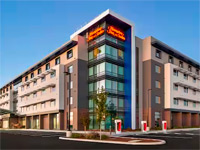 On the east side of San Mateo next to exit 414B of Highway 101, the two story Hampton Inn provides good quality, mid-range accommodation in 113 rooms, each containing a microwave & refrigerator. Places within one mile include Foster City, the Bridgepointe Mall, Bay Meadows Race Track and the Hillsdale Shopping Center. The hotel adjoins a small shopping center with half a dozen fast food restaurants, and is within walking distance of several waterside parks adjoining the nearby canals. Hot breakfast is complimentary.

6.
Best Western Coyote Point Inn
480 N Bayshore Blvd, San Mateo, CA 94401-1236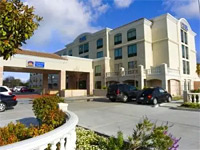 North facing rooms at the Best Western Coyote Point Inn have relaxing views over the Poplar Creek Golf Course towards San Francisco Bay, while those to the south overlook busy Highway 101 through the center of San Mateo. Also close by is Coyote Point Recreation Area, featuring trails, picnic places and overlooks of the bay. The hotel is quite a new, 4 floor building containing 99 rooms, a fitness center, steam room and guest laundry (free), though no pool. Free hot buffet breakfast is served; for other meals there is one restaurant adjacent.