1.
Courtyard Redwood City
600 Bair Island Road, Redwood City, CA 94063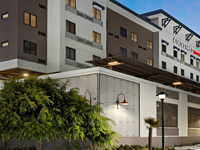 The Courtyard is the second Marriott hotel in Redwood City, open late 2016; a substantial, upscale property of 177 rooms and an attached garage, occupying a relatively small site beside the Bayshore Freeway, overlooking Redwood Creek - about half way (7 miles) between San Mateo and Palo Alto. The road past the hotel continues a short distance to the Bair Island Marina, while elsewhere in the vicinity are some dealerships and apartments; the nearest shops and restaurants are about one mile away, on the far side of the freeway. The main facilities at the Courtyard are a restaurant/bar (open for breakfast & dinner), 24 hour business & fitness centers, meeting space and an outdoor pool. Nine accommodation types are available, including studio suites and extended stay suites.

2.
TownePlace Suites Redwood Shores
1000 Twin Dolphin Drive, Redwood City, CA 94065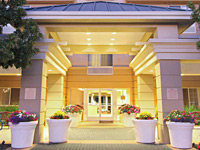 Although listed as being in Redwood City, the Towneplace Suites by Marriott hotel is closer to the neighboring town of San Carlos - located right next to San Carlos Airport, and also overlooking a large area of estuarine land at the edge of San Francisco Bay (Redwood Shores). The 95 suites feature separate sleeping/living sections, a full kitchen and an extra sofa bed, and are aimed primarily at the long stay and/or business traveler. Residents have use of a guest laundry, business center, fitness center and a hot tub. The nearby Redwood Shores Parkway has a fair selection of restaurants.

3.
Holiday Inn Express Redwood City-Central
1836 El Camino Real, Redwood City, CA 94063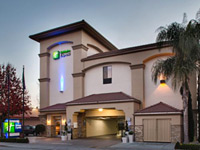 Near the middle of Redwood City by the busy junction of highways 82 (El Camino Real) and 84, the Holiday Inn Express offers good value accommodation with friendly staff and 62 large, comfortable rooms (containing microwave & refrigerator) linked by interior corridors. The main road passes plenty of fast food restaurants nearby, closest being Wendy's right next door, though free hot breakfast buffet is available at the hotel. The only leisure amenities is a small fitness center.

4.
Best Western Plus Executive Suites Redwood City
25 5th Ave, Redwood City, CA 94063-3601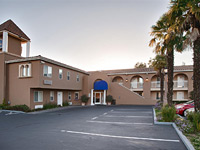 On 5th Avenue by the junction with El Camino Real, the Best Western Executive Suites in Redwood City has 29 one-bedroom, two-bedroom or Jacuzzi suites, all containing a microwave & refrigerator, and some with a full kitchen. The three main amenities are an exercise room, spa and free continental breakfast - in common with many hotels in this area there is no swimming pool. Restaurants within one block include Jack in the Box, Dominos Pizza and La Roca.

5.
Best Western Inn Redwood City
316 El Camino Real, Redwood City, CA 94062-1724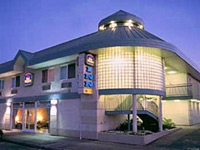 The 31 room Best Western Inn Redwood City lies towards the north side of town, a mile or so from the neighboring district of San Carlos and 24 miles south of downtown San Francisco. This is one of dozens of smallish hotels along Highway 82 through Silicon Valley that offer a generally similar standard of accommodation though in this case the amenities are above average, with an on-site restaurant, and a nice outdoor pool, located at the rear, away from the main road. The inn serves the familiar free continental breakfast.

6.
Comfort Inn Redwood City
1818 El Camino Real, Redwood City, CA 94063-2111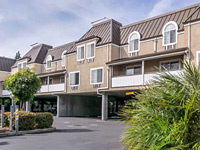 Comfort Inn Redwood City is one of the more central hotels in town, at 1818 El Camino Real (next to the Holiday Inn Express Central), within 4 miles of the towns of Belmont, San Carlos, Atherton, Menlo Park and Palo Alto. The inn has 52 rooms, recently updated and all containing a microwave and refrigerator; some have a kitchenette and whirlpool bath. Also on offer are an outdoor pool and a sauna. Continental breakfast and afternoon tea are provided free of charge.

7.
Days Inn by Wyndham Redwood City
2650 El Camino Real, Redwood City, CA 94061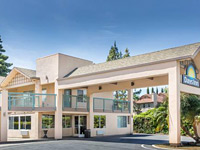 Like most hotels in Redwood City, the Days Inn is situated along busy El Camino Real, though the property is set back 200 feet, behind a furniture store, and so offers quiet, peaceful accommodation. Rooms are in two blocks separated by a courtyard garden with gazebo, outdoor pool & patio, and all the site is lined by mature, shady trees. Other facilities are a sauna, fitness center and meeting space. Free continental breakfast is provided. All guest rooms have a microwave and refrigerator.