The Tortolita Mountains are a small, isolated range in southern Arizona, 15 miles north of Tucson - 8 miles across, with a high point of 4,696 feet, generally around 1,500 feet above the flat desert plains that surround them in all directions.

The mountains may seem insignificant from afar, and receive much less attention than either the much larger and more dramatic Santa Catalina range to the east, or the Tucson Mountains to the southwest, much of which are within Saguaro National Park, yet the scenery is similar, a mix of ridges, slopes, valleys and igneous rock formations, all covered by the familiar array of Sonoran Desert plants, including many wildflowers and cacti. Saguaro are plentiful, and the mountains are a noted location for the uncommon crested variety, with upwards of 30 known examples.

Cochie Canyon and Wild Burro Canyon, this latter the main location, starting at a developed trailhead, off Secret Springs Drive, a road which ends just beyond at the Ritz-Carlton, a five star luxury resort.

The resort, which includes a 36 hole golf course, opened in 2009, and is part of the Dove Mountain community, a collection of upscale residences that extends right to the mountain foothills, and all along nearby Ruelas Canyon, to the boundary of the mountain park. The place is named after the whole mountain range rather than any specific peak; Tortolita means 'little turtle dove' in Spanish.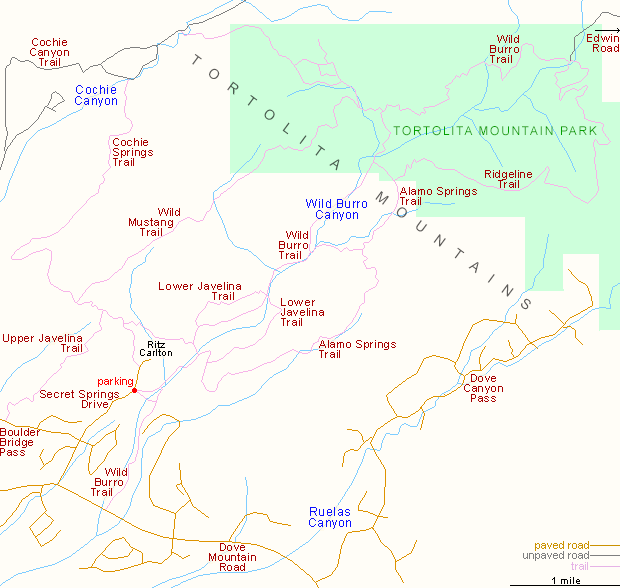 Location

One approach to the Tortolita Mountains is from the north, along the unpaved Edwin Road which leaves Hwy 77 at Catalina, and crosses the desert for 5.6 miles to a working marble quarry. Just before the quarry is a trailhead where two routes, a path and a 4WD track, climb into the hills. Nearly all visitors though use the southern approach, driving paved roads to the mouth of Wild Burro Canyon, and parking in a designated lot near the end of the road to the Ritz-Carlton resort. Although this is after the resort entrance station, there is no fee for parking, and hikers only need to inform the guard they here for trails rather than the hotel.


Hiking
Most hiking routes in the Tortolita Mountains have relatively gentle gradients though some contain a few short, steeper sections. They are well maintained and well signposted, and popular, both with guests of the resort and visitors. Trails follow canyons and ridgelines, and all encounter similar scenery; the
Wild Burro/Alamo Springs
loop is one good choice. Paths are summarised below.
Alamo Springs Trail, 4.1 miles - a varied path that starts and ends along the Wild Burro Trail; from the south, the trail climbs a steep slope to a ridge and follows this northwards, dropping down into the upper end of an unnamed tributary canyon then traversing undulating terrain to the northern junction


Cochie Springs Trail, 3.6 miles - this explores the southern slopes of Cochie Canyon, the floor of which is followed by a vehicle track; it links this track, towards the upper end of the valley, with the Wild Mustang Trail. This latter junction is 1 mile from the Wild Burro trailhead


Lower Javelina Trail, 1.7 miles (loop) - the shortest loop in the mountains, this crosses the lower slopes either side of Wild Burro Canyon, and it starts half a mile upstream of the Wild Burro trailhead, to make a total circuit of 2.7 miles


Ridgeline Trail, 3.2 miles - a remote route, mostly used by mountain bikers, this links the track from Edwin Road in the north, with the northern end of the Alamo Springs Trail, mostly traversing grassy slopes above 3,500 feet


Upper Javelina Trail, 2.8 miles - this trail starts from the Ritz-Carlton resort, climbing quite steeply to a pair of minor summits, 3,186 and 3,342 feet, then descending steadily along a ridgeline to an alternative start point along Boulder Bridge Pass


Wild Burro Trail, 6.5 miles - the most used path in the mountains, all along Wild Burro Canyon, though most people only hike part of the way. The southern terminus is along Dove Mountain Road, where the route follows a wide, sandy dry wash for one mile to the main trailhead near the Ritz-Carlton, after which the streambed enters the canyon proper, which is followed for the next 5 miles, past several junctions, to open, grassy land around 4,000 feet elevation, ending at a spring, a point also reachable by the 4WD track from Edwin Road. A popular loop hike is along the middle section, combined with the Alamo Springs Trail, to make a round-trip of 7.6 miles


Wild Mustang Trail, 3.8 miles - a somewhat strenuous route that explores the high country on the north side of Wild Burro Canyon. The south end is along the Upper Javelina Trail, 0.8 miles from the Ritz-Carlton, while the upper end is along the Wild Burro Trail, which allows a loop of 9 miles