Cave Creek originates in the mountains in the center of the Tonto National Forest, in Yavapai County, flowing south into Maricopa County and eventually meeting the Salt River. Some sections are usually dry while others contain a permanent stream, fed by springs, and such is the case for a short stretch right at the north edge of the Greater Phoenix suburbs, near the towns of Cave Creek and Carefree, and part of this is protected as Jewel of the Creek Preserve.

The creek here is especially rich in plant and animal life, and flows through a succession of pretty pools and little cascades, flanked in some places by short cliffs, in other by grassy banks. Above this riparian corridor, which also contains many large willow and cottonwood trees, are dry slopes densely covered with cacti and desert wildflowers. Saguaro are plentiful, both on the hillsides and closer to the stream, where some grow very large and close together.


The preserve is owned by the Desert Foothills Land Trust, a local organisation managing 19 sites in and around Phoenix. The place is small in area, 26 acres, adjoining a much larger protected space, Spur Cross Ranch Conservation Area, this comprising plains, valleys and a mountain range with peaks up to 3,926 feet.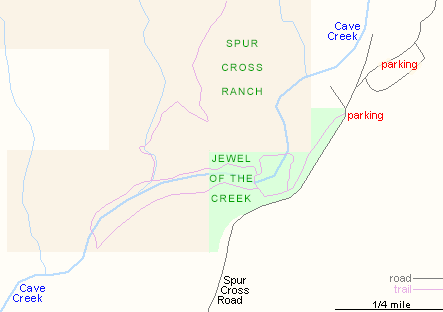 Access

One road leads to Jewel of the Creek Preserve, Spur Cross Road from Cave Creek, a partly paved route that passes the rather small (free) parking place for the preserve, often full by mid morning, then continues a short distance past a corral to the much bigger lot for Spur Cross Ranch, for which fees are charged. Most visitors park here and walk back down the road.


Trails

From the smaller parking place, a path descends into the valley to a junction at the start of a figure-of-eight loop, of 1.3 miles. The right branch ('Bosque Loop') soon crosses the creek, in the middle of a big grove of cottonwoods, and winds through a cluster of huge saguaro. Another path crosses back to the east side of the creek and resumes its downstream journey, now the Dragonfly Trail - later rising a little over a less-vegetated area, temporarily away from the water (and out of the preserve), before descending again to a large, still pool below a pinkish cliff, topped with saguaro. This is the far end of the loop, as the path now moves to the west bank via a footbridge and heads back upstream, alongside more pretty pools, reflecting the surrounding trees and cacti. About half way along is a side drainage, and a junction with the Spur Cross Trail into the adjacent conservation area. The Jewel of the Creek route continues a quarter mile, back into the preserve, to another junction with the Bosque Loop.