The San Juan range forms the southern part of Colorado's Rocky Mountains and is thought by some to have the best, most varied scenery of all. Spanning the continental divide, it has numerous jagged volcanic summits, 13 of which rise to over 14,000 feet, many lakes, waterfalls and streams including the source of the Rio Grande, several historic towns and countless relics from the gold and silver mining era of the nineteenth century.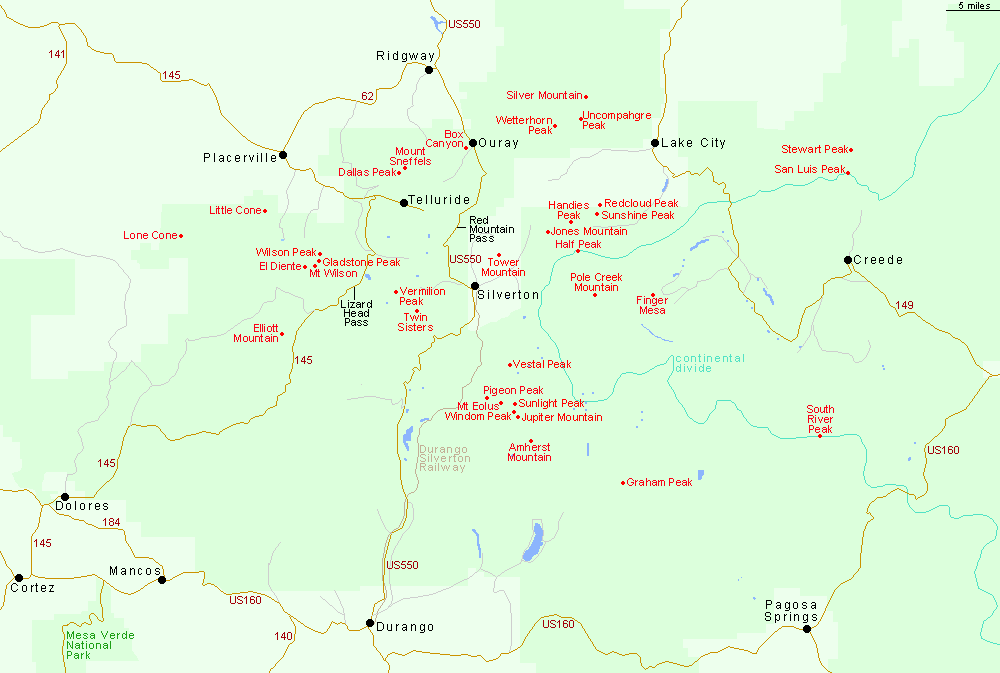 Overview:

Almost all of the land is publicly owned, within parts of the Uncompahgre, Gunnison, Rio Grande and San Juan national forests. The western third is the most accessible, and many of the well known sites are found close to a loop drive ('The San Juan Skyway') along roads CO 145 and US 550, over 200 miles of dramatic, winding roads that pass the old mining centers of Silverton, Ouray and Telluride. Silverton is the northern terminus of the Durango and Silverton Narrow Gauge Railway, one of only two remaining stretches of a once extensive system that criss-crossed the southern Rockies. The railway follows the deep, forested Animas Gorge for 45 miles through several tunnels, over high wooden bridges and across the face of steep slopes, and is a very popular attraction, usually open from May to October. Most of the central San Juan Mountains are reachable only on foot or jeep trails - an area 40 miles square with no paved roads that includes about 80 miles of the continental divide. There is one other road across the eastern mountains, where the summits are a little lower: CO 149 through the small villages of Creede and Lake City. These are also former mining towns and both make a good base from which to explore the surrounding wilderness.



Hotels:

Towns with hotels close to the San Juan Mountains include Cortez, Durango, Montrose and Ouray.

| | |
| --- | --- |
| Main attractions: | Dramatic section of the western Rocky Mountains, featuring deep valleys, mineralized, volcanic peaks, old mines and several historic towns, including Telluride, Ouray, Durango and Silverton - all of which are linked by a 200 mile scenic drive |
| Nearest city with hotels: | Durango |
| Management: | USFS - part of the San Juan and Rio Grande National Forests |
| Location: | 37.805261, -107.670665 (Silverton) |
| Seasons: | Main roads are open all year. The upper mountains and their trails are generally snow free for about half the year |
San Juan Mountains - More Information


Hiking - ascent to a summit above Telluride
San Juan Scenic Drive - picturesque road through the mountains
San Juan Mountains - Photographs