UT 12 approaches Bryce Canyon National Park from the west via Red Canyon, a relatively shallow valley in the side of the Paunsaugunt Plateau surrounded by much exposed, orange red limestone (the Claron Formation). The rocks are eroded into the familiar pinnacles, spires, columns and hoodoos also found in the national park a few miles to the east, here on a smaller scale and with less color variation, and although the main road is quite busy, most visitors hurry on to Bryce without stopping, and the areas away from the highway are usually quiet and empty.

The formations line UT 12 for about 4 miles, starting quite abruptly at the edge of the plateau (a long escarpment known as the Sunset Cliffs) then fading away as the road reaches the flat grasslands on top, and extend several miles north, including two other large valleys of Losee Canyon and Casto Canyon - all within land of the Dixie National Forest. There is another Red Canyon 50 miles south, near Kanab - this is a narrow slot canyon through deep red Navajo sandstone rocks.


Map of Red Canyon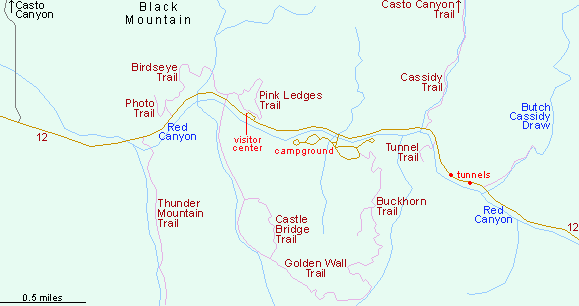 Hiking
The highway through Red Canyon runs alongside a usually dry wash, south side of which is followed by a recently resurfaced cycle track. Besides cycling, the canyon is also good for hiking, and there are several short, easy trails, including:
Tunnel Trail

- starting near one of two short tunnels along the road, this climbs 200 feet to a viewpoint over the valley and the surrounding wooded hills.



Pink Ledges Trail

- beginning next to the Red Canyon visitor center, this winds around hoodoos and pine trees close to the road, surroundings which are pretty enough though the rocks are not especially pink.



Birdseye Trail

- this is a longer path across a short side valley and around slopes on the far side, passing various named formations. Rather better scenery is reached by climbing up from the official path, since the views are more wide ranging, and the formations seem more impressive when seen from above.
Casto Canyon

One extended hiking/biking/horse riding path (5.5 miles) leads from Red Canyon across a ridge into the upper end of Casto Canyon, following it to the far edge of the hills, where the streamway opens out into Sevier Valley. The lower end can also be reached by road, along a track that leaves UT 12 to the north, later meeting US 89 near Panguitch. This valley is more spectacular than Red Canyon, and the trail passes an ever changing variety of pink, red and orange eroded rocks, through ponderosa and bristlecone pine trees, and is especially peaceful, apart from the occasional noise of ATV traffic.