1.
Residence Inn Salt Lake City Cottonwood
6425 South 3000 East, Salt Lake City, UT 84121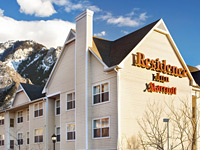 The easternmost of three Residence Inn hotels in Salt Lake City has a pleasant location next to Old Mill Golf Course right at the edge of the suburbs, beneath the Wasatch Mountains - convenient for ski resorts (closest are Snowbird, Brighton & Alta) and hiking trails in the hills, yet also within easy reach of all sites in the city via I-215 which runs close by; access is from exit 6 (Highway 190). The hotel caters to long stay travelers or large groups, in 144 spacious, modern suites each containing a full kitchen equipped with oven, dishwasher, microwave and refrigerator. Both free full breakfast and free evening reception are provided, while for leisure the hotel has a heated outdoor pool, whirlpool and fitness center.

2.
Homewood Suites by Hilton Salt Lake City - Midvale/Sandy
844 E North Union Avenue, Midvale, UT 84047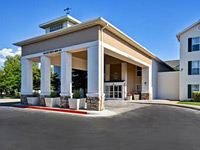 Hilton are represented in Midvale by the Homewood Suites - a modern, three story property of 93 rooms, in several blocks around an enclosed central courtyard. Accommodation consists of one and two bed suites, all with a full kitchen and separate living area. Both hot breakfast (daily) and evening receptions (Mon-Thu) are complimentary, as is the grocery shopping service; other amenities are an indoor pool, hot tub, fitness center, business center and 50 person meeting room. The hotel lies just off Fort Union Boulevard, one mile from I-215.
3.
Hampton Inn Salt Lake City Cottonwood
3210 E Millrock Drive, Salt Lake City, UT 84121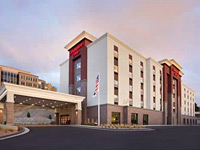 The Hampton Inn (open early 2018) is part of a small business park beside I-215 at the 6200 S exit on the south edge of Holladay, adjoining part of Salt Lake City. There are several restaurants close by, and also the Old Mill Golf Course, just across the street. Most of the guest rooms have fine views of the Wasatch Mountains, the foothills of which rise up just half a mile east. The Snowbird, Solitude and Brighton ski areas are a short drive away. Leisure facilities are the usual fitness center, hot tub and pool (indoor), while the hotel also has a business center and a 50 person meeting room. Free hot breakfast is provided. All accommodations contain a microwave, refrigerator and 55 inch TV.

4.
MainStay Suites Salt Lake City Fort Union
6990 S Park Centre Drive, Salt Lake City, UT 84121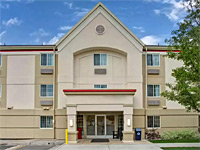 MainStay Suites Fort Union is an east-central Salt Lake City hotel, close to the suburbs of Union, Midvale, Cottonwood Heights and Sandy City; the interior corridor property is half a mile southeast of I-215 exit 9, which is 4 miles from the junction with I-15. All the 98 suites contain separate living areas plus a full kitchen with cooker, dishwasher, microwave and refrigerator. Food for cooking can be purchased from the hotel's 24 hour convenience store, or from a nearby Wal-Mart supermarket. The hotel also has a fitness center and guest laundry. Continental breakfast is complimentary.

5.
Studio 6 Salt Lake City - Fort Union
975 E 6600 S, Murray, UT 84121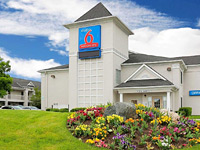 Near to Midvale, Sandy and South Salt Lake City as well as Murray, the Studio 6 provides affordable all-suite accommodation in a spacious, semi-rural site one block from the I-215 loop; the hotel is right next to both the historic Wheeler Farm and a city park (South Cottonwood). There are many shopping centers within a few miles including Fashion Place, Southlake and Oakwood Village. All rooms are equipped with a full kitchen, and many have fine views of the mountains, just 4 miles east. Guest laundry, wi-fi, cable TV and free coffee are the only other amenities, but the low rates and convenient location make this a popular place to stay.

6.
Super 8 by Wyndham Pride Midvale/Midvalley/Salt Lake City Area
7048 S 900 E, Midvale, UT 84047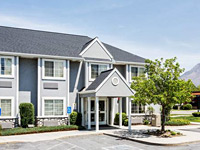 Rooms at the two story, interior corridor Super 8 Midvale face north or south, looking over a peaceful residential district on the west side of 900E, but the property is easily reached from the nearby freeways I-215 and I-15. Many restaurants and large stores are close by, either side of Union Park Avenue. The two main complimentary amenities are wi-fi and eight-item continental breakfast; the pet friendly motel also offers a hot tub, ATM, business center and meeting space.
7.
Motel 6 Salt Lake City South - Midvale
7263 S Catalpa St, Midvale, UT 84047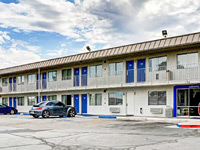 Motel 6 Midvale occupies quite a spacious site, with its 2 floor, exterior corridor rooms spread out over several blocks just off W 7200 S, adjacent to exit 297 of interstate 15. Downtown Salt Lake City is an 11 mile drive away, due north. Facilities are limited to an outdoor pool, guest laundry, wireless internet access and free coffee, but this is a clean, quiet and low priced motel, a short walk from several restaurants and small shops.