1.
Park Inn by Radisson Salt Lake City-Midvale
280 W 7200 S, Midvale, UT 84047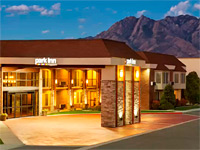 Park Inn by Radisson is one of a group of hotels just east of exit 297 of I-15, a little way south of its junction with I-215, and close to the suburbs of Sandy City, Midvale and South Salt Lake City. The hotel occupies a tree-lined, H-shaped building on the north side of 72nd Street, one block from the interstate; it has a sheltered outdoor pool/hot tub and serves complimentary full hot breakfast. Other dining is available from over two dozen restaurants within 2 miles. A hot tub, guest laundry, business center, open plan lobby and meeting space are some of the other amenities.

2.
Staybridge Suites Midvale
747 W Blue Vista Lane, Midvale, UT 84047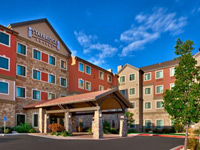 The 100 room Staybridge Suites is built in a developing area on the west side of Midvale - Bingham Junction, which is also home to restaurants, other businesses, a supermarket, a light rail station and parkland alongside the Jordan River. Accommodation comprises one bed, two bed and studio suites, all with a full kitchen and distant mountain views. I-15 runs past a short distance east, providing quick access to other area locations; places within 3 miles are within range of the hotel's complimentary shuttle. Some of the amenities are an outdoor pool, guest laundry, patio with bbq grills, fitness center and meeting space. Complimentary receptions are provided on some weekday evenings.

3.
Homewood Suites by Hilton Salt Lake City - Midvale/Sandy
844 E North Union Avenue, Midvale, UT 84047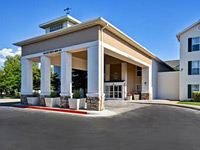 Hilton are represented in Midvale by the Homewood Suites - a modern, three story property of 93 rooms, in several blocks around an enclosed central courtyard. Accommodation consists of one and two bed suites, all with a full kitchen and separate living area. Both hot breakfast (daily) and evening receptions (Mon-Thu) are complimentary, as is the grocery shopping service; other amenities are an indoor pool, hot tub, fitness center, business center and 50 person meeting room. The hotel lies just off Fort Union Boulevard, one mile from I-215.

4.
Holiday Inn Express Salt Lake City South-Midvale
7134 South 700 East, Midvale, UT 84047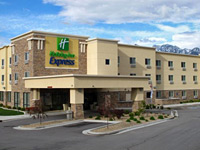 Holiday Inn Express Midvale is part of a quiet, mixed residential/commercial neighborhood along Fort Union Boulevard, within walking distance of a few restaurants and one mile away from a major shopping complex along Union Park Avenue. The property has 66 rooms, all featuring luxurious bedding, a coffee maker, microwave, refrigerator, and a spacious sitting area. Free hot breakfast is served each morning, and all the other expected amenities are available: pool, whirlpool, fitness center, business center and guest laundry. Access is straightforward, from either I-215 or I-15.

5.
Fairfield Inn & Suites Salt Lake City Midvale
7141 South FL Smidth Drive, Midvale, UT 84047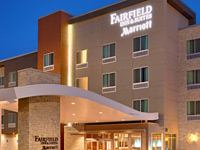 Guests are welcomed at the Fairfield Inn Midvale by a brightly decorated lobby with plenty of spaces for working and relaxing; features include a stone fireplace, a snack market and a range of comfortable furniture. Wi-fi is complimentary, as is the daily breakfast, complete with a selection of hot items. There are several restaurants within walking distance, to the east, along S 700 W. The 88 room hotel opened summer 2016, part of a developing area along Jordan River Boulevard, just less than one mile from I-15 and 11 miles south of downtown Salt Lake City.

6.
Quality Inn Midvale - Salt Lake City South
7251 South 300 West, Midvale, UT 84047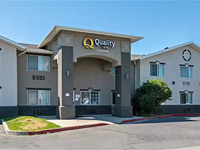 Rooms at Quality Inn Salt Lake City South look out over a commercial neighborhood of shops, restaurants and other businesses near the I-15/I-215 intersection, 1.5 miles from Murray Parkway Golf Course. The Trax light rail runs right past on the east side (701 service). The motel has modern construction, with two floors and interior corridors, a spacious parking area at the front and an outdoor pool at the rear, away from the main road. Complimentary amenities are wi-fi and hot breakfast. All guest accommodations contain a microwave and refrigerator.
7.
Motel 6 Midvale - Salt Lake City South
7263 S Catalpa Street, Midvale, UT 84047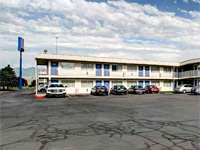 Motel 6 Midvale occupies quite a spacious site, with its 2 floor, exterior corridor rooms spread out over several blocks just off W 7200 S, adjacent to exit 297 of interstate 15. Downtown Salt Lake City is an 11 mile drive away, due north. Facilities are limited to an outdoor pool, guest laundry, wireless internet access and free coffee, but this is a clean, quiet and low priced motel, a short walk from several restaurants and small shops.