Please refer to the
disclosure notice
for information about the affiliate (commissionable) links on this page.
1.
Hampton Inn Salt Lake City Cottonwood
3210 E Millrock Drive, Holladay, UT 84121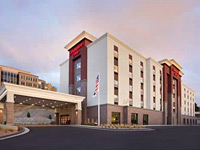 The Hampton Inn (open early 2018) is part of a small business park beside I-215 at the 6200 S exit on the south edge of Holladay, adjoining part of Salt Lake City. There are several restaurants close by, and also the Old Mill Golf Course, just across the street. Most of the guest rooms have fine views of the Wasatch Mountains, the foothills of which rise up just half a mile east. The Snowbird, Solitude and Brighton ski areas are a short drive away. Leisure facilities are the usual fitness center, hot tub and pool (indoor), while the hotel also has a business center and a 50 person meeting room. Free hot breakfast is provided. All accommodations contain a microwave, refrigerator and 55 inch TV.