1.
Residence Inn Salt Lake City Murray
171 East 5300 South, Murray, UT 84107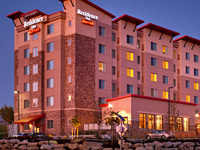 The Residence Inn is a central Murray hotel, just off State Street along E5300S, within walking distance of Intermountain Medical Center and the varied attractions of Murray Park, plus a number of shops and restaurants. The Murray light rail station is 0.7 miles away. The six floor, extended stay, pet friendly Marriott property contains 136 suites, in studio, one bedroom and two bedroom layouts, all featuring a fully equipped kitchen and a sofa bed. Daily hot breakfast and weekday evenings receptions are complimentary. Meetings and events are catered for by three rooms, totaling 1,543 square feet. All leisure facilities are indoors: the pool, hot tub and fitness center.
2.
Hampton Inn Salt Lake City/Murray
606 West 4500 South, Salt Lake City, UT 84123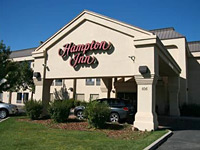 Although located at the edge of a busy commercial/business area adjoining I-15 (at the 4500S exit), Hampton Inn Salt Lake City/Murray has a pleasant, peaceful location overlooking the Jordan River, which has a hiking trail running along the far side. The hotel occupies a relatively old building of three floors and 64 rooms, and it offers all the expected facilities. Wi-fi and hot breakfast are complimentary; also available are an indoor pool, whirlpool, 24 hour fitness & business centers and guest laundry.

3.
TownePlace Suites Salt Lake City Murray
148 E 5300 S, Murray, UT 84107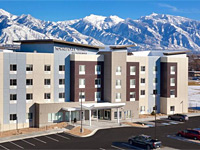 Newly constructed in 2021, the TownePlace Suites is located just across the street from another extended stay Marriott hotel (Residence Inn), along 5300S just east of the State Street intersection, near shopping, restaurants, schools and the Intermountain Medical Center. Downtown Salt Lake City is 9 miles north along I-15. All accommodations are suites, in studio, one bedroom and two bedroom layouts, and all have a fully equipped kitchen. Guests can also take advantage of the usual amenities for business, meetings and recreation. Free breakfast is provided.

4.
Holiday Inn Express & Suites Salt Lake City South-Murray
5429 South Commerce Drive, Murray, UT 84107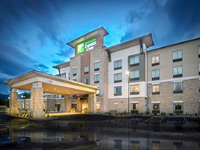 Free hot breakfast buffet, business & fitness centers, an indoor pool and meeting space are the standard amenities of Holiday Inn Express Murray, a fall 2014 addition to the hotel choices in the south Salt Lake City area. The hotel is built beside I-15 at the W 5300 S exit, less than a mile from the Intermountain Medical Center. The immediate neighborhood has a mixture of business premises and shops, plus two education centers (University of Utah, Columbia College) and a small selection of restaurants.

5.
Fairfield Inn Salt Lake City South
594 West 4500 South, Salt Lake City, UT 84123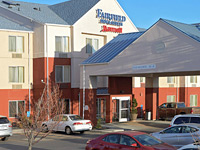 The southernmost of the two Fairfield Inn hotels in Salt Lake City is a 3 floor, 61 room building offering mid range accommodation with the expected amenities of free continental breakfast, free parking, an indoor pool & hot tub. The staff are efficient and helpful, and all rooms are maintained to a high standard. The hotel is situated just west of I-15 exit 301, close to many shops & restaurants, and within a mile of two golf courses (Meadowbrook & Fore Lakes).

6.
Quality Inn & Suites Murray
440 West 5300 South, Murray, UT 84123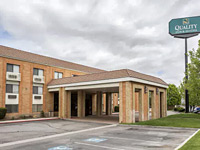 The pet friendly, interior corridor Quality Inn Murray is positioned 700 feet from Interstate 15 at the W 5300 S exit, in a business/commercial neighborhood within walking distance of Smith's supermarket, a city park, University of Phoenix and a small selection of restaurants. All guest rooms contain a refrigerator, coffee maker & microwave, and some have a hot tub bath and sofa bed. The only general amenities are free wi-fi and free hot breakfast, but rates are reasonable the location easy-to-reach.

7.
Studio 6 Salt Lake City - Fort Union
975 E 6600 S, Murray, UT 84121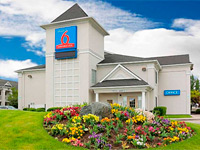 Near to Midvale, Sandy and South Salt Lake City as well as Murray, the Studio 6 provides affordable all-suite accommodation in a spacious, semi-rural site one block from the I-215 loop; the hotel is right next to both the historic Wheeler Farm and a city park (South Cottonwood). There are many shopping centers within a few miles including Fashion Place, Southlake and Oakwood Village. All rooms are equipped with a full kitchen, and many have fine views of the mountains, just 4 miles east. Guest laundry, wi-fi, cable TV and free coffee are the only other amenities, but the low rates and convenient location make this a popular place to stay.