1.
Homewood Suites by Hilton Salt Lake City Draper
473 W 13490 S, Draper, UT 84020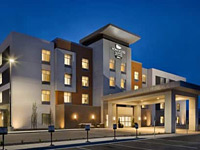 The Homewood Suites hotel in Draper has a quiet setting on the south side of the city close to Hwy 154. In the vicinity are a few large stores including IKEA, while the eBay campus is just up the road. The hotel features suites in studio, one bedroom and two bedroom configurations, all including a full kitchen. Complimentary amenities are wi-fi, daily hot breakfast, evening receptions (Mon-Thu) and a grocery shopping service. The onsite convenience store is open 24 hours. A fitness center and indoor pool are available for relaxation. Several restaurants are within walking distance, either side of the nearby I-15 exit.
2.
Hampton Inn Draper Salt Lake City
13711 South 200 W, Draper, UT 84020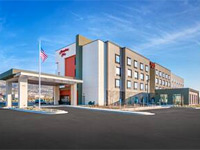 Hampton Inn Draper, open late 2019, is built in a relatively quiet neighborhood, of mostly business premises, close to I-15 exit 289 (Hwy 154), just down the street from one restaurant. Downtown Salt Lake City is 20 miles north along the freeway. 24 hour amenities include a fitness center, business center and snack shop, while for recreation the hotel also offers an indoor pool, hot tub, patio and fire pit. Daily hot breakfast is complimentary, while coffee and tea are always available in the lobby.

3.
TownePlace Suites Salt Lake City Draper
13690 South 100 East, Draper, UT 84020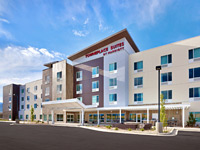 New for summer 2019, the TownePlace Suites provides high quality, all-suite/extended stay lodging, and it has a prominent location right beside Interstate 15 at the Hwy 154 exit (Bangerter Highway), adjacent to a supermarket and a selection of restaurants. All accommodations are equipped with a full kitchen and a sofa bed. Hot breakfast is complimentary, while snacks and cookable meals may be purchased from a 24 hour convenience store. The hotel also offers all the usual facilities for recreation and business.

4.
SpringHill Suites Salt Lake City Draper
12111 S State Street, Draper, UT 84020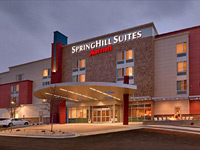 SpringHill Suites Draper is situated on the west side of town between junctions 291 and 292 of I-15, also close to Sandy, Riverton and South Jordan; a modern, stylish Marriott property of four floors and 124 studio suites, equipped with sofa bed, executive desk, refrigerator, microwave & sink. Free hot breakfast is served each morning, while the other main amenities are an indoor pool/whirlpool, a business center and meeting space. The surroundings are mostly residential, with a shopping area half a mile south along Hwy 71, and a business park on the far side of the interstate. Also nearby are Argosy University Salt Lake City, the National Guard Headquarters and South Towne Center Mall.

5.
Fairfield Inn Salt Lake City Draper
12117 S State Street, Draper, UT 84020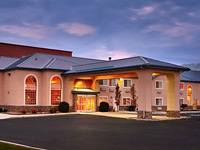 Draper's Fairfield Inn hotel is an affordable, medium sized (66 room) property on the east side of interstate 15, near exit 291, and also close to the districts of Sandy, Riverton and Lampton. There is one restaurant alongside, sharing the parking lot, and others north and south along the main road, while a short distance south is a shopping center with cinema. The inn offers free hot breakfast and a free local area shuttle, an indoor pool, hot tub and a small exercise room.

6.
Quality Inn Draper
12033 S Factory Outlet Drive, Draper, UT 84020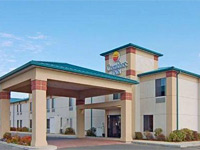 Quality Inn Draper is positioned right next to I-15, half way between Salt Lake City and Provo, so a good stop for north-south travelers on the interstate. The hotel is located along the eastern frontage road, one block north of 123rd Street (exit 291), opposite the Factory Outlet Mall, and right next to Cowabunga Bay Water Park. Guest rooms enjoy mountain views to the west and south. The hotel offers 60 rooms/suites (all with coffee maker, microwave & refrigerator) on two floors, an indoor pool, hot tub, fitness center and free breakfast.

7.
Ramada by Wyndham Draper
12605 South Minuteman Drive, Draper, UT 84020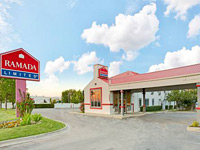 Interstate 15 runs right past Ramada Limited Draper (the nearest exit is 12300 S, one block north), providing quick access to downtown Salt Lake City (18 miles) and the international airport (21 miles). The hotel occupies a compact, clean-looking, red roofed building along the eastern frontage road, a short walk from a shopping complex that includes a good selection of restaurants. All guest accommodations contain a refrigerator and microwave. Free continental breakfast is provided, with hot waffles, while the other amenities are a fitness center, meeting space, laundry, business center and free wi-fi.