1.
Staybridge Suites Salt Lake - West Valley City
3030 S Decker Drive, West Valley City, UT 84119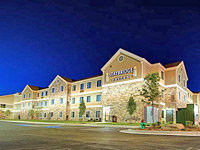 The three story Staybridge Suites hotel in West Valley City is aimed at the long stay traveler, providing 97 oversized rooms that all include a full kitchen (refrigerator/ice-maker, dishwasher, stove, microwave) and separate areas for living & sleeping. They are available in studio, one bed or two bed configurations, and are part of an elegant, well equipped building that also contains a fitness center, guest laundry, business center and a dining area for the free buffet breakfast and free evening reception (Tue to Thu). Leisure activities center on an indoor water park, shared with the Holiday Inn Express next door - both properties opened summer 2009.
2.
Hampton Inn Salt Lake City/Murray
606 West 4500 South, Salt Lake City, UT 84123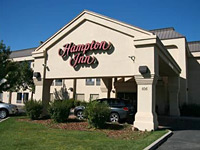 Although located at the edge of a busy commercial/business area adjoining I-15 (at the 4500S exit), Hampton Inn Salt Lake City/Murray has a pleasant, peaceful location overlooking the Jordan River, which has a hiking trail running along the far side. The hotel occupies a relatively old building of three floors and 64 rooms, and it offers all the expected facilities. Wi-fi and hot breakfast are complimentary; also available are an indoor pool, whirlpool, 24 hour fitness & business centers and guest laundry.
3.
Hampton Inn Salt Lake City Central
2055 South Redwood Road, Salt Lake City, UT 84104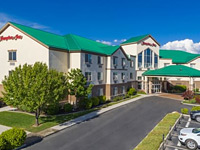 Four miles southwest of downtown Salt Lake City, the Hampton Inn is easily reached from the 201 freeway which runs past one block south, and from I-215 to the west, this latter leading towards the international airport (6 miles). The hotel borders a golf course on one side and the main Salt Lake City post office building on the other, in a mostly business neighborhood but also close to half a dozen restaurants. Highlights include the free hot breakfast (take-out version available), the indoor pool/hot tub and the fully equipped business center. All guest rooms contain a microwave and refrigerator.

4.
Holiday Inn Express Hotel & Suites West Valley City-Waterpark
3036 S Decker Drive, West Valley City, UT 84119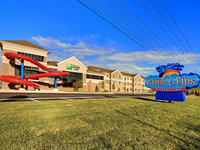 One of two brand new InterContinental Hotels Group properties to open in West Valley City in 2009, the Holiday Inn Express caters for guests in 94 rooms & suites, all very clean, large and modern, and some equipped with microwave/refrigerator. The main attraction of the hotel, shared with the Staybridge Suites next door, is an indoor water park featuring a huge water slide, three pools, a hot tub and a water-based gymnasium. Free hot breakfast buffet is prepared each morning, and there are many restaurants a short walk south along Decker Lane Drive; also nearby, just the far side of I-215, is the 120 store Valley Fair Mall. For those here to work, the hotel has a business center and one meeting room.

5.
Fairfield Inn Salt Lake City South
594 West 4500 South, Salt Lake City, UT 84123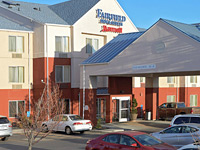 The southernmost of the two Fairfield Inn hotels in Salt Lake City is a 3 floor, 61 room building offering mid range accommodation with the expected amenities of free continental breakfast, free parking, an indoor pool & hot tub. The staff are efficient and helpful, and all rooms are maintained to a high standard. The hotel is situated just west of I-15 exit 301, close to many shops & restaurants, and within a mile of two golf courses (Meadowbrook & Fore Lakes).

6.
Sleep Inn Salt Lake City
3440 S 2200 W, Salt Lake City, UT 84119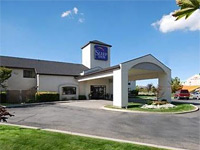 The 73 room, pet friendly Sleep Inn is south-centrally located in Salt Lake City, one of several hotels along Decker Lane Drive, a short road between 31st and 35th Streets, just northeast of exit 18 of I-215, and two blocks away from the Valley Fair Mall in West Valley City. The budget-priced hotel is within walking distance of numerous shops, restaurants, a movie theater and many other attractions. Free hot breakfast is served, and all rooms are equipped with a microwave amp; refrigerator. The meeting facilities can cater for events of up to 50 people.

7.
Ramada by Wyndham Salt Lake City
2455 S State Street, Salt Lake City, UT 84115-3135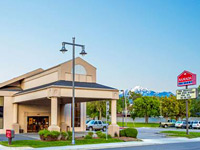 Rooms at Ramada Limited Salt Lake City have views south across a residential area or north towards I-80, which runs right past; the interior corridor motel adjoins the State Street (US 89) exit, at the edge of an extensive business district that extends west towards I-15. Free continental breakfast is served; for other meals there is one restaurant sharing the parking lot and others several blocks away. Drinks and snacks can be purchased 24 hours a day from the on-site convenience mart. Guest rooms contain a microwave and refrigerator. An indoor pool, whirlpool and a small fitness center are also available.
8.
Motel 6 - Salt Lake City - Central
315 West 3300 South, Salt Lake City, UT 84115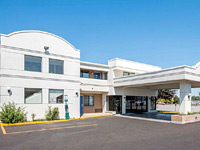 Motel 6 Salt Lake City has a prominent location by the busy intersection of I-15 with 3300 South (exit 303), in a commercial/industrial district 5 miles south of the city center. The nearest Trax light rail station (3300S @ 210W) is 0.2 miles east. The motel is quite large, with 101 rooms, some with refrigerator/microwave, divided between several old-style, exterior corridor blocks, and it has a small range of amenities, principally free morning coffee, free wi-fi, an indoor pool and meeting space.