One of two deep but easily-accessed canyons along the scenic drive at the center of
Capitol Reef National Park
(the other being
Capitol Gorge
),
Grand Wash
offers a pleasant, safe introduction to narrow canyon hiking, although even here the NPS post prominent warnings of flash flood danger.
The wash cuts right through the reef, has sheer cliffs of Wingate and Navajo sandstone up to 500 feet high, many colorful strata and eroded rock formations, with a short, enclosed section of the streamway where the walls are less than 15 feet apart and the waters, when flowing, cover all of the canyon floor.
Topographic Map of Grand Wash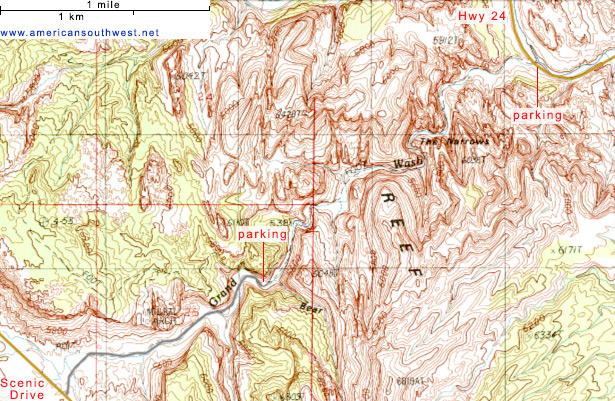 Location
Grand Wash starts west of Capitol Reef and meets the Fremont River at the far side so both ends are accessible by road and a one-way hike is a possibility, with a car at each trailhead, although the distance is only 2.2 miles hence a round trip can take just 90 minutes. Parking for the lower end is at a pull-out along UT 24, next to the river and 5 miles east of the visitor center, while upper access is from the end of a one mile gravel side track that meets the scenic drive and follows the wash until it starts to become narrow.
Photographs
9 views of Grand Wash
.
Route Description
From the upstream parking area, the maintained trail follows the north side of the wash and soon divides. The left branch (the
Frying Pan Trail
) climbs steeply up the cliffs and passes close to Cassidy Arch after 2 miles then continues, across slickrock and several shallower canyons, eventually descending back to the scenic drive near the park campground. The Navajo sandstone arch, which can be also seen from the road beneath, is one of the largest in the park.
The Grand Wash branch of the trail merges with the streambed - this is at first quite wide and stony, filled with boulders of all shapes and sizes that have fallen from the crumbling cliffs that rise high above. The canyon has several sweeping bends before the moderately narrow central section, which is reminiscent of some parts of the Zion Narrows though on a smaller scale. The far side becomes gradually wider over the final half a mile to the lower trailhead, where the wash meets the Fremont River.