1.
Holiday Inn Express Hotel & Suites Raton
101 Card Avenue, Raton, NM 87740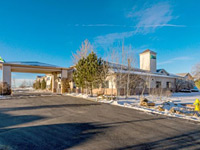 The spacious Holiday Inn Express hotel in Raton has a rural location at the south edge of town, adjacent to the frontage road beside exit 450 of I-25 (west side); 2 miles south of the town center and a few blocks from Raton's La Mesa Airport. The hotel offers 44 rooms and 36 luxury suites, an indoor pool, whirlpool, fitness center and meeting/event facilities for up to 40 people. Free hot breakfast buffet is prepared each morning. A drive 30 miles east along US 87/64 reaches the main natural attraction of northeast New Mexico, the
Capulin Volcano National Monument
.

2.
Best Western Plus Raton Hotel
473 Clayton Road, Raton, NM 87740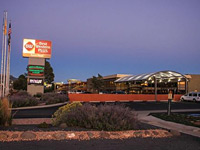 One of several hotels beside I-25 exit 451, a few blocks from downtown Raton, the Best Western Plus is a welcoming, full service property that includes an on-site restaurant/bar (Mulligan's), open for breakfast, lunch & dinner. The 61 rooms are arranged around an enclosed courtyard atrium with plants, seating area and an indoor pool; other leisure amenities are a fitness center, spa & hot tub, plus a massage service. The hotel has good facilities for business, meetings, banquets and other events, and it provides free full breakfast.

3.
Quality Inn Raton
533 Clayton Road, Raton, NM 87740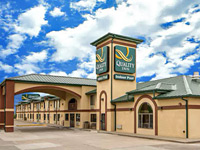 Quality Inn Raton occupies a small site towards the east of town, adjacent to a stream and surrounded by grassy fields, though still right next to I-25 - half a block west along US 87, Clayton Road (exit 451). The center of Raton is 1.5 miles to the northeast though there is a good selection of restaurants near the hotel. The Quality Inn has 63 east or west-facing rooms on two floors, with interior corridors; an indoor heated pool, hot tub, and free breakfast bar. Suites are available, with microwaves and refrigerators.

4.
Howard Johnson by Wyndham Raton
350 Clayton Road, Raton, NM 87740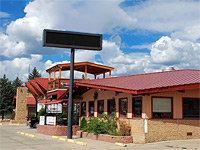 The main amenity of Howard Johnson Raton is an outdoor pool, at the center of the parking lot, along three sides of which are the single story accommodation blocks. Coin-operated laundry, free wi-fi and a business center are the other facilities. The motel adjoins a restaurant, Casa Lemus, and there are several other dining outlets within walking distance. Interstate 25 runs past to the east; access is from exit 451, Clayton Road.

5.
Microtel Inn & Suites by Wyndham Raton
1640 Cedar Street, Raton, NM 87740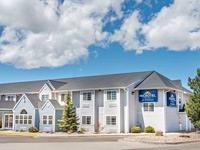 Raton's Microtel Inn features affordable, oversized accommodations, all equipped with a coffee maker & hair dryer, and including a selection of suites with sofa bed, microwave, refrigerator & wet bar. The hotel adjoins I-25 at exit 451 (Clayton Road), on the southeast edge of town, close to many restaurants, and it offers complimentary amenities of wi-fi, enhanced continental breakfast, fitness center access and hot snacks in the evenings. A business center is the only other onsite facility.

6.
Travelodge by Wyndham Raton
1600 Cedar Street, Raton, NM 87740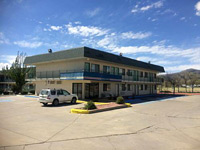 North-facing rooms at Travelodge Raton look out across a field towards distant hills; the building has a generally quiet location, along a side road next to I-25 on the southeast edge of town. On the south side of the motel are a secluded outdoor pool and a small courtyard garden. Interior facilities are limited to guest laundry, free continental breakfast, and a microwave/refrigerator in some of the rooms, but rates are low and the place is clean. There is one restaurant next door and others a short distance down the road. Pets are welcome.

7.
Super 8 by Wyndham Raton
1610 Cedar Street, Raton, NM 87740-2551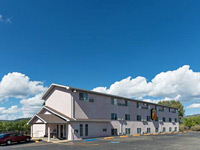 Super 8 Raton is part of a group of buildings at the Clayton Road exit of I-25, also including several gas stations and half a dozen restaurants, yet it has relatively quiet surroundings, 600 feet away from the interstate backing onto woodland and a small stream. Guest rooms are on three floors of an interior corridor property, and some contain a sofa bed, The only amenities are free wi-fi and free continental breakfast.