1.
Holiday Inn Hotel & Suites Trinidad
3130 Santa Fe Trail Drive, Trinidad, CO 81802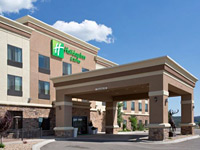 The Holiday Inn hotel in Trinidad, CO, is a substantial, well appointed, 86 room building in a countryside setting on a hill beside interstate 25 (exit 11), 3 miles south of the town center and 1.5 miles from Trinidad Lake State Park. The list of full service amenities at the hotel is headed by a restaurant/lounge, open all day for breakfast, lunch, dinner and room service. Leisure facilities comprise a fitness center, pool and hot tub, while for those here to work there is a business center and three meeting rooms catering for up to 188 guests. As well as the standard rooms, the Holiday Inn has several suites with kitchenette facilities.

2.
Quality Inn Trinidad
3125 Toupal Drive, Trinidad, CO 81082
Trinidad's Quality Inn has a quiet and peaceful location, backing onto undeveloped, wooded land on the west side of interstate 25, just 2 miles from Trinidad Lake and 11 miles from the New Mexico border. Most facilities in town are a few miles north, but the hotel is a self contained establishment with its own lounge and restaurant (open for breakfast, lunch & dinner). It also has a pool, fitness center and hot tub. The place is fairly old, but the 113 rooms are comfortable, and many have pleasant mountain views. Some are equipped with microwave/refrigerator.

3.
Days Inn & Suites by Wyndham Trinidad
900 West Adams Street, Trinidad, CO 81082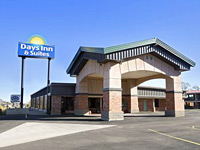 At the end of a side street in a residential district half a mile from Trinidad town center, the Days Inn offers 55 rooms on 2 floors, part of a traditional exterior corridor motel with the expected amenities of a pool (outdoor), hot tub, fitness center, free continental breakfast and guest laundry. Meals are available from an adjacent family restaurant, open all day from 6 am to 8 pm. The property faces interstate 25, just north of Trinidad Golf Course, and is accessed from exit 13B (Main Street; US 350).

4.
Travelodge by Wyndham Trinidad
702 W Main Street, Trinidad, CO 81082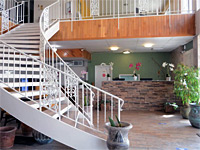 Guest rooms at Travelodge Trinidad are contained within a long, two story, exterior corridor, west-facing building at the intersection of I-25 and US 160, walking distance from shopping and dining in the city center, though situated in a relatively undeveloped area close to the Purgatoire River. A business center, fitness center and free wi-fi are the only facilities. All accommodations are equipped with a coffee/tea maker, a microwave and a refrigerator.

5.
Super 8 by Wyndham Trinidad
1924 Freedom Road, Trinidad, CO 81082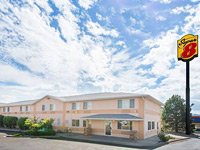 The only chain motel on the north side of Trinidad is the Super 8, built on slightly elevated ground with good views all around, especially south, across the city towards distant mountains. The budget-priced motel adjoins a shopping center on the eastern I-25 frontage road, close to Las Animas County Fairgrounds. Most rooms contain a microwave & refrigerator, while some have a whirlpool bath. The three main amenities are free wi-fi, free continental breakfast and a small meeting room.

6.
Rodeway Inn Trinidad
9800 Santa Fe Trail Drive, Trinidad, CO 81082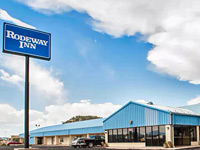 Rodeway Inn Trinidad is accessed from the eastern I-25 frontage road, on the south edge of town, 3 miles from the center. Apart from the interstate, the location is quiet and rural, with wooded hills on both sides and the blue waters of Trinidad Lake just a 3.5 mile drive away. The pet friendly motel has plenty of parking, including truck spaces, and it provides basic, budget-priced accommodation. All rooms contain a microwave and refrigerator. Coffee is free, though not breakfast. There are two restaurants nearby.