Map of Bottomless Lakes State Park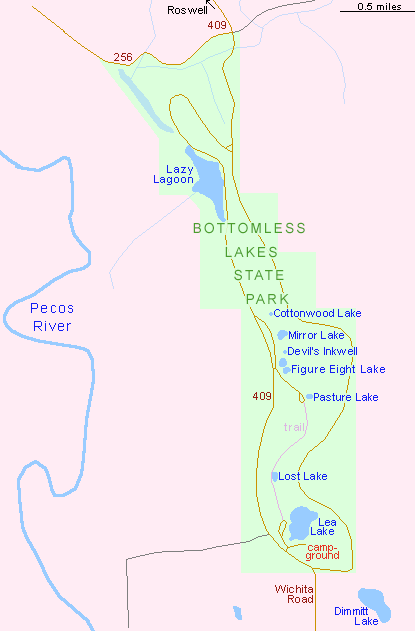 The Lakes
The Bottomless Lakes access road forks south of US 380, ten miles east of Roswell, and for 2.5 miles runs along the edge of the escarpment bordering the Pecos River valley, as far as a junction, at the start of a loop through the state park. One branch stays on top of the cliffs for another 4 miles while the other descends to the valley floor, passing close to all the lakes and the park facilities. The northernmost lake, the largest, and the only one on the west side of the road, is
Lazy Lagoon
, a large brackish pond which looks shallow and uninteresting but is actually formed by flooding of three adjacent sinkholes, the deepest 90 feet. The edges of the lake are muddy, the water bad smelling, and the surrounding earth is stained white from evaporated salts. The next four lakes are close together, within half a mile.
Cottonwood Lake
is 30 feet deep, enclosed by sheer, unvegetated cliffs up to 80 feet high, formed of layered white/red rocks of the Artesia Group, a Permian-era mixture of limestone, sandstone and shale which makes up all the escarpment east of the Pecos River.
Mirror Lake
is the prettiest and most unusual in the park - two perfectly circular sinkholes separated by a narrow ridge just underwater, also mostly surrounded by cliffs, as is the next lake south (
Devil's Inkwell
), named for the particularly rich green/blue color of the water. Just beyond,
Figure Eight Lake
is another created by adjacent sinkholes, originally linked by shallow water but lowering of lake levels in recent years has left the two halves separated by a strip of sand. The cliffs become less high further south, so the next lake (
Pasture
) is surrounded by flat, bushy land, and is quite shallow (17 feet). The small, unremarkable
Lost Lake
is the seventh, reached by a half mile walk through scrubland along a wide, level path that continues another half mile to
Lea Lake
, focal point for most activities in the state park; there may be several hundred people visiting on a hot day in summer, here for camping, swimming, sunbathing, scuba diving and picnicking. The lake covers three sinkholes, deepest 90 feet, and has a long sandy beach around one side. The ninth and final lake (
Dimmitt
) lies just outside the park boundary, and is owned by a local fishing club. This is another large pool, edged on the south side by vertical, 100 foot cliffs.