Bluewater Lake is one of 16 state parks in New Mexico based around a reservoir, offering the usual range of water-based recreation including fishing, boating, swimming and shoreline camping; this is a popular place to stay, due to the pleasant scenery and proximity to Interstate 40. In these respects the park is similar to all the others but has one added attraction of the cliff-lined canyon of Bluewater Creek, below the dam - the stream flows through a succession of pretty pools, lined by rich vegetation with many wildflowers, and may be viewed along a partial loop trail.

The main fish species in the lake are tiger muskie, channel catfish, rainbow trout and cutthroat trout. The waters freeze in winter, when ice fishing becomes a popular activity.

Away from the canyon, the lake is surrounded by low, rolling hills, partly covered by pinyon and juniper pines, elevation around 7,500 feet, and it is situated around 20 miles east of the continental divide.

Zuni Mountains, land within the Cibola National Forest.


Map of Bluewater Lake State Park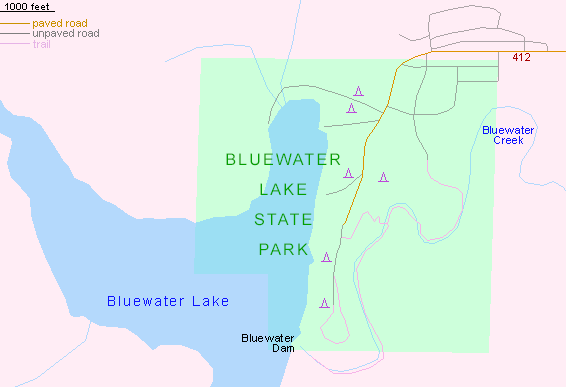 The Park

The state park occupies only a small part of the lake, at its east end, including the dam and 1.5 miles of the Bluewater Creek canyon. The park is accessed by a paved road, Hwy 412, which leaves I-40 at Prewitt, exit 63, crosses a range of hills then descends into the Bluewater Creek valley, through a residential area and on towards the lake, past the various camping areas. There are 149 sites available, 14 with electricity, while primitive beach camping is also permitted. Other facilities are a playground, visitor center, picnic areas, boat dock and launch ramp.


The Canyon

At the end of the campground road, a short trail continues south, climbing gently to a viewpoint overlooking the Bluewater Dam, atop a small hill. The main trail though is the 1.5 mile route into the canyon; starting in the middle of the campground, this descends 150 feet, the route a little difficult to follow in places, down to the overgrown canyon floor and across the creek to a junction, where one branch heads upstream for 0.8 miles, ending at the base of the dam, while the other fork goes down the creek, crossing it again, later rising up a side ravine and meeting a road (Jessica Lane) near the campground. All rocks in the canyon, and along the south shore of the lake, are layered, brownish limestone from the San Andres Formation, providing an attractive backdrop to the clear waters of the creek and the lush green vegetation.