1.
Marriott Visalia at the Convention Center
300 South Court Street, Visalia, CA 93291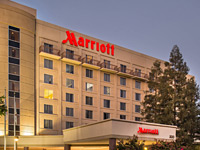 One of the limited number of full service hotels in Visalia, the Marriott has recently undergone an expensive renovation, modernizing its 195 spacious guest rooms and all the public areas, which include a bar, restaurant (open for breakfast, lunch and dinner), fitness center, pool/hot tub, business center and 19 meeting rooms (over 110,000 sq ft of event space) - in the adjacent Visalia Conference Center. Room service is available, and the staff are friendly and efficient. The hotel has a central location in Visalia one block from Highway 198 which reaches Sequoia National Park 34 miles east.

2.
Residence Inn Visalia
205 N Plaza Drive, Visalia, CA 93291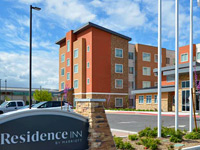 Residence Inn by Marriott is an all-suite/extended stay hotel of four floors and 95 rooms, available in two bedroom, one bedroom and studio configurations; all include a full kitchen. The hotel has a semi-rural location along Plaza Drive, just north of the Hwy 198 intersection, five miles west of the city center. There are several restaurants in the vicinity. Weekday evening receptions, daily hot breakfast, wi-fi and grocery deliveries are complimentary. The usual leisure, business and meetings facilities are available.

3.
Hilton Garden Inn Visalia
8715 West Hillsdale Avenue, Visalia, CA 93291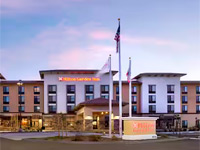 Open late 2023, Hilton Garden Inn Visalia is part of a group of businesses in a lightly developed district on the west edge of the city, along Hwy 198, one mile from the Hwy 99 intersection. The hotel has its own restaurant, open for breakfast, lunch & dinner, together with an outdoor pool, and 24 hour fitness/business centers. There are several other dining outlets close by. Valley Oaks Golf Course and Visalia Municipal Airport are a short drive away on the far side of the main road.
4.
Hampton Inn Visalia
4747 W Noble Avenue, Visalia, CA 93277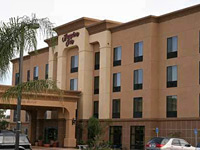 Hilton's first representative in Visalia is the Hampton Inn, an 88 room property on the south side of Hwy 198, within walking distance of shopping and dining. Visalia Convention Center is 3.2 miles east. Palm trees at the front help shield the four floor building from the highway, though most rooms face away from the main road; some overlook the sheltered outdoor pool to the south. Free hot breakfast is served each morning, supplied in a carry-out version for guests in a hurry (Mon-Fri). An 840 sq ft meeting room can hold events of up to 40 people. Also available are a fitness center, business center and laundry.

5.
Holiday Inn Express Visalia
5625 W Cypress Avenue, Visalia, CA 93277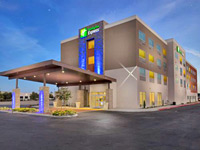 Visalia's 91 room/suite Holiday Inn Express situated in a quiet neighborhood at the west edge of the city, overlooking open fields to one side - at the Akers Street exit of Hwy 198, set back a little from the freeway. At least five restaurants are within one block, plus a few small shops, and Visalia Adventure Park. The hotel provides good quality free breakfast buffet, and has the other expected amenities of a pool (outdoor), hot tub, fitness center and business center.

6.
Best Western Visalia Hotel
9300 W Airport Drive, Visalia, CA 93277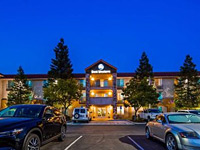 Best Western Visalia is situated several miles west of town alongside highway 99 at the junction with Hwy 198, between Visalia Airport and the Valley Oaks Golf Course, in a generally rural neighborhood. The rooms are east or west-facing, on three floors, and all have a refrigerator, microwave and free wi-fi. Complimentary full breakfast is available; for lunch and dinner there is one restaurant adjacent, and others starting a mile east. For recreation, the hotel offers an outdoor pool, sauna and fitness center.

7.
Fairfield Inn Visalia
140 South Akers Street, Visalia, CA 93291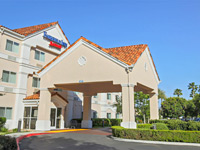 Visalia's 63 room Fairfield Inn by Marriott provides clean, good quality lodging at reasonable rates. The hotel sits in the middle of a small area of fast food restaurants (including Denny's) next to the Akers Street exit of Highway 198, close to the west edge of Visalia - 3 miles from the town center and 54 miles from
Giant Forest Village
in Sequoia National Park. Complimentary continental breakfast is served each morning; the other two main amenities are a heated indoor pool and hot tub.

8.
Comfort Suites Visalia Convention Center
210 E Acequia Avenue, Visalia, CA 93291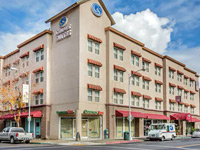 Comfort Suites Visalia is a four floor, 72 room (all suite) property with a central location on the corner Church Street and Acequia Avenue, 2 blocks north of the main road through town, CA 198. There are many restaurants, bars and shops nearby, within walking distance, and just opposite is the Visalia Convention Center. Recipient of the Choice Hotels Platinum Award (the highest available) for good housekeeping and customer service, the inn has a range of facilities including free deluxe continental breakfast, a fitness center, outdoor whirlpool/hot tub, guest laundry, and rooms with microwave & refrigerator.

9.
Super 8 by Wyndham Visalia
4801 W Noble Avenue, Visalia, CA 93277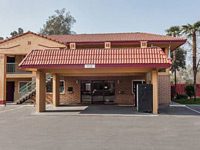 Hwy 198 runs right past Super 8 Visalia, providing quick travel between Hwy 99, the city center and the Sierra Nevada to the east - the Foothills entrance to
Sequoia National Park
is 37 miles away. The motel offers 39 rooms, contained within two exterior corridor blocks at either side of the rather small parking lot, which has an outdoor pool tucked away in one tree-lined corner. Complimentary amenities are wi-fi and continental breakfast; a business center and guest laundry are also available. All rooms contain a microwave and refrigerator.