1.
Hampton Inn & Suites Tulare
1100 N Cherry Street, Tulare, CA 93274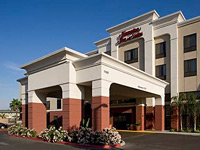 Hilton Hotels manage one property in Tulare - the Hampton Inn, which, like most other hotels in town, is located beside Hwy 99 at the Blackstone Street exit, surrounded by many shopping and dining outlets. Locations with a mile include Tulare District Healthcare, Tulare County Fairgrounds and Tulare Premium Outlets. Contained within the four floor building are 86 large, nicely decorated guest rooms, including a selection of studio suites with microwave, refrigerator and sofa bed. Other features are a 650 sq ft meeting room, a 24 hour business center, a fitness center and a dining room where the free hot breakfast is served. Exterior amenities are an outdoor pool and hot tub, on the east side of the building, away from the access road.

2.
Hillstone Inn, Ascend Hotel Collection
1183 N Blackstone Street, Tulare, CA 93274
Like most hotels in Tulare, the Hillstone Inn has a central location, near the Prosperity Road-Hwy 99 intersection, near restaurants and shops; a busy area, though the exterior corridor, three floor property is set back a way from the access road, and partly lined by trees, so offers peaceful accommodation. The hotel has a secluded outdoor pool, at the rear, plus a fitness center, meeting room and coin-operated laundry facility. Guest rooms contain a microwave and refrigerator.

3.
Holiday Inn Express & Suites Tulare
1016 E Prosperity Avenue, Tulare, CA 93274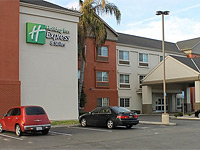 Holiday Inn Express Tulare opened late 2018 after conversion of an existing property (Charter Inn), and it has a good location next to a wide range of restaurants and stores (including Tulare Outlet Mall), at the Prosperity Avenue intersection of Hwy 99. Guest rooms feature a coffee maker, microwave, refrigerator and work desk; most have a sofa bed. Hot breakfast buffet and wi-fi are complimentary. The hotel has a fitness center, an outdoor pool and a business center.

4.
Best Western Plus Town and Country Lodge
1051 N Blackstone Street, Tulare, CA 93274-7376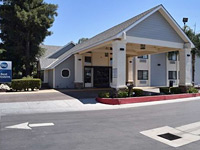 There are many hotels grouped around the junction of Prosperity Avenue and Blackstone Street, alongside CA 99 towards the north of Tulare - the largest is the 93 room Best Western Town and Country Lodge, a long, narrow, two floor building on the west side of the highway. This area has plenty of restaurants including Denny's, and shopping at Albertsons in the nearby Village Shopping Center. The Best Western is renowned for friendly service and spacious rooms; its main amenities are free full breakfast, an outdoor pool, cocktail lounge and exercise room.

5.
Fairfield Inn & Suites Visalia Tulare
1225 Hillman Street, Tulare, CA 93274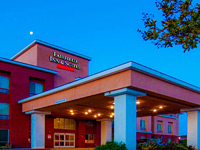 The first Marriott hotel in Tulare (open spring 2012) is the 80 room Fairfield Inn, built on the north side of town adjacent to Hwy 99 at the Hillman Street exit, one block from Monte Vista Shopping Center and several other large stores including Wal-Mart. Like all hotels of this brand, rooms are bright and modern, equipped with free wi-fi, a well-lit work desk and the comfortable Marriott bedding. Complimentary breakfast is provided each morning; other facilities are a pool, fitness center and business center.

6.
Comfort Suites Tulare
1021 North Blackstone Street, Tulare, CA 93274-7376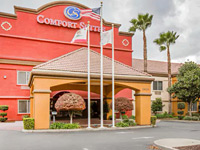 Comfort Suites Tulare is a well-reviewed hotel offering free full breakfast, an outdoor pool/hot tub and an exercise room. The property faces highway 99 and is situated between a residential district to the south and an area of shops, restaurants & other hotels just to the north. Downtown Tulare is a mile southwest. All accommodations include a microwave and refrigerator, a coffee maker and ironing facilities; some of the suites contain a two-person hot tub bath.

7.
Quality Inn Sequoia Area
1010 E Prosperity Avenue, Tulare, CA 93274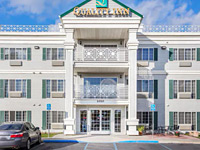 Quality Inn Sequoia Area occupies a handsome, three floor building with interior corridors, located at the northeast corner of the intersection of Prosperity Avenue and highway 99, 1.5 miles north of the center of Tulare. The Foothills entrance to
Sequoia National Park
is a 44 mile drive away, along roads 63 and 198. The surrounding area has many restaurants and shops - the hotel is adjacent to the Horizon Outlet Mall and a few minute's walk from Wal-Mart & Albertsons. For relaxation the hotel offers an outdoor pool, hot tub, sauna and exercise room. Free full breakfast is served.