1.
Fairfield Inn & Suites Kingsburg
216 Ventura Court, Kingsburg, CA 93631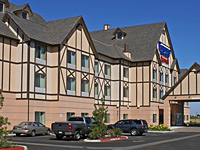 The Fairfield Inn by Marriott is a recently built hotel in Kingsburg, located in a lightly developed area on the north side of town, adjacent to Hwy 99 but shielded by a line of trees; access is along quiet side roads, starting from the Sierra Street exit. Free hot breakfast is provided and for other meals there are several restaurants nearby, and a few shops including K-Mart. The three floor, 86 room/suite property has attractive, Swedish-style architecture and a brightly decorated interior. The main facilities are an outdoor pool, hot tub, fireplace lobby, convenience store, business center and free wi-fi.