1.
Courtyard Fresno Clovis
1450 Shaw Avenue, Clovis, CA 93611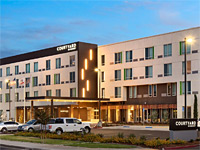 Courtyard, the second Marriott hotel in Clovis, opened summer 2021, along Shaw Avenue towards the south edge of town, 9 miles northeast of central Fresno. The many shops and restaurants at Sierra Vista Mall are within walking distance, as are a range of other stores. The four floor, 123 room property includes a restaurant/bar (serving breakfast, dinner & evening drinks), pool, fitness center and one meeting room, plus a spacious lobby with interactive media displays and plenty of comfortable seating.

2.
Homewood Suites by Hilton Clovis
835 Gettysburg Avenue, Clovis, CA 93612
Homewood Suites Clovis features upscale, extended stay/all-suite lodging - guests have a choice of 83 studio, one bedroom or two bedroom suites, all equipped with a full kitchen, sofa bed, work desk, two TVs and free wi-fi. Other complimentary amenities are hot breakfast, evening receptions (Mon-Thu) and transportation to Fresno Airport, 4 miles south along Clovis Avenue. Food for cooking can be acquired via the free grocery delivery service, the nearest supermarket being 2 blocks north, close to Sierra Vista Mall. An onsite convenience store is a useful source of snacks and other sundries. For leisure the hotel offers a putting green, basketball court, fitness center, hot tub and outdoor pool.

3.
Hilton Garden Inn Clovis
520 West Shaw Avenue, Clovis, CA 93612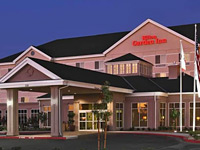 Hilton Garden Inn Clovis sits along Shaw Avenue, part of a line of shopping centers, restaurants and other businesses culminating at Sierra Vista Mall 1.4 miles east. In the other direction, the road intersects Hwy 58 in half a mile, for easy travel south to Fresno or north towards the Sierra Nevada. At the rear of the hotel is a secluded outdoor pool, adjoining a patio dining area served by the Great American Grill restaurant/bar, which is open for breakfast, dinner and evening room service. Snacks can be purchased from the Pavilion Pantry convenience store, including light meals cookable using the microwaves in each guest room. Business travelers can take advantage of a 90 person meeting room and a business center.
4.
Hampton Inn & Suites Clovis - Airport North
855 Gettysburg Avenue, Clovis, CA 93612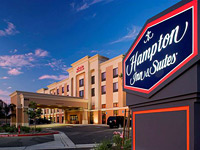 Guests at Hampton Inn Clovis are within a short walk of Sierra Vista Mall, which has over 60 outlets, including a 16 screen movie theater and many restaurants. This location is 8 miles from downtown Fresno and 2 miles south of Clovis town center, in a mostly residential neighborhood. Rooms at the front (south-facing) overlook a patio, garden and outdoor pool, while those at the rear have views over an undeveloped lot towards the mall. Free hot breakfast (take-out version available), fitness & business centers and a 720 sq ft meeting room are just some of the other amenities.

5.
TownePlace Suites Fresno Clovis
580 W Shaw Avenue, Clovis, CA 93612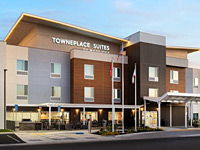 TownePlace Suites Clovis has a central location along Shaw Avenue, within walking distance of various restaurants and large stores, including Walmart and Home Depot. Hwy 99 is half a mile west. The 114 room, three floor property is set back a little from the main road, behind an adjacent building, so provides quiet lodgings. All accommodations are suites (two bedroom, one bedroom, studio, equipped with sofa bed and a full kitchen. Hot breakfast is complimentary.

6.
Holiday Inn Express Hotel & Suites Clovis-Fresno Area
650 W Shaw Avenue, Clovis, CA 93612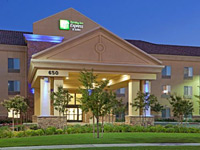 The Holiday Inn Express hotel in Clovis, CA, is built half a mile east of Highway 168 along Shaw Avenue - in a mostly residential area though next to a small shopping center. Larger stores, and several restaurants, are found around the freeway exit, just the far side of which is California State University Fresno. The hotel features luxurious bedding in all the 100 rooms & suites, plus free internet access, and a microwave. The other Holiday Inn Express amenities are free breakfast (including hot items), a pool, hot tub, fitness room, newsstand, business center and a boardroom.

7.
Best Western Clovis Cole
415 Clovis Avenue, Clovis, CA 93612-1119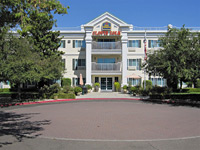 Best Western Clovis Cole is centrally located along the main road through town (Clovis Avenue), set back slightly from the highway along the adjacent (and quieter) Hughes Ave. This part of Clovis has a great choice of restaurants & bars, and plenty of shopping including the Sierra Vista Mall 1.2 miles south. The center of Fresno is 8 miles southwest. The hotel has 58 rooms in quite a large, 3 floor building, that includes an outdoor pool, spa, exercise room and guest laundry. Free continental breakfast is provided.

8.
Fairfield Inn & Suites Fresno Clovis
50 N Clovis Avenue, Clovis, CA 93612
Fairfield Inn Clovis is located near the north edge of town along Clovis Avenue - a short drive from Highway 168, 2.5 miles from California State University and ten miles north of downtown Fresno. The hotel provides the good customer service, quality room furnishings and wide range of facilities typical of Marriott properties; there are 85 comfortable, richly decorated guest rooms & suites available, all containing a microwave, refrigerator and sofa bed. Guests can take advantage of free hot breakfast each morning, plus leisure amenities of a fitness center, outdoor pool and hot tub. Internet access is free, and the hotel has a business center & meeting room.

9.
Comfort Suites Clovis
143 Clovis Avenue, Clovis, CA 93612
The Comfort Suites hotel is situated just north of downtown Clovis, along Clovis Avenue, within walking distance of shops, restaurants, a park, a jogging track and the Clovis Antique Mall in the Old Town district. The four floor hotel contains 54 spacious suites, each with a microwave, refrigerator, safe, ironing facilities and a coffee maker; hotel amenities are free continental breakfast, an exercise room, outdoor pool, guest laundry and free wireless internet access.