1.
Hampton Inn & Suites Red Bluff
520 Adobe Road, Red Bluff, CA 96080-9623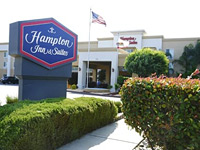 The 97 room Hampton Inn is built in a quiet location just off Main Street towards the north edge of Red Bluff, within walking distance of several restaurants and large stores. South-facing rooms look out across farmland towards a city park and the Sacramento River; all accommodations are clean, good sized, and equipped with a refrigerator. Free breakfast, a convenience store, an outdoor pool, a fitness center and a business center are the other standard amenities. RV travelers can take advantage of a small full hookup site in the hotel grounds.

2.
Holiday Inn Express Hotel & Suites Red Bluff-South Redding Area
2810 Main Street, Red Bluff, CA 96080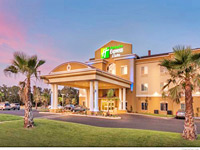 Open summer 2012, the Holiday Inn Express is the most northerly hotel in Red Bluff and so the first to welcome travelers from Redding and the north; the three story, 80 room property is situated in a lightly developed area beside Home Depot, close to I-5 exit 651. There are a couple of restaurants within walking distance to the south, and others in the city center about 2 miles away. The hotel's free breakfast includes a selection of hot items, and all the other expected amenities are provided: pool (indoor), hot tub, fitness center, business center, meeting space and guest laundry.

3.
Best Western Plus Antelope Inn
203 Antelope Blvd, Red Bluff, CA 96080-2901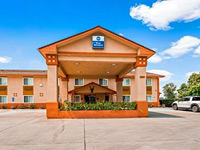 The Best Western hotel in Red Bluff enjoys a peaceful, wooded location beside a branch of the Sacramento River, on the east side of town and one block from exit 649 of I-5 (Antelope Boulevard; CA 36). The 67 rooms on 2 floors have views either across the river, or over the courtyard/parking area. The hotel has a sheltered outdoor pool at the rear, and two more unusual features in a tropical aviary and a pond of koi carp. Regular amenities include free continental breakfast, 24 hour front desk and high speed internet access. There are at least 5 restaurants within a few minute's walk.

4.
Comfort Inn Red Buff
90 Sale Lane, Red Bluff, CA 96080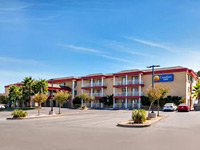 Comfort Inn Red Bluff occupies a three story, single block building with 67 rooms, situated in a quiet, residential district one mile east of the town center. One of the major attractions of north California,
Lassen Volcanic National Park
, is 50 miles east along the main road (CA 36). The hotel provides an outdoor pool/hot tub & fitness center, and serves free deluxe continental breakfast. Almost a dozen restaurants are a short walk away. All accommodations contain a microwave and refrigerator.

5.
Days Inn by Wyndham Red Bluff
5 Sutter Street, Red Bluff, CA 96080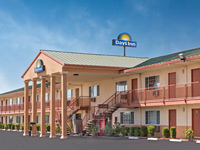 The Days Inn provides the only chain lodging on the south side of Red Bluff; the motel faces I-5 just south of the Main Street exit (647), partly shielded from the freeway by a line of trees. Places within two miles include Oak Creek Golf Course, St Elizabeth Community Hospital and the Sacramento River. Shops and restaurants can be found half a mile north at Red Bluff Shopping Center. Guest rooms (all containing a microwave & refrigerator) are on two floors, facing east or west, and overlook the spacious parking area, which has ample room for the largest trucks. Free continental breakfast is served.

6.
Travelodge by Wyndham Red Bluff
38 Antelope Boulevard, Red Bluff, CA 96080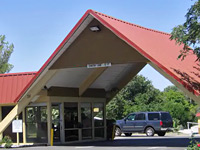 The location is the best aspect of Travelodge Red Bluff - right on the banks of the Sacramento River (east side), next to the Hwy 36 road bridge, adjacent to one restaurant and within walking distance of many more. All guest rooms have relaxing views across the spacious, secluded garden at the center, which contains an outdoor pool, through a thin line of trees to the river just beyond. The usual two complimentary amenities of breakfast and wi-fi are provided. Pets are welcome. Accommodations are on two floors, accessed by exterior corridors from the parking lot around the outside.
7.
Motel 6 Red Bluff
20 Williams Avenue, Red Bluff, CA 96080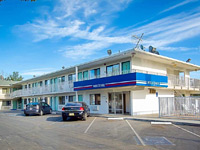 Although located by the major intersection of I-5 and Hwy 36, Motel 6 Red Bluff benefits from a quiet location, a third of a mile from the interstate and set back slightly from the highway behind a gas station and a line of trees. The motel has 61 rooms available, housed in a traditional two floor building with exterior corridors, enclosed by plenty of parking space. Amenities are an outdoor pool, guest laundry, wi-fi and free coffee. There are eight restaurants adjacent.

8.
Super 8 by Wyndham Red Bluff
30 Gilmore Road, Red Bluff, CA 96080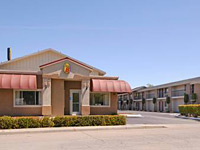 The refrigerator/microwave-equipped rooms at Super 8 Red Bluff look out across a quiet, tree-lined, mostly residential neighborhood on the south side of Hwy 36, one block from the Sacramento River and a short walk from the downtown area. Interstate 5 runs past to the east and there are several restaurants and shops close by. The motel has an outdoor pool at the front, and other facilities of a meeting room, free wi-fi and free, eight item continental breakfast. Pets are welcome.