1.
DoubleTree by Hilton Chico
685 Manzanita Court, Chico, CA 95926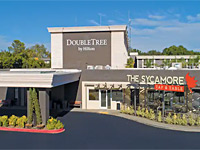 Open summer 2020, the recently renovated DoubleTree by Hilton Chico is the largest full service hotel in town, occupying a five story, 173 room/suite building that also has a courtyard garden with outdoor pool, a fitness center, restaurant open for lunch & dinner, a bar/lounge and a conference center with extensive event facilities (four meeting rooms, 3,120 sq ft of space). The hotel is situated just south of busy highway 99 at the Cohasset Road exit, towards the north side of Chico, and occupies a large site, partly surrounded by trees and separated from neighboring buildings by a thin belt of undeveloped land, either side of a seasonal creek

2.
Courtyard Chico
2481 Carmichael Drive, Chico, CA 95928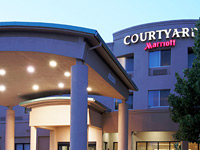 The recently built Courtyard by Marriott hotel in Chico, CA, sits by the edge of the countryside at the southeast corner of town, next to the Park Ave exit of Highway 99 and close to many shops & fast food restaurants. Larger stores can be found a mile north at Chico Mall, or at the North Valley Plaza Mall 3 miles further. The hotel is a clean, well run establishment, typical of the Courtyard brand, offering guests a choice of 90 rooms over 3 floors, plus amenities of an indoor pool, hot tub and a restaurant serving breakfast. Children can have fun at the adjacent CalSkate Funland mini golf course, batting range & skating rink.

3.
Residence Inn Chico
2485 Carmichael Drive, Chico, CA 95928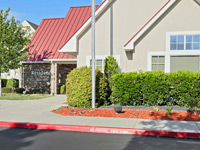 Residence Inn Chico caters for the longer stay traveler or those just needing more space and facilities - it has 78 comfortable, modern suites, all equipped with a full kitchen containing a microwave, dishwasher & refrigerator. Complimentary services include hot breakfast and the manager's evening reception, while for leisure guests can use the outdoor pool and whirlpool. The onsite, American-style Bistro restaurant is open for breakfast & dinner. Leisure facilities are a sports court, fitness center, pool, hot tub and bbq area. The clean rooms, modern amenities, and good staff make this one of the top rated hotels in Chico.

4.
Holiday Inn Express & Suites Chico
2074 E 20th Street, Chico, CA 95928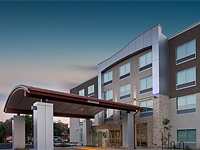 New for summer 2019, Holiday Inn Express Chico is part of the main shopping district in town, east of Hwy 99, close to the edge of the countryside - there are many restaurants in the vicinity, and such stores as Walmart, JC Penney, Lowe's and Target. The 93 room/suite hotel offers free wi-fi and free daily hot breakfast buffet, together with amenities of a fitness center, business center, meeting space and an indoor pool. Accommodations are equipped with a refrigerator and a microwave.

5.
Best Western Plus Heritage Inn Chico
25 Heritage Lane, Chico, CA 95926-1368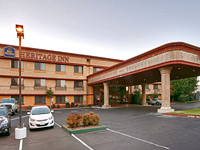 Three miles north of downtown Chico, the Best Western Heritage Inn has a tree-lined setting at the Cohasset Road exit of Hwy 99, just a few minutes walk from North Valley Plaza Mall, a 14 screen movie theater and many restaurants. The hotel occupies a large 3 floor building surrounded by plenty of parking space, containing 101 king or queen bed rooms, a meeting room and a dining area where the free continental breakfast buffet is served. It also has a small, sheltered outdoor pool and hot tub.

6.
Quality Inn Near Chico State
715 Main Street, Chico, CA 95928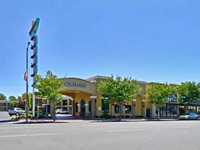 Near the center of Chico along Main Street, one mile from Highway 99, the Quality Inn motel has 63 well equipped rooms (microwave, refrigerator, pillowtop mattresses, plus whirlpool baths in selected accommodations), arranged around three sides of the central parking lot, at the edge of which is an outdoor pool. Although rates are generally low, the inn still provides all the usual facilities of free continental breakfast, free internet access, laundry and a business center. There are many restaurants within walking distance.

7.
Super 8 by Wyndham Chico
655 Manzanita Court, Chico, CA 95926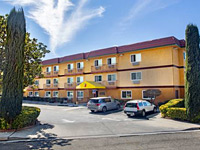 The pet friendly Super 8 Chico is tucked away at the end of a short side street, enclosed by trees on three sides, though just 100 feet from Hwy 99; access is from the Cohasset Road exit. Continental breakfast (with eight items) and wi-fi are complimentary; also available are an outdoor pool and coin-operated laundry. Guest rooms contain a microwave & refrigerator, and are entered via interior corridors. There are two restaurants in the vicinity, and various shops (and a movie theater) half a mile away on the far side of the highway.

8.
Rodeway Inn Chico
1717 Park Avenue, Chico, CA 95928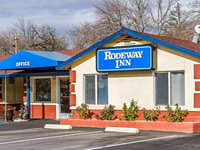 All 30 rooms at the budget-priced, pet friendly Rodeway Inn Chico are on the ground floor, along two sides of the central parking lot, located in a quiet, residential area just off Park Avenue, one mile from Chico Crossroads shopping center by Hwy 99. A basic business center, free wi-fi and free continental breakfast are the only amenities. Rooms are available with microwave and refrigerator.
9.
Motel 6 Chico
665 Manzanita Court, Chico, CA 95926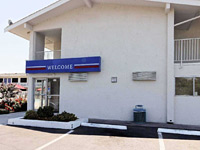 Motel 6 Chico faces Hwy 99 at the Cohasset Road exit, on the north side of the city, close to a few restaurants and gas stations. The budget-priced property has an outdoor pool at the front, mostly shielded from the freeway by a row of trees, and a reasonably-sized parking lot all around. Some of the rooms contain a microwave and refrigerator. Accommodations are on two storys of an exterior corridor building. Guest laundry, wi-fi and free morning coffee are the other amenities.