1.
Sheraton Redding Hotel at the Sundial Bridge
820 Sundial Bridge Drive, Redding, CA 96001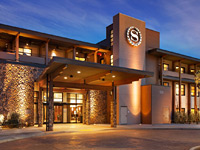 Although just one mile from Redding city center, the Sheraton hotel enjoys a peaceful and scenic location, partly surrounded by woodland - beside the Redding Rodeo Grounds, a short walk from Turtle Bay Exploration Park and Sundial Bridge over the Sacramento River. Accommodations include several configurations of regular rooms, plus corner suites and one bedroom suites; most have a balcony, and views either of the city or the mountains. The onsite restaurant, Mosaic, serves Californian cuisine and is open for breakfast, lunch & dinner, accompanied by a wide range of local wines. The hotel has a large outdoor pool at the rear, and extensive facilities for meetings & events.

2.
Holiday Inn Redding
1900 Hilltop Drive, Redding, CA 96002
Redding's 126 room Holiday Inn hotel takes up one block between interstate 5 and Hilltop Drive, on the east side of Redding in a busy district with other hotels and several large stores, including Mt Shasta Mall just 0.5 miles north. As well as
Mount Shasta volcano
, 62 miles away along the interstate, the hotel is also close to
Lassen Volcanic National Park
47 - miles east on highway 44. The full service hotel has 126 rooms, a restaurant & bar, health/fitness center, outdoor pool & whirlpool, and a convention center that contains 6 meeting rooms totaling 8,342 sq ft of event space.

3.
Hilton Garden Inn Redding
5050 Bechelli Lane, Redding, CA 96002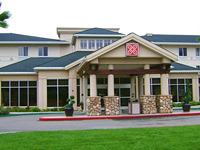 Right at the south edge of Redding, the Hilton Garden Inn enjoys a peaceful, rural setting within sight of the Sacramento River, in a partly wooded neighborhood beside the Bonnyview Road exit of Interstate 5, 4 miles from the city center. There is one restaurant just across the street and another onsite, open all day until 10 pm (room service available). Complimentary amenities are wi-fi and a shuttle to Redding Airport, 5 miles southeast. All guest rooms contain a refrigerator and microwave; cookable meals can be purchased from the 24 hour convenience store. The business center is also open all day.
4.
Hampton Inn & Suites Redding
2160 Larkspur Lane, Redding, CA 96002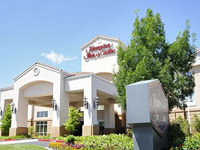 The centrally located Hampton Inn hotel in Redding is situated on the east side of I-5 half way between exits 677 and 678, part of a business/commercial district that includes a good selection of dining and shopping. Downtown Redding is 2.5 miles west, on the far side of the Sacramento River. The rear of the hotel conceals a secluded courtyard garden, with gazebo, hot tub, pool and sundeck, and overlooked by half the rooms; the remainder look eastwards towards the adjacent businesses. Guests here to work can take advantage of a 65-person meeting room and a business center. The hotel provides free breakfast, including a selection of hot items.

5.
Home2 Suites by Hilton Redding
5184 Caterpillar Road, Redding, CA 96003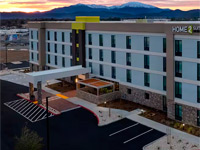 Open late 2022, the Home2 Suites by Hilton is now the northernmost chain hotel in Redding, positioned between Market Street and Interstate 5 (exit 681A), adjoining a business area to the south, with shops and other hotels. The generally flat, partly wooded surroundings allow views across to the distant mountains. Accommodations are suites, studio and one bedroom, and all have a full kitchen. Hot breakfast and wi-fi are complimentary. Recreation amenities are a saline pool (outdoor) and a 24 hour fitness center. The nearest restaurants are around one mile south.

6.
TownePlace Suites Redding
2180 Larkspur Lane, Redding, CA 96002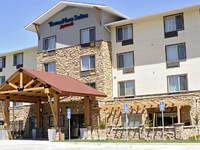 TownePlace Suites by Marriott Redding Redding provides good quality, mid range, long stay accommodation, with suites in two bed, one bed or studio configurations, all containing a full kitchen and home office area. The newly built property sits in the middle of an extensive business/shopping district on the east side of Interstate 5, half a mile from Mt Shasta Mall and within walking distance of many restaurants. Also available are a pool, fitness center, 24 hour convenience store, and free breakfast.

7.
Holiday Inn Express & Suites Redding
2240 Hilltop Drive, Redding, CA 96002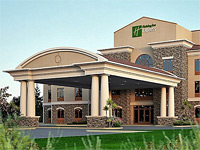 The Holiday Inn Express is south centrally located in Redding on the east side of Interstate 5 near the Cypress Avenue exit, within walking distance of the Sacramento River. There are many restaurants close by, and a few shops, with a better selection one mile north in and around Mt Shasta Mall. The hotel has both regular rooms and studio suites, and offers the usual amenities, of business & fitness centers, an indoor pool, free wi-fi and complimentary buffet breakfast.

8.
SureStay Plus Hotel by Best Western Redding
2600 Larkspur Lane, Redding, CA 96002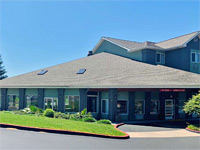 The SureStay Plus hotel in Redding has a quiet location along a side street, behind a shopping center that includes Ross and K-Mart, plus a selection of restaurants. Other places within walking distance are Safeway supermarket, Lowe's superstore and the main post office. The most central of Redding's I-5 exits (Cypress Avenue) is 0.3 miles west. The interior corridor property is surrounded on three sides by a spacious, tree-lined parking area, and it has a small patio/sundeck at the front. Guest rooms are available with microwave & refrigerator. The usual two complimentary amenities of wi-fi and (hot) breakfast are provided.

9.
Best Western Plus Twin View Inn & Suites
1080 Twin View Boulevard, Redding, CA 96003-2021
Recently renovated following its conversion from another brand, the Best Western is a friendly, well managed place with 79 rooms (all containing a refrigerator), including several family suites that have additional amenities of refrigerator and whirlpool bath. The inn has an easily-accessed location on the north side of Redding, next to the junction of Highway 273 with interstate 5 (exit 681B); from here, the town center is 3 miles south and the main natural attraction in the area (Lake Shasta) is 10 miles north. Free continental breakfast is served, and leisure facilities comprise a pool, spa & fitness center.

10.
Best Western Plus Hilltop Inn
2300 Hilltop Drive, Redding, CA 96002-0508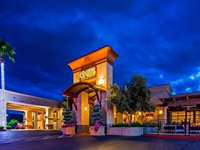 Best Western Hilltop Inn is one of a group of hotels along Hilltop Drive, one block east of I-5 (between exits 677 and 678), and close to the Sacramento River on the east side of Redding, in the suburb of Enterprise. The AAA three-diamond rated inn is recently renovated and offers 115 rooms on 2 floors with exterior corridors, an 8 foot deep outdoor pool, complimentary full breakfast, guest laundry and a restaurant (GR Gibbs) providing all-day dining and drinks/cocktails.

11.
Fairfield Inn & Suites Redding
5164 Caterpillar Road, Redding, CA 96003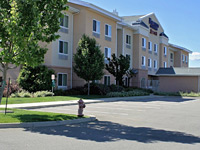 The Fairfield Inn by Marriott is a north Redding hotel, with pleasant, open surroundings, allowing rooms to have long distance views to the nearby mountains. The three floor property sits close to exit 681 of I-5, from where Market Street heads southwest to the downtown area while the interstate continues south to the main shopping/business district. There are no facilities nearby; the nearest restaurants are one mile south, though the hotel does provide free full breakfast, together with an outdoor pool, whirlpool, fitness center and 24 hour convenience store. The ample parking lot includes large vehicle spaces, and charging stations.

12.
Comfort Inn Redding near I-5
850 Mistletoe Lane, Redding, CA 96002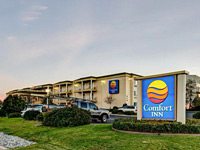 The Comfort Inn hotel in Redding sits in the middle of the main shopping area in town, southeast of the busy I-5 - CA 44 junction; Mt Shasta Mall is half a mile north and there are many other large stores, plus restaurants, within walking distance. The 3 story hotel has 70 rooms, fairly old but clean and comfortable, and equipped with microwave & refrigerator. At the rear of the property is an outdoor pool and hot tub, while interior facilities are free continental breakfast, an exercise room, newsstand and guest laundry.

13.
Comfort Suites Redding
1195 Grand Avenue, Redding, CA 96003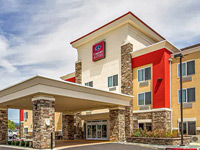 The Comfort Suites is a summer 2014 addition to Redding's hotel choices; part of a group of lodging on the north side of the city near I-15 exit 681. Rooms (all of which contain a microwave/refrigerator/sofa bed) have open views in most directions, including to the north, where the land becomes mountainous, and the white peak of Mt Shasta can be seen, 50 miles away. There are several shops and gas stations nearby though no restaurants; the nearest dining places are one mile south around North Point Plaza. The hotel's free hot breakfast comes with a selection of hot items. All facilities are indoors, including a pool, hot tub, fitness & business centers, and a meeting room.

14.
Quality Inn Redding
2059 Hilltop Drive, Redding, CA 96002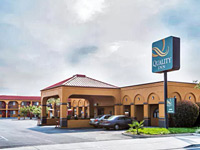 Like the majority of hotels in Redding, the Quality Inn lies on the east side of town, close to exit 678 of interstate 5 (Lassen Peak Hwy; CA 44), and is part of a corridor of shops, restaurants, bars & other hotels along Hilltop Drive. Downtown Redding is 3 miles west, on the far side of the Sacramento River. All 90 rooms (on 3 floors) contain a refrigerator, coffee maker and cable TV; some have a microwave. The inn offers the standard amenities of free continental breakfast, an outdoor pool, and a newsstand.

15.
Ramada by Wyndham Redding
1286 Twin View Boulevard, Redding, CA 96003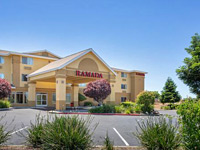 North-facing rooms at Ramada Redding have expansive views towards the wooded hills enclosing
Shasta Lake
, while those on the south side look out over a group of businesses beside the nearby I-5 exit (681A). This location is 3 miles north of the city center in a countryside setting, a short drive from Gold Hills Golf Club. The pet friendly hotel occupies a modern, three floor building, and it has all the usual leisure, business and meetings facilities, including an indoor pool and coin-operated laundry. There are several whirlpool bath suites available, in addition to the standard rooms. Free continental breakfast is served.

16.
Travelodge by Wyndham Redding
540 North Market Street, Redding, CA 96002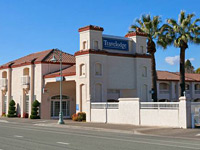 The Travelodge is one of few motels within walking distance of downtown, located along Hwy 173 (Market Street), half a mile from Lake Redding on the Sacramento River and one mile from the central promenade. The place has the traditional exterior corridor design, the rooms in three whitewashed, Spanish-style blocks around the central parking lot, at the front of which is an outdoor pool and a few palm trees. A microwave and refrigerator are present in all guest rooms, while some have a full kitchenette. Free continental breakfast, a business center, meeting room and fitness center are the other amenities.

17.
Super 8 by Wyndham Redding
5175 Churn Creek Road, Redding, CA 96002-3915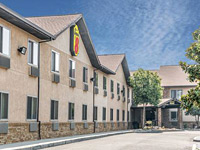 Interstate 5 runs past 500 feet west yet Super 8 Redding has a quiet setting, enclosed by trees on three sides, and close to the start of open countryside - the motel is positioned on the south edge of the city at the Churn Creek Road exit, a short walk from the Sacramento River. There are three restaurants nearby. The principal facility is an outdoor pool, on the south side of the motel, out-of-sight of the access road; also available are an indoor hot tub and steam room. Complimentary amenities are continental breakfast (eight items) and wi-fi.