1.
DoubleTree by Hilton Palmdale
300 W Palmdale Blvd, Palmdale, CA 93551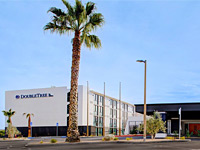 In common with the majority of Palmdale hotels, the DoubleTree by Hilton faces the Hwy 14 - Hwy 138 intersection (southwest side), also near a few gas stations and restaurants; the city center is one mile east. There is also a restaurant on the premises, plus a lounge/bar, business & fitness centers and over 3,000 square feet of meeting space. The grounds are extensive, including gardens, an oversized outdoor pool and ample parking space, all around the perimeter. The hotel opens fall 2021, after a full renovation.

2.
Holiday Inn Palmdale-Lancaster
38630 5th Street West, Palmdale, CA 93551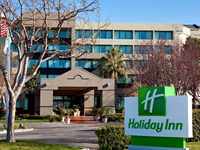 The five floor Holiday Inn Palmdale is a full service hotel at the edge of the Mojave Desert and by the foothills of the
San Gabriel Mountains
, just east of highway 14 along Palmdale Boulevard. The center of Palmdale is a mile east, and the larger town of Lancaster is 10 miles north. The handsome, modern, 148 room hotel lies next to a residential district but close to attractions such as the Antelope Valley Mall, Desert Sands Park and Antelope Valley Country Club; its many amenities include the on-site Skyview Terrace restaurant, a cocktail lounge, outdoor pool, whirlpool, fitness center, and a range of facilities for business & events.

3.
Courtyard Palmdale
530 West Avenue P, Palmdale, CA 93550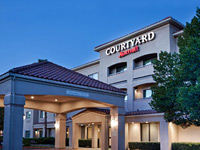 Towards the north side of Palmdale, CA, Marriott's Courtyard hotel is a typically clean, comfortable and well managed place, offering 90 rooms and suites in a new-looking three floor building alongside Highway 14/138, the Rancho Vista Boulevard exit. The hotel is within a mile of many large stores including those at the Antelope Valley Mall, and half a mile from the golf course at Antelope Valley Country Club. The on site Bistro restaurant/lounge serves freshly cooked breakfast, while drinks & snacks are available at the evening receptions (Mon to Sat). Other amenities include an indoor pool, hot tub and fitness center.

4.
Residence Inn Palmdale
514 West Avenue P, Palmdale, CA 93551
Like most hotels of this brand, Residence Inn Palmdale is situated right next to another Marriott property, in this case the Courtyard - the two hotels face each other at the end of a short side road off Rancho Vista Boulevard, just east of exit 37 of Highway 14/138. The inn is regarded by many as the best of the small but generally good quality selection of lodging in Palmdale, on account of its excellent customer service, convenient location near to shopping and dining, but especially the size, facilities and cleanliness of the rooms. Accommodation comprises 90 suites, each with a full kitchen plus separate areas for living, working and sleeping. Complimentary buffet breakfast and evening reception are provided, while for relaxation the residents can take advantage of an indoor pool, whirlpool and fitness center.

5.
Staybridge Suites Palmdale
420 West Palm Drive, Palmdale, CA 93551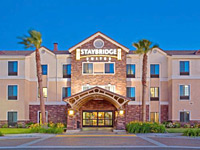 Staybridge Suites Palmdale caters more for the long stay traveler, in 99 comfortable, non-smoking suites that feature a microwave, full refrigerator, large work desk and separate living/sleeping areas. Both free full breakfast and free evening reception are provided; for other meals the nearby main road (Palmdale Boulevard) has a few restaurants within walking distance. Leisure amenities comprise a sports court, outdoor pool, hot tub and fitness center. A complimentary shuttle is available to places within 5 miles, including Antelope Valley Mall and the center of Palmdale.

6.
Embassy Suites Palmdale
39375 5th Street W, Palmdale, CA 93550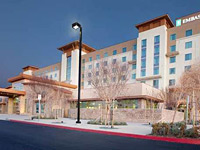 Although surrounded by as yet undeveloped land, Embassy Suites Palmdale is within walking distance of Antelope Valley Mall and its associated restaurants & stores, while Antelope Valley Country Club is also nearby, on the far side of Hwy 14/138. All accommodations at the full service hotel are two-room suites compete with a fully equipped kitchen and a sofa bed, contained within a beautiful, modern building centered on a stylish lobby with many quiet places for relaxation. Free hot breakfast is served each morning, plus free receptions in the evenings where drinks & snacks are provided. Other meals can be purchased from the onsite restaurant. Guests here to work can take advantage of six meeting rooms (largest capacity 222) and a business center.

7.
Hilton Garden Inn Palmdale
1309 Rancho Vista Blvd, Palmdale, CA 93551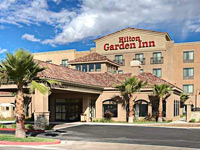 The Hilton Garden Inn is the northernmost hotel in Palmdale, situated on the north side of Antelope Valley Mall, 7 miles from the neighboring city of Lancaster, and it enjoys a relatively quiet location, 800 feet away from Hwy 14/138 to the east. Free hot breakfast is provided each morning, and dinner is served in the Great American Grill restaurant, which offers in-room dining until 10 pm. The lounge/bar is also open until 10, and there are many other food & beverage outlets nearby. Snacks and ready meals can be purchased from a small convenience store, cookable using the microwaves in all guest accommodations. Other hotel features are an outdoor pool, 24 hour business center, fitness center and 2,900 square feet of meeting/event space.
8.
Hampton Inn & Suites Palmdale
39428 Trade Center Drive, Palmdale, CA 93551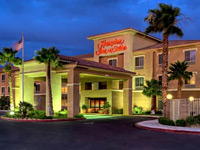 The Hampton Inn is a north Palmdale hotel, built beside the Antelope Valley Freeway near the Rancho Vista exit, and adjoining Mulligan Family Fun Center, which features miniature golf, go-karts, a climbing wall and various other child-friendly attractions. There are also several large stores nearby, including Target, Lowe's and Barnes & Noble. The 85 room/suite hotel has an outdoor pool/whirlpool at the front and is surrounded by a spacious parking area. Interior amenities are a 24 hour business center, a fitness room and a 650 sq ft meeting room. Free hot breakfast is prepared each morning, plus a take-out version for guests leaving early.
9.
Element Palmdale
39325 Trade Center Drive, Palmdale, CA 93551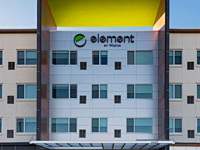 Element Palmdale caters for short or long stay guests - all accommodations are suites, studio or one bedroom, featuring free wi-fi and fully equipped kitchens. Most have a sofa bed. The hotel adjoins the largest shopping center in the city, around the Hwy 14-Rancho Vista Blvd intersection; Antelope Valley Mall is half a mile northwest. Both daily hot breakfast and weekday evening receptions are complimentary. The hotel has a fleet of rental bikes for (free) guest use. Other amenities are 24 hour fitness center, an outdoor saline pool and meeting space. The main natural attraction in the area,
Antelope Valley California Poppy Reserve State Natural Reserve
, is 21 miles away.

10.
Best Western John Jay Inn & Suites
600 W Palmdale Blvd, Palmdale, CA 93551-4578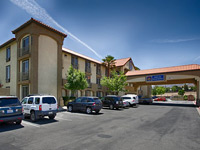 One of several hotels spread out along Palmdale Boulevard, separated by patches of undeveloped land, the new Best Western John Jay Inn & Suites offers 63 rooms, free continental breakfast, an exercise room, heated outdoor pool, spa and sauna. All 63 rooms contain a microwave & refrigerator, ironing and coffee making facilities, and benefit from free high speed internet access. The inn is 0.8 miles west of exit 24 of highway 14, and a further mile from downtown Palmdale. The best choice of restaurants nearby is a mile north on 10th Street, around Antelope Valley Mall.

11.
Fairfield Inn & Suites Palmdale West
1052 W Avenue 0-8, Palmdale, CA 93551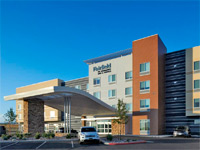 Open late 2021, the Fairfield Inn is the third Marriott hotel in Palmdale, a four floor property of 70 rooms and 18 studio suites, beside Hwy 14 on the opposite side to Antelope Valley Mall, also within walking distance of many restaurants and other large stores. Antelope Valley Country Club is just down the street, while the city center is 3 miles southeast. Accommodations feature a microwave, refrigerator and Keurig's coffee maker. Hot breakfast and wi-fi are complimentary. Recreation amenities are the usual fitness center, outdoor pool and hot tub.