1.
Residence Inn Lancaster Palmdale
847 W Lancaster Boulevard, Lancaster, CA 93534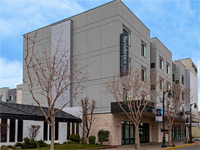 Residence Inn Lancaster, the third Marriott hotel in the city, opened fall 2021, centrally located along Lancaster Boulevard adjacent to the City Hall and just down the street from the Museum of Art and History. Complimentary amenities are wi-fi, daily hot breakfast, grocery shopping service and weekday evening receptions. The all-suite accommodations are available in two bedroom, one bedroom and studio layouts, and all feature a fully-equipped kitchen. The usual business and leisure facilities are provided.

2.
Homewood Suites by Hilton Lancaster
2320 Double Play Way, Lancaster, CA 93536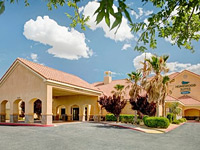 Homewood Suites by Hilton Lancaster adjoins an outlet mall on the west side of Hwy 14, and is also within walking distance of Jethawks Baseball Field, a cinema, a group of shops including Wal-Mart, and a selection of restaurants. Exterior facilities are a pleasant courtyard garden with outdoor pool, basketball court and patio, while inside, the hotel has a 24 hour convenience store, fitness center and a meeting room. Complimentary amenities at the modern, all-suite hotel include daily full hot breakfast, weekday evening reception, wi-fi and a grocery shopping service. All accommodations contain a fully equipped kitchen.
3.
Hampton Inn & Suites Lancaster
2300 W Double Play Way, Lancaster, CA 93536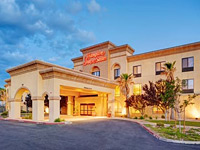 The 85 spacious, nicely decorated rooms at Hampton Inn Lancaster face north or south, looking out over a business/commercial neighborhood on the north side of town beside Hwy 14, close to the edge of the desert. For 2 miles south highway is lined by many shops and restaurants, some within easy walking distance. Accommodations include studio suites with sofa bed, microwave and refrigerator. The good quality free breakfast comes with a selection of hot items, and is available in a take-out version. The on-site meetings facilities can cater for events of up to 80 people.

4.
TownePlace Suites Lancaster
2024 West Avenue J-8, Lancaster, CA 93535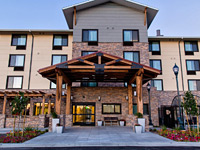 TownePlace Suites Lancaster is located along the Antelope Valley Freeway at the Avenue J8 junction, next to a quiet residential estate. There are few facilities in the vicinity but a good selection of shops and restaurants can be found one mile away on the far side of the highway. All accommodations are modern suites in studio, one bed and two bed layouts, complete with a fully equipped kitchen. Food for cooking can be purchased from the onsite convenience store or from a supermarket (Wal-Mart) one mile north.

5.
SpringHill Suites Lancaster Palmdale
1811 West Avenue J-12, Lancaster, CA 93534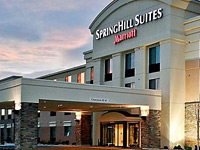 Marriott's SpringHill Suites is one of several hotels on the southwest side of Lancaster close to highway 14, seven miles north of the adjacent town of Palmdale. Accommodation comprises 94 modern studio suites that include a kitchenette (sink, refrigerator, microwave, coffee maker), plus a large work desk, extra sofa bed, and separate living/sleeping areas. Free breakfast is served, an on-site store sells basic snacks, and there are several restaurants one block south, along Avenue K. A hot tub, exercise room and pool allow guests to relax in this hot desert environment.

6.
Holiday Inn Express Lancaster
43719 17th Street West, Lancaster, CA 93534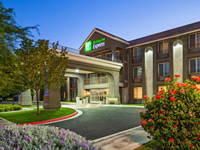 The Holiday Inn Express is one of the newest hotels in Lancaster, located along highway 14 on the west edge of town where most of the large stores are found, including the Lancaster Marketplace Mall a mile to the north. The inn is a medium sized building of 3 floors and 73 rooms - overlooking either the freeway or a housing district - an outdoor pool & hot tub, health & fitness center and a business center. Free hot breakfast is served each morning. The hotel is well placed for travelers between Los Angeles and the Mojave Desert or Owens Valley.

7.
Best Western Plus Desert Poppy Inn
2038 W Avenue I, Lancaster, CA 93536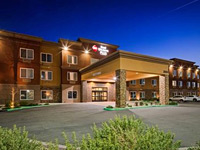 Best Western Desert Poppy Inn opened summer 2015; one of several hotels around the Hwy 14 - Avenue I intersection on the north side of Lancaster, the three floor, 88 room property is close to a few restaurants and gas stations though bordered by undeveloped land in most directions. Accommodations are equipped with a microwave/refrigerator, and free wi-fi, while also complimentary is the daily hot breakfast buffet. Guests can relax by the outdoor pool, on the west side of the hotel within sight of the interstate, and have use of a modern fitness center.

8.
Fairfield Inn & Suites Lancaster Palmdale
43919 20th Street West, Lancaster, CA 93536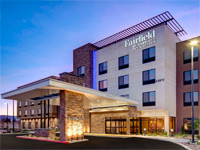 Fairfield Inn, the fourth Marriott hotel in Lancaster, opened fall 2022, next to a sister property (TownePlace Suites), along 20th Street near the J8/Hwy 138 intersection. The neighborhood is mostly residential, but with several shops and restaurants in walking distance, and more 1 mile south at Sol Plaza Mall. All guest rooms are equipped with microwave and refrigerator. Hot breakfast is complimentary.

9.
Comfort Inn & Suites Lancaster
1825 West Avenue J12, Lancaster, CA 93534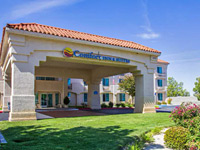 Comfort Inn & Suites is part of a business district with hotels, stores and restaurants either side of highway 14 on the west side of Lancaster - the 58 room, interior corridor property is right next to the freeway, half way between the Avenue K and Avenue J8 exits. The main guest amenities are an outdoor pool/hot tub, sauna, guest laundry, free continental breakfast and a microwave/refrigerator in each room. There are two restaurants adjacent.
10.
Motel 6 Lancaster
43540 17th Street W, Lancaster, CA 93534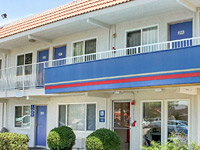 At the Hwy 14/Avenue K intersection, the Motel 6 provides basic, affordable lodging with the limited amenities of an outdoor pool, wi-fi and free coffee. There are three restaurants in the vicinity, and many more on the far side of the freeway, part of an extensive shopping complex with such stores as Target, Toys R Us and Lowe's. Guest rooms are on two floors, looking out over the mostly residential neighborhood.