1.
Hyatt Regency Valencia
24500 Town Center Drive, Valencia, CA 91355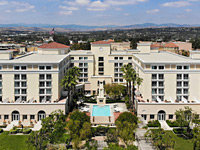 Many of the guest rooms at Hyatt Regency Valencia enjoy spectacular views across the pool, sundeck and gardens, to the fairways of the Valencia Country Club and the hilly land beyond; others look out across the commercial district to the north, which includes Westfield Town Center Mall and many restaurants. The full service hotel lies just off Magic Mountain Parkway, one mile from Interstate 5. Two food & beverage outlets are the Asia Pacific-style Vines restaurant/bar (room service available), and the lobby lounge, providing cocktails & snacks. Other features are an outdoor dining area, a fitness center and 12,000 square feet of function space.

2.
Courtyard Santa Clarita
28523 Westinghouse Place, Valencia, CA 91355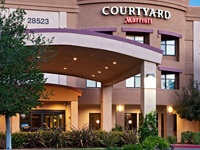 On the north edge of Santa Clarita/Valencia, the recently built Courtyard by Marriott is a full service, 145 room hotel with a restaurant/lounge/bar serving breakfast & dinner, a heated outdoor pool, hot tub, fitness center, business center, 24 hour market, guest laundry and 2 meeting rooms. The building is situated right next to interstate 5 (exit 172), though soundproofing makes all rooms quiet, and within 2.5 miles of the Magic Mountain amusement park. The nearest off site restaurants are about a mile to the south, along The Old Road.

3.
Embassy Suites Valencia
28508 Westinghouse Place, Valencia, CA 91355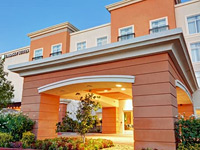 Guest rooms at Embassy Suites Valencia enjoy views of grassy hills in most directions, closest being to the north, where the land slops up on the far side of the access street (Newhall Ranch Road), next to the I-15 intersection. Unlike most properties of this upscale, full service chain, the hotel is centered not on an atrium lobby but instead a secluded courtyard garden, location of the outdoor pool, plus a spacious sundeck and al fresco dining area. Both hot breakfast and evening receptions are complimentary; full dinner can be purchased from the onsite Grove Restaurant. All guests are accommodated in modern, two room suites, featuring luxury bedding, a microwave, refrigerator, wet bar, executive desk and sofa bed. The hotel has meeting space for up to 300 people.

4.
Hilton Garden Inn Valencia Six Flags
27710 The Old Road, Valencia, CA 91355-1053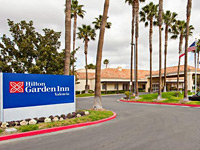 Hilton Garden Inn Valencia is the closest hotel to Six Flags Magic Mountain - just half a mile from the entrance, located beside the Magic Mountain Parkway exit of I-5, within a short walk of at least six restaurants. Guests are accommodated in 152 comfortable, good sized rooms, all equipped with a microwave and refrigerator. Dining is available on-site at the Great American Grill, open for evening room service, dinner and breakfast, while snacks and cookable meals may be purchased 24 hours a day from the Pavilion Pantry convenience store. Leisure facilities are the usual fitness center, hot tub and pool.

5.
Holiday Inn Express Hotel & Suites Santa Clarita
27513 Wayne Mills Place, Valencia, CA 91355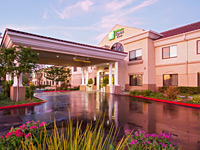 Valencia's Holiday Inn Express is part of a group of modern hotels either side of I-5 exit 170 - the Magic Mountain Parkway, which leads up a hill to the famous amusement park, less than a mile away. Within 2 miles south, the interstate passes several other important sites including the Valencia Country Club, College of the Canyons and California Institute of the Arts. The hotel has 120 large, quiet, east or west-facing rooms, with views either over the interstate towards the mountain, or of the outdoor pool & carpark. As with all Holiday Inn Express properties, free hot breakfast buffet is served. A 24 hour business center, fitness center and free wi-fi are some of the other amenities.

6.
Best Western Valencia Inn
27413 Wayne Mills Place, Valencia, CA 91355-1809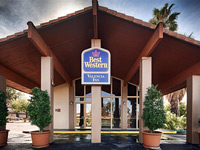 Best Western Valencia Inn occupies a spacious, treelined site on the east side of interstate 5, one mile from the Six Flags Magic Mountain amusement park. Its 122 rooms are divided into three motel-style 2-floor blocks, large & clean if not particularly modern, and the hotel offers amenities of an outdoor pool, free continental breakfast & guest laundry. The nearest restaurant is a Denny's, next door; there are a few others on the west side of the interstate and an even better selection about a mile south in Valencia/Santa Clarita.