1.
Residence Inn Santa Clarita Valencia
25320 The Old Road, Santa Clarita, CA 91381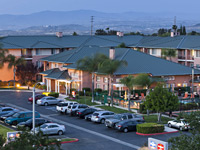 As is often the case, the Residence Inn Santa Clarita is located right next to another Marriott property, the Fairfield Inn. Both are found along The Old Road in the Stephenson Ranch district of town, next to I-5 - part of the last main lodging area before the interstate heads north into the undeveloped land of the Los Padres National Forest. The smoke-free, all-suite Residence Inn features 90 modern guest rooms that contain a full kitchen, an extra sofa sleeper bed, and separate areas for sleeping & relaxing. Other amenities at the hotel include a fitness center, hot tub, heated outdoor pool, complimentary full breakfast served daily, and a free evening reception. Some room packages include passes to the nearby Six Flags Magic Mountain amusement park.
2.
Hampton Inn Los Angeles-Santa Clarita
25259 The Old Road, Santa Clarita, CA 91381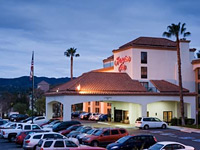 The Hampton Inn has a hilly location on the south edge of Valencia/Santa Clarita, part of a group of shops, hotels and other businesses adjacent to I-5 (west side) including an outlet mall and many restaurants. Six Flags Magic Mountain is 4 miles north. Free hot breakfast is served, available in a take out version for guests in a hurry. The 128 room hotel has the usual facilities for leisure (outdoor pool, hot tub, fitness center) and business (meeting space, free wi-fi, business center).

3.
Fairfield Inn Santa Clarita Valencia
25340 The Old Road, Santa Clarita, CA 91381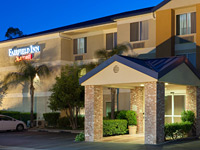 The well regarded Fairfield Inn hotel in Santa Clarita, CA, provides comfortable, clean, spacious lodging at relatively low rates. The inn is quite a small building of 66 rooms, next to I-5 (exit 167) by the foothills of the Santa Susana Mountains, which border Santa Clarita and Valencia to the west. A short distance away are a large shopping center and the Vista Valencia Golf Course, though the most popular attraction in this area is the Six Flags Magic Mountain theme park, just 4 miles north. Guests at the Fairfield Inn can take advantage of free continental breakfast, a heated outdoor pool, hot tub and a fitness center (at the adjacent Residence Inn).

4.
Comfort Suites Santa Clarita
25380 N The Old Road, Santa Clarita, CA 91381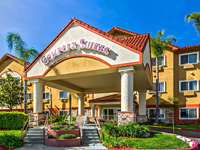 Santa Clarita's Comfort Suites is one of a small group of hotels along The Old Road, next to I-5 and just south of the main shopping center in town, at Stevenson Ranch. It makes a good base from which to visit the Six Flags theme park (4 miles north), or to explore north Los Angeles, being just 25 miles from Hollywood. Accommodation is in 101 large rooms, all containing a microwave & refrigerator; some have a whirlpool bath. The hotel serves free deluxe continental breakfast and has leisure amenities of an outdoor heated pool & hot tub.

5.
Travelodge by Wyndham of Santa Clarita
17843 Sierra Highway, Santa Clarita, CA 91351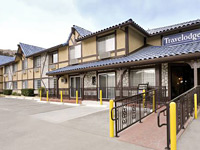 The blue-roofed, mountain lodge-style Travelodge motel in Santa Clarita is bordered by empty, grassy hills to the north; a hiking trail starts just across the street, leading towards the high country of the Angeles National Forest. The interior corridor property is situated in a valley right on the east edge of town along the Sierra Highway, a 2 mile drive from Hwy 14. Facilities are an outdoor pool/hot tub at the front, and a fitness room inside, plus a basic business center and dining room where the free continental breakfast is provided. There are two restaurants opposite.

6.
Super 8 by Wyndham Santa Clarita/Valencia
17901 Sierra Highway, Santa Clarita, CA 91351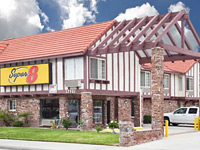 Super 8 Santa Clarita occupies an attractive, timber-lined building of two floors, interior corridors and 50 rooms, all of which contain a refrigerator, work desk and hair dryer; some have a microwave and sofa bed. They look out eastwards, over the parking lot and outdoor pool/hot tub to the grassy foothills of the Sierra Pelona, which rise up just across the street. The motel offers free continental breakfast and free wi-fi.