The California poppy, eschscholzia californica, is found over a wide area of the western US, from the three Pacific states, across the southern deserts into New Mexico and far West Texas, but is most common, and numerous, along the western edge of the Mojave Desert in California, at elevations in the range 2,000 to 3,000 feet. One small part of this region, a group of low, treeless hills where the plant grows especially densely, is protected as the Antelope Valley California Poppy Reserve, a state natural reserve; a very popular place in the spring when the poppies are in bloom, which is usually sometime between late February and early May, though understandably relatively empty at other times of the year since there are no natural features of note and hence not much see once the poppies and other wildflowers have withered. The date and duration of flowering is dependent on the timing and intensity of winter rainfall.

The preserve is 2 by 2 miles in size, and contains about half of the Antelope Buttes, rolling hills rising at most 400 feet above the surroundings, within sight of a slightly larger, more steep-sided hill (Fairmont Butte) to the northwest, and four miles from the edge of the mountains of the Los Padres National Forest, which form an obvious boundary to the Mojave Desert plains below.

wildflowers, with another dozen or so species quite widespread, in addition to the poppies.


Map of the Antelope Valley Poppy Reserve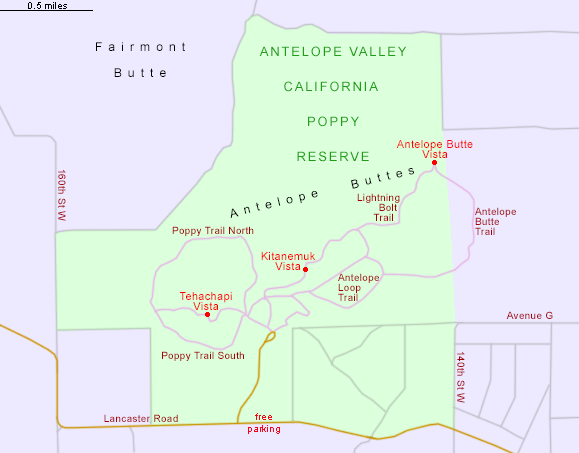 Location
Trails

Off-trail walking is not permitted in the reserve, in order to prevent plant damage, and even walking just a few feet away from the path is discouraged, so most of the area is not accessible, since the trails only access the central third, across the high ground of the Antelope Buttes. All routes are easy, with gentle grades, and have similar views, of flat farmland in all directions, and south towards the high mountains. The shortest of the main loops are the 2 mile Poppy Trail to the west, with an optional shortcut across Tehachapi Vista at the center, and the 1.7 Antelope Loop to the east. The longest loop (Antelope Butte/Lightning Bolt) is 3.5 miles. The hills are liable to be windy due to the exposed location at the foot of the mountains, and the lack of any nearby higher ground, while the grasslands apparently have a high incidence of Mojave green rattlesnakes.