1.
Holiday Inn Victorville
15494 Palmdale Road, Victorville, CA 92392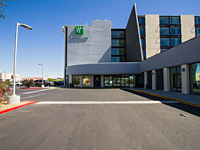 Holiday Inn Victorville has been the top hotel in the city since its opening in 2015. The 155 room/suite property has a prominent, easily-reached location by the intersection of I-15 and Hwy 18 from Palmdale, within walking distance of shopping and dining. More retail outlets can be found at Victor Plaza, one mile north. There is one restaurant on the premises, serving traditional American cuisine, and open for room service, breakfast, lunch & dinner. Meeting space is also amongst the best in the area, with over 10,000 sq ft of space available. Other features are an outdoor pool, fitness center and business center.

2.
Hilton Garden Inn Victorville
12603 Mariposa Road, Victorville, CA 92395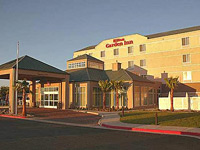 The beautiful, modern accommodations, excellent customer service and high standards of cleanliness make Hilton Garden Inn one of the top hotels in the Victorville area. The location is good too - just off the eastern I-5 frontage road (near exit 149) and so close to Mall of Victor Valley and its associated restaurants, though situated in a quiet area, surrounded by undeveloped land in most directions. Leisure amenities are the usual fitness center, outdoor pool and whirlpool, while the Scandia Family Fun Center next door provides more facilities. The hotel has its own restaurant, open all day, plus a lounge/bar, fitness center, 24 hour business center and meeting space. All 139 rooms contain a microwave, refrigerator and coffee maker.

3.
Hawthorn Suites by Wyndham Victorville
11750 Dunia Road, Victorville, CA 92392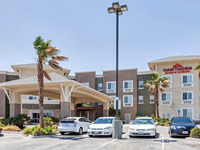 Hawthorn Suites is a recently-opened, all-suite/extended stay hotel that offers free hot breakfast buffet, free wi-fi, a small outdoor pool/hot tub, a fitness room, sports court and miniature golf course. The suites all contain a kitchen, work desk, coffee maker and ironing facilities; most have a sofa bed. There is one restaurant adjacent and others half a mile north, near Mall of Victor Valley; the hotel is surrounded by empty land on all sides and is set back a little from the highway (the west I-5 frontage road), hence all rooms provide a quiet night's sleep.

4.
Comfort Suites Victorville
12281 Mariposa Road, Victorville, CA 92395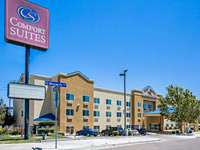 Near the south edge of Victorville, the Comfort Suites hotel is situated just northeast of the busy I-15 exit 147 (Bear Valley Road) - on the west side of the interstate is the large Mall of Victor Valley, and the surrounding area has various other large stores, several major company offices plus many restaurants. The town center is about 5 miles northeast. The hotel is quite a large, 3 story building with north or south facing rooms, all with microwave, refrigerator, coffee maker and ironing facilities. Leisure amenities are an outdoor pool, exercise room hot tub and spa. Free continental breakfast is served.

5.
Quality Inn Victorville I-15
15765 Mojave Drive, Victorville, CA 92394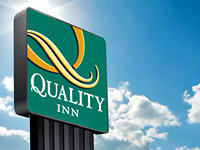 Quality Inn Victorville is accessed from the Mojave Drive exit of interstate 15, situated in a lightly-developed, mostly residential area, near a few restaurants (one is adjacent) and gas stations. It offers budget-priced lodging in a two story, exterior corridor building, the rooms overlooking the palm-lined parking lot at the front. An outdoor pool and free hot breakfast are the two main amenities. Wi-fi is also complimentary.

6.
Days Inn by Wyndham Victorville
15366 La Paz Drive, Victorville, CA 92395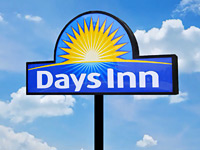 Days Inn Victorville is positioned right next to I-15 at the Mojave Drive exit, a mile or less from Victor Plaza, San Bernardino County Fairgrounds and Victor Valley Medical Center. Highlight is the secluded, tree-lined outdoor pool, well away from the freeway; other amenities are free wi-fi, free coffee and guest laundry. A refrigerator and microwave are installed in each guest room. The nearest restaurants are three blocks west, on the far side of the interstate.