1.
Courtyard Victorville Hesperia
9619 Mariposa Road, Hesperia, CA 92345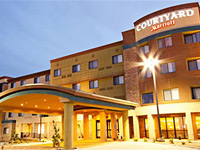 Courtyard Hesperia adjoins a Marriott sister property, the SpringHill Suites, and accommodates guests in 131 elegant rooms, all featuring free internet access, a work desk, sofa bed, refrigerator and luxurious bedding. The on-site Bistro restaurant is open for breakfast (buffet or cooked-to-order) & dinner, and there are several other restaurants a short walk away, plus several shops including Target. For those here to work, the hotel has seven meeting rooms and a full service business center. Also available are a 24 hour market, indoor pool, outdoor pool and laundry.

2.
Holiday Inn Express Hotel & Suites Hesperia
9750 Keypoint Avenue, Hesperia, CA 92345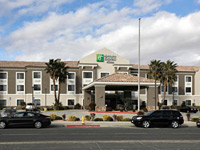 Clean rooms, friendly staff and an easily-reached location make Holiday Inn Express Hesperia a favorite with travelers along I-15 between Los Angeles and Las Vegas. The hotel is a new building of 100 rooms/suites on 3 floors, overlooking desert lands beside the interstate (exit 143; Main St), 3.5 miles west of the center of Hesperia and 6 miles from Victorville. Not far south rise the often snow-capped peaks of the
San Gabriel Mountains
. The property has an AAA 3 diamond rating, and its amenities include an indoor heated pool, fitness center, 24 hour front desk, free breakfast and staffed business center. There are several restaurants either side of the interstate including a Denny's.

3.
Best Western Hesperia-Victorville Suites
9625 Mariposa Road, Hesperia, CA 92344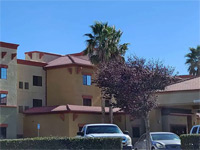 Best Western Hesperia-Victorville Suites is a modern, all-suite hotel built in the desert a few miles west of the town center alongside interstate 15, at exit 143. The 63 oversized guest rooms are equipped with microwave, refrigerator and coffee maker. Public areas include an indoor pool, hot tub, fitness center, guest laundry, a 240 square foot meeting room and a dining area for the complimentary buffet breakfast. For other meals there are half a dozen restaurants just across the road.

4.
Surestay Plus Hotel By Best Western Hesperia
12033 Oakwood Avenue, Hesperia, CA 92345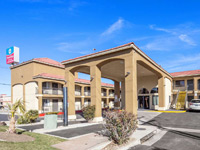 The 70 room, exterior corridor Surestay Plus Hotel by Best Western has a northerly location in Hesperia, at the Bear Valley Road exit of Interstate 15, at the edge of a quiet, residential neighborhood. Over a dozen restaurants are within walking distance, as is the Mall of Victor Valley, on the far side of the freeway. All accommodations feature a microwave and refrigerator, while general amenities are an outdoor pool/whirlpool, free wi-fi and free hot breakfast. Pets are welcome, for a fee.

5.
Econo Lodge Hesperia
11976 Mariposa Road, Hesperia, CA 92345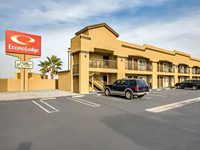 Half way (3 miles) between Hesperia and Victorville, the Econo Lodge provides budget accommodation to I-15 travelers or those visiting the Mall of Victor Valley, which is just the far side of the interstate at exit 147 (Bear Valley Road). There are many other shops and restaurants nearby though this is a generally residential neighborhood. The 50 rooms (on two floors) of the Econo Lodge are quite large, equipped with refrigerator/microwave, and the hotel serves free continental breakfast.
6.
Motel 6 Hesperia - West Main Street I-15
9757 Cataba Road, Hesperia, CA 92345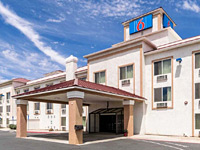 Unlike most properties of this budget-priced brand, the Motel 6 in Hesperia occupies a modern, interior corridor building, of three floors, an outdoor pool/hot tub and an extra large parking lot, including large vehicle spaces at the rear. Amenities are still rather limited, however, including a meeting room, free wi-fi, coin-operated laundry and a microwave/refrigerator in selected rooms. Nearby are at least a dozen restaurants and several large stores such as Ross and Target.
7.
Motels Hesperia East
9630 Maple Avenue, Hesperia, CA 92345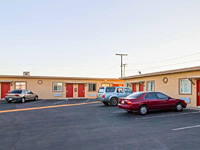 The Motel 6 in east Hesperia is a small, affordable establishment offering ground floor rooms only, arranged along three sides of the parking area. Wi-fi and morning coffee are complimentary. Accommodations are brightly decorated, modern in appearance, and equipped with a microwave/refrigerator. Pets are welcome. The hotel sits along Main Street, about half way between I-15 and the city center.