1.
DoubleTree by Hilton Hotel Newark - Fremont
39900 Balentine Drive, Newark, CA 94560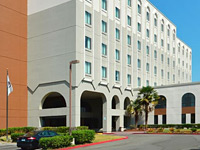 The well established DoubleTree Newark/Fremont occupies a relatively old, seven floor building by the intersection of Stevenson Boulevard with I-880, in the middle of a large commercial area with New Park Mall to the north and other large stores including Wal-Mart nearby, plus many corporate offices. The many facilities of the hotel include a restaurant (the Mediterranean style Ginger Bar and Grill), which is open for breakfast, lunch, dinner & room service, and stages live music at weekends. Breakfast is complimentary for guests staying in the executive level. The extensive meetings space can cater for events of up to 700 people. The property is centered on a pretty courtyard garden with pool, waterfalls and gazebo. The hotel was fully renovated in 2014 after conversion from a Hilton.

2.
Courtyard Newark Silicon Valley
34905 Newark Blvd, Newark, CA 94560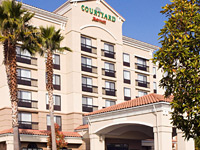 The Courtyard by Marriott Newark provides 181 rooms in a substantial, 6 story building next to Highway 84 on the northwest side of Newark, one mile from I-880. Along the nearby Jarvis Avenue are many restaurants and a selection of supermarkets all within easy walking distance. The hotel has particularly efficient staff and is slightly more luxurious than the average Courtyard, yet room rates are quite reasonable. On entering, visitors are greeted by an elegant two story atrium lobby, setting for the free breakfast, 24 hour market and the lounge, while leisure facilities are a pool (outdoor), hot tub and fitness center. For meetings, the hotel has 5 rooms totaling 4,300 sq ft of space.

3.
Residence Inn Newark Silicon Valley
35466 Dumbarton Court, Newark, CA 94560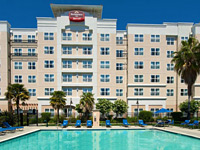 As is often the case, the Residence Inn hotel in Newark is adjacent to another Marriott property (the Courtyard). The inn is a good choice for longer stay travelers to the East Bay, San Jose or Silicon Valley areas, combining clean, well-equipped suites with friendly staff and plenty of amenities - free hot buffet breakfast, free evening cocktails, guest laundry, fitness center, hot tub, bbq grills and a heated outdoor pool. There are 168 suites in total, contained within a new, six floor building close to the Newark Boulevard exit of the 84 Freeway.

4.
Staybridge Suites Newark - Fremont
6000 NewPark Mall Road, Newark, CA 94560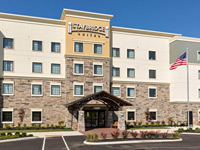 All 104 guest accommodations at the Staybridge Suites Newark are suites, with fully equipped kitchens, and are contained within an elegant, four story building newly constructed in 2019. The hotel is situated on the east side of NewPark Mall, close to I-880, a little way north of Silicon Valley and 19 miles south of Oakland Airport. Complimentary hot breakfast is provided each morning, while other facilities include a fitness center, outdoor pool, lending library and coin-operated laundry. There are several restaurants within walking distance.

5.
Homewood Suites by Hilton Newark-Fremont
39270 Cedar Boulevard, Newark, CA 94560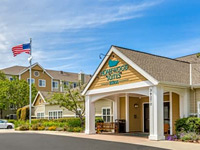 The upscale, all-suite accommodations at Homewood Suites by Hilton Newark are available in two bedroom, one bedroom and studio configurations, all with a sofa bed and a fully equipped kitchen. Some have a fireplace. Complimentary hot breakfast is cooked each morning, and free receptions are staged weekday evenings (Mon-Thu), when light dinner and drinks are served. Snacks and cookable meals can be purchased from a 24 hour convenience store. Recreation amenities are a sports court, fitness center, hot tub and outdoor pool. The hotel sits along a quiet side street, bordered by a small park to the west, the local high school to the south and NewPark Mall to the north, this containing 140 food and shopping outlets.

6.
SpringHill Suites Newark Fremont
6100 Newpark Mall Road, Newark, CA 94560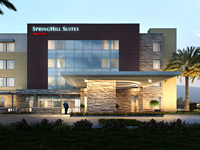 SpringHill Suites Newark has a prominent location on the south side of the I-880 freeway, and is accessed from the loop road around NewPark Mall, a location half way between San Jose and Alameda/Oakland Airport. The grounds include a fire pit, outdoor pool and patio, overlooked by the fitness center, while other interior facilities are a lobby lounge, a business center, a convenience store and a dining area for the free hot breakfast. All accommodations are studio suites, equipped with sofa bed, microwave and refrigerator.

7.
Aloft Silicon Valley
8200 Gateway Blvd, Newark, CA 94560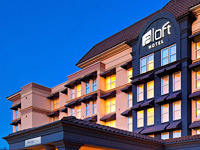 Aloft Silicon Valley enjoys a quiet, semi-rural location, along a lightly-used road south of Hwy 84, within walking distance of trails through the adjacent San Francisco Bay National Wildlife Refuge. Newark city center is 2 miles east, Palo Alto 8 miles west, via the Dumbarton Bridge. The nearest shops and restaurants are one mile away along Newark Boulevard, while on-site dining is provided by a cafe serving lunch, and a restaurant/bar open for dinner & evening drinks, often to the accompaniment of live music. Room service is available. The hotel has an outdoor pool and a 24 hour fitness center.