1.
Hampton Inn Oakland-Hayward
24137 Mission Boulevard, Hayward, CA 94544
Hilton's representative in Hayward is the 70 room Hampton Inn, whose accommodations include a selection of spacious studio suites with living area, sofa bed and (for some) a hot tub bath. The hotel has a central location near the junction of highways 92 and 238 (Jackson Street and Mission Boulevard), close to shopping and dining, but also within a short walk of natural scenery along Ward Creek, which is followed by a hike/bike trail. The nearest freeway is I-880, 2 miles west. Guests can take advantage of a tree-lined outdoor pool, business & fitness centers and an 840 square foot meeting room. Free hot breakfast is prepared each morning, served in a brightly furnished dining area.

2.
Best Western Plus Inn of Hayward
360 W A Street, Hayward, CA 94541-4857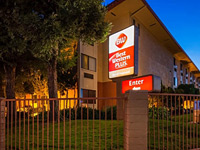 On the southeast side of the busy A Street - I-880 intersection, Best Western Inn of Hayward is a popular hotel within easy reach of all east San Francisco Bay attractions. The center of Hayward is a mile to the east, with the local airport just the far side of the interstate. Sites within a mile include the Southland Mall, Skywest Golf Course, Centennial Hall and the Burbank Recreation Center. The inn occupies a medium sized building of three floors and 91 clean rooms, with an outdoor pool/hot tub to the rear, and (inside), a dining area where free hot breakfast is served.

3.
Fairfield Inn & Suites Oakland Hayward
25921 Industrial Blvd, Hayward, CA 94545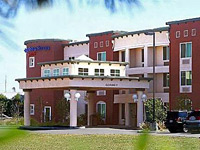 Hayward's Fairfield Inn offers 69 rooms and 15 suites, contained within quite a new, well maintained building close to the east end of the San Mateo Bridge, on the southwest edge of town. The hotel is one block from the 92 Freeway along Industrial Boulevard, which marks the boundary between a residential district and a large business/industrial park to the east, so the immediate area does not have much of interest though many large stores are just 1.5 miles away at the Southland Mall. On entry, visitors are greeted by a three story atrium lobby containing tropical plants and a fountain; other amenities include a hot tub, guest laundry and free hot breakfast.

4.
Quality Inn Hayward
24997 Mission Boulevard, Hayward, CA 94544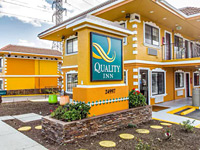 One mile from California State University East Bay, the Quality Inn is a 62 room hotel providing budget accommodation for visitors to the Fremont, Hayward, Castro Valley, San Lorenzo and San Leandro districts. It is a well reviewed hotel, on account of the clean well equipped rooms, friendly staff, and the free hot breakfast. The inn lies alongside the main road through town (Mission Boulevard), part of a long line of shops, restaurants and other businesses, though also close to the edge of wooded hills that rise to the east.

5.
Days Inn & Suites by Wyndham Hayward
24400 Mission Boulevard, Hayward, CA 94544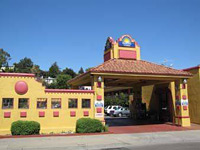 Days Inn and Suites Hayward occupies a distinctive, brightly-colored building of two exterior corridor floors and 41 guest rooms, on the east side of Mission Boulevard (Hwy 238) - a busy location, a few blocks from the city center though also close to several parks and preserves in the the adjoining mountains, which rise up a short distance east. The Hayward Greenbelt Trail starts right next door. All rooms are equipped with a microwave and refrigerator, while some have a full kitchenette. The usual two complimentary amenities of breakfast (continental) and wi-fi are provided. There is one restaurant adjacent and others within walking distance to the north.

6.
Days Inn by Wyndham Hayward Airport
450 West A Street, Hayward, CA 94541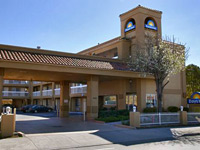 Hayward Airport is less than one mile from the Days Inn, a traditional, two floor, exterior corridor motel beside I-880 at the A Street junction, in a mostly residential neighborhood; the nearest restaurants are along Hesperian Boulevard, by the airport entrance. Guest rooms contain refrigerators and microwaves, and most face east, looking across the rather small parking lot towards the freeway. The motel provides free wi-fi and free continental breakfast, including hot waffles.

7.
Super 8 by Wyndham Hayward Downtown
21800 Foothill Boulevard, Hayward, CA 94541-2117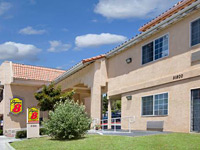 On the north side of Hayward, near Ashland, San Lorenzo and Castro Valley, the Super 8 provides simple, budget-priced lodging with just two significant amenities, free wi-fi and free continental breakfast. Guest rooms are in two blocks, accessed from a secure parking lot at the rear, which borders a small area of woodland, linked to an adjacent city park. Various dining outlets are within walking distance. The motel is just 8 miles from the entrance to Anthony Chabot Regional Park, a popular, hilly preserve with a lake and hiking trails.

8.
Rodeway Inn & Suites Hayward
835 West A Street, Hayward, CA 94541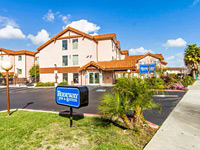 The Rodeway Inn of Hayward, CA, caters for guests in 75 studio suites, equipped with kitchenette and ironing facilities - in a bright, modern, three floor building right next to Hayward Regional Airport and 8.5 miles south of Oakland International Airport. Selected accommodations contain a hot tub bath. The hotel is part of a mixed business/residential neighborhood along A Street, close to many restaurants and a mile north of the large stores at Southland Mall. Amenities of the Rodeway Inn include an outdoor pool, exercise room, guest laundry and free continental breakfast.
9.
Motel 6 Hayward
30155 Industrial Parkway SW, Hayward, CA 94544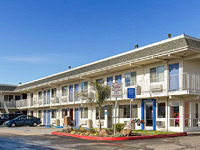 The two floor building has the familiar, old-style, exterior corridor layout, but guest rooms at Motel 6 Hayward are modern in appearance, brightly decorated and equipped with contemporary furnishings. The motel has a southerly location in Hayward, near the border with Union City; right beside I-880 at the Industrial Parkway exit. The neighborhood mostly contains business and industrial premises but there are various restaurants close by (including Denny's, sharing the parking lot), and large stores half a mile south at Union Landing Shopping Center. The motel has no pool; the only amenities are laundry and wi-fi.