1.
Fremont Marriott Silicon Valley
46100 Landing Parkway, Fremont, CA 94538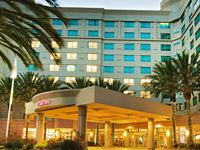 Half way between Fremont and Milpitas alongside I-880 (Fremont Boulevard exit), the Marriott hotel makes a good base when visiting Silicon Valley or the east Bay area. Business parks surround the hotel in most directions, except west, where marshland and salt evaporators extend towards the bay. The ten story Marriott has 357 rooms & suites, all featuring an executive desk, HDTV, wet bar and luxurious bedding. There are three dining outlets on-site (American restaurant, Pacific Rim-style cafe, Starbuck's), and comprehensive facilities for meetings and business. Guests can relax at the fitness center, pool and hot tub.

2.
Courtyard Fremont Silicon Valley
47000 Lakeview Boulevard, Fremont, CA 94538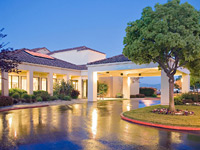 Towards the south edge of Fremont, the Courtyard Inn by Marriott offers comfortable and spacious lodging for visitors to San Jose, Silicon Valley and other places along the East Bay. Although next to I-880 and located in the Bayside Business Park, the hotel is a quiet place to stay, with many of the 146 rooms overlooking a peaceful courtyard garden that contains a gazebo, paths and trees. Interior facilities are a hot tub, pool, convenience store and a cafe serving freshly cooked breakfast (not free). For shopping, the hotel is 5 miles from two major centers - NewPark Mall to the north and Great Mall of the Bay Area to the south.

3.
Residence Inn Fremont Silicon Valley
5400 Farwell Place, Fremont, CA 94536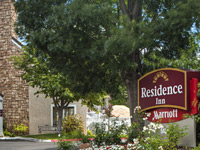 Good staff and extra large, well equipped rooms are the two main advantages of Marriott's Residence Inn in Fremont, at the north end of Silicon Valley. The hotel has an easily accessed location right next to I-880 at the Mowry Avenue exit, on the opposite side to the main shopping center in the area, the NewPark Mall, which has many stores including JC Penney, Sears and Macy's. There are 80 suites at the Residence Inn, each with a full kitchen, and arranged in several blocks around a garden area, with an outdoor pool, hot tub and sports court to one side. Free hot breakfast is prepared each morning, and a free evening reception staged on weekday evenings, featuring beer, wine and a light dinner.

4.
Hilton Garden Inn Fremont Milpitas
45976 Warm Springs Blvd, Fremont, CA 94539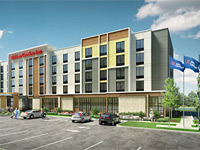 Like most hotels in Fremont, the Hilton Garden Inn (open early 2021) is situated towards the south edge of the city between I-680 and I-880, along Warm Springs Boulevard in the middle of a business/industrial district. Silicon Valley and San Jose are a few miles south, while the natural landscapes of Mission Peak Regional Preserve are a short drive eastwards. The upscale, 145 room hotel features an indoor pool, full service restaurant, fitness center and meeting space.
5.
Hampton Inn Fremont
46500 Landing Parkway, Fremont, CA 94538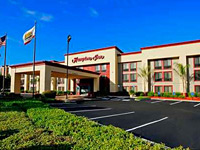 Hampton Inn Fremont is part of a small group of hotels at the Mission Boulevard exit of I-880, in a business park that is bordered to the west by tidal flats at the south end of San Francisco Bay. The three floor building is one of Hilton's older properties but still provides all necessary facilities, accompanied by quality customer service. The hotel has a walled outdoor pool at the front and a good sized parking lot all around, lined by trees and lawns. The nearest restaurants are about one mile away on the far side of the freeway. Free hot breakfast, free wi-fi, a fitness center and business center are the other main amenities.

6.
SpringHill Suites San Jose Fremont
46333 Fremont Blvd, Fremont, CA 94538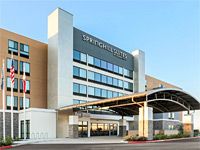 The SpringHill Suites is a large property, five storys and 146 rooms, in studio and one bedroom layouts, newly constructed in 2021. The hotel has a quiet location on Fremont Blvd, within sight of wetlands and lagoons beyond Coyote Creek, in the other direction adjoining an extensive business park along I-880, close to the Hwy 262 intersection. Guests are a short walk from two restaurants, with many more one mile east, towards I-680. All accommodations contain a full kitchen. The hotel has an outdoor pool and provides free breakfast buffet.

7.
Holiday Inn Express Hotel & Suites Fremont - Milpitas Central
42200 Albrae Street, Fremont, CA 94538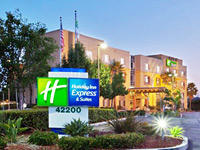 On the south side of Fremont, CA, the Holiday Inn Express is well connected to other places by I-880 which runs alongside; San Jose is 13 miles south, while San Leandro, Castro Valley and Oakland are a short drive northwards. The hotel is situated close to exit 15 of the freeway (Auto Mall Parkway), in an commercial neighborhood next to an industrial park and a short drive from many company offices. Free hot breakfast is provided each morning, plus free evening receptions weekday evenings (Mon-Thu); the other main amenities are an outdoor pool, Jacuzzi, newsstand, fitness center, business center and one meeting room.

8.
Best Western Plus Garden Court
5400 Mowry Avenue, Fremont, CA 94538-1049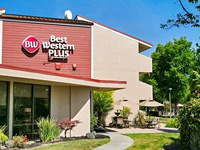 Located next to the main I-880 exit for central Fremont (17; Mowry Avenue), Best Western Garden Court is close to many restaurants and shops including the large stores of NewPark Mall, 0.4 miles away on the far side of the freeway. The inn has an attractive setting amidst 3 acres of well-kept gardens centered around an extra large outdoor pool, with sundeck, hot tub and many mature trees. Accommodation comprises 125 large, spacious rooms - old but recently renovated - most containing a microwave & refrigerator, and some with balconies overlooking the garden/pool. Free continental breakfast is served.

9.
Days Inn by Wyndham Fremont
46101 Warm Springs Boulevard, Fremont, CA 94539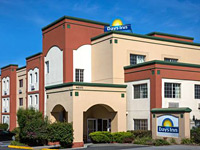 In a quiet business park between I-680 and I-880, the Days Inn accommodates guests in 49 rooms, all equipped with a microwave and refrigerator, contained within a handsome, three floor, interior corridor building. Free continental breakfast is prepared each morning, and for other meals the nearby Warm Springs Shopping Center includes a fine selection of restaurants. This location is 5 miles south of Fremont city center and ten miles north of San Jose. The hotel also has a lobby business center and a coin-operated laundry facility.