1.
Sheraton San Jose Hotel
1801 Barber Lane, Milpitas, CA 95035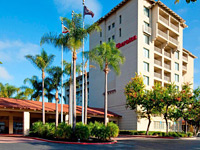 The full service, pet friendly Sheraton has a southerly location in Milpitas, prominently positioned beside the I-880/Montague Expressway intersection at the edge of a business park, though also close to the wooded corridor of Coyote Creek, followed by a hiking trail. The 229 rooms & suites are contained within several blocks surrounding the central courtyard garden with outdoor pool, shaded by tall palms, and the whole complex is lined by trees, shielding the hotel from the busy surroundings. Two restaurants on the premises are the Bistro for breakfast & lunch, and Lazio, a sports bar also serving dinner. A free shuttle takes guests to and from San Jose International Airport, 3 miles south.

2.
Holiday Inn Hotel & Suites Milpitas
1100 Cadillac Court, Milpitas, CA 95035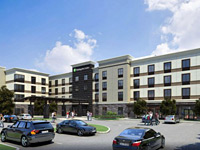 Holiday Inn Milpitas is a modern addition to the choice of full service hotels in Silicon Valley. The four floor, 128 room property is part of a quiet business district on the east side of I-880, 8 miles north of San Jose International Airport. Accommodations comprise regular rooms and king suites, the latter with microwave, refrigerator, sofa bed and living area. The onsite restaurant/bar, Stratus, features Californian cuisine and local ales, and is open for breakfast, lunch & dinner. Other hotel features are a fitness center, pool, meeting space and a rooftop viewing deck.

3.
Courtyard Milpitas Silicon Valley
1480 Falcon Drive, Milpitas, CA 95035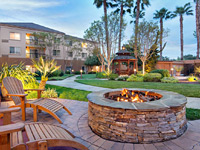 The Courtyard hotel in Milpitas provides the closest lodging to the Great Mall - next to the south edge of the parking lot, and within easy reach of all other locations in the San Jose - Silicon Valley area via I-880 which runs by one mile west. The 156 rooms and suites are all clean, comfortable and equipped with the new luxurious Marriott bedding; half have views over the courtyard garden at the rear of the hotel, in the middle of which is a small outdoor pool. The main interior facilities are a hot tub, fitness center, two meeting rooms, and a cafe serving freshly cooked breakfast.

4.
Residence Inn Milpitas Silicon Valley
1501 California Circle, Milpitas, CA 95035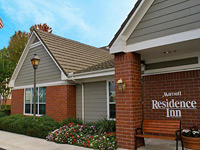 Marriott's Residence Inn hotel in Milpitas provides the high quality extended stay accommodation typical of this brand, with 120 suites in two adjacent blocks facing a pleasant garden area containing pool, hot tub and sports court. There are several different sizes of suite but all have a full kitchen plus a separate living area with a pull-out sofa bed. Free hot breakfast is served each morning, and a free reception on weekday evenings. The hotel is situated towards the north side of Milpitas at 1501 California Circle, in a small business park alongside the 880 Freeway.

5.
Staybridge Suites Silicon Valley-Milpitas
321 Cypress Drive, Milpitas, CA 95035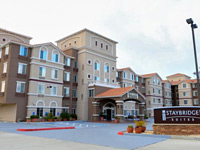 One of several hotels on the north edge of San Jose by the I-880/237 junction, Staybridge Suites Silicon Valley-Milpitas (321 Cypress Drive) is an elegant, new, 4 floor property containing 98 suites - all modern, comfortable and equipped with a full kitchen including a dishwasher. For relaxation guests can use the outdoor pool, whirlpool, sports court or fitness center. Complimentary hot breakfast is offered in the morning, plus free food and drink at an evening reception. There is a Starbucks right next door and a selection of restaurants (and shops) one block east, along Barber Lane.

6.
Embassy Suites Milpitas-Silicon Valley
901 East Calaveras Boulevard, Milpitas, CA 95035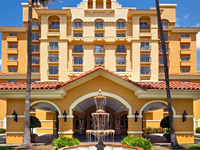 A tiered fountain greets guests at the front of Embassy Suites Milpitas, which occupies a beautiful, Spanish-style, nine story building centered on a floor-to-ceiling atrium lobby, filled with lush plants, pools, quiet seating areas and a dining section, where the free hot cooked-to-order breakfast and free evening receptions are provided. Other nearby facilities are a well-stocked sundry shop, a lending library beside a fireplace and comfortable sofas, a business center ,and extensive meeting space. All accommodations are two room suites, featuring a microwave, refrigerator and wet bar; some on the upper floors are designated View Suites, overlooking the rolling hills that rise up one mile east. The hotel is located at the Calaveras Boulevard exit of I-680.

7.
Hilton Garden Inn San Jose/Milpitas
30 Ranch Drive, Milpitas, CA 95035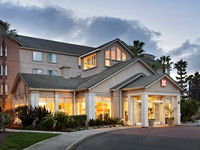 The Hilton Garden Inn is a west Milpitas hotel, positioned beside the intersection of highways 237 and I-880, at the edge of the vast Silicon Valley corridor though also close to undeveloped countryside around the south end of San Francisco Bay. A hiking trail runs right past, following Coyote Creek north across farmland and south towards San Jose. Trees help shield the hotel from the sometimes busy surroundings, which include a shopping center and many restaurants, though all day-dining is available onsite, together with evening room service. Snacks and lighter meals can be bought from a 24 hour convenience store, the latter cookable using the microwaves in each guest room. Also available are a business center, fitness center and outdoor pool.
8.
Hampton Inn Milpitas
215 Barber Court, Milpitas, CA 95035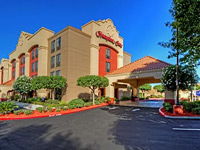 Hampton Inn Milpitas has a peaceful location at the end of a side street, albeit right next to the multiple lanes of Hwy 237 as they merge with I-880 just to the east. To the south is a business district, home to such companies as KLA-Tencor, SanDisk, Cisco Systems and Intersil. There is also a shopping center adjacent, and around a dozen restaurants. The 98 room hotel has a walled outdoor pool at one side, close to the freeway, and interior amenities of a fitness center, 24 hour business center and guest laundry. Free hot breakfast is prepared each morning.

9.
TownePlace Suites Milpitas Silicon Valley
1428 Falcon Drive, Milpitas, CA 95035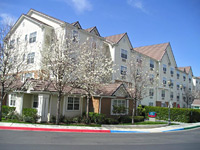 Right beside a Marriott sister property (the Courtyard) along Falcon Drive stands the TownePlace Suites Milpitas, catering to long stay Silicon Valley visitors in 143 suites that include a large working area, an extra sofa bed and a full kitchen. All the rooms are cleaned daily. For relaxation the hotel offers the two main requirements of a pool (outdoor) and a fitness center. Many shops, restaurants and a movie theater are just a few minutes walk away at the Great Mall. Free hot breakfast is provided each morning, and free coffee & muffins all day in the lobby, while other snacks can be purchased from a 24 hour convenience store.
10.
Element San Jose Milpitas
521 Alder Drive, Milpitas, CA 95035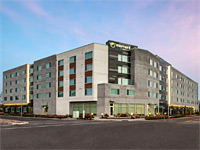 Four miles north of San Jose International Airport, the Element by Westin (open summer 2021) is an extended stay hotel of 194 suites (studio and one bedroom), right beside I-880 at the Tasman Drive exit, adjacent to the Cisco headquarters, and within a few miles of many other corporate offices. Shopping and dining are also close by, at McCarthy Ranch Marketplace. All guest rooms include a kitchen or kitchenette, while the hotel also offers a breakfast cafe, and lounge/bar, a 24 hour marketplace, a pool, business center and one meeting room.

11.
SpringHill Suites Milpitas Silicon Valley
1201 Cadillac Court, Milpitas, CA 95035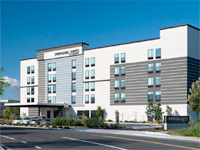 Open spring 2022, the most affordable Marriott extended stay brand is represented in Milpitas by the 124 room, five story SpringHill Suites, on the east side of I-880 a little way north of the Hwy 237/Calaveras Blvd intersection, in a mixed residential/business neighborhood. Accommodations are available in studio and one bedroom layouts; all include a full kitchen. Hot breakfast is complimentary and there are two restaurants in the vicinity. Cookable meals may be purchased from the 24 hour marketplace. The hotel has a fitness center and pool.

12.
Rodeway Inn Milpitas
66 S Main Street, Milpitas, CA 95035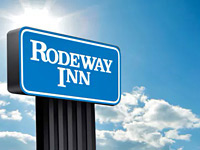 The Rodeway Inn from Choice Hotels is an exterior corridor property; guest rooms are on two floors, arranged around three sides of the central, tree-lined parking lot, which has a secluded outdoor pool at one corner. Main Street runs past the front of the hotel, putting guests within a short walk of many restaurants & shops, and linking with Calaveras Boulevard one block north. The other principal amenities are free breakfast, free wi-fi and a business center.

13.
Best Western Plus Brookside Inn
400 Valley Way, Milpitas, CA 95035-4136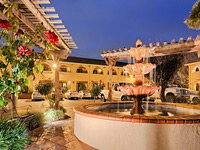 At the north edge of San Jose and a mile from the center of Milpitas, Best Western Brookside Inn has 78 comfortable, very well maintained rooms that provide a quiet night's sleep despite the proximity to the I-880/237 junction, a short distance west. The hotel has its own bar, and a restaurant; free full breakfast is offered to all guests. At the rear is a small outdoor pool, next to a lone palm tree, while inside are an exercise room and sauna. There are plenty of restaurants and shops nearby.

14.
Days Inn by Wyndham San Jose Airport
270 South Abbott Avenue, Milpitas, CA 95035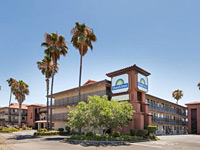 Great Mall, the largest shopping center in north California, is just one mile south of Days Inn Milpitas, and there are various other shops much closer, plus a wide range of restaurants. The hotel enjoys a secluded setting, hidden from the main road (Calaveras Boulevard) behind a Walgreens store, and backing on to a residential estate. Highlight is the sheltered outdoor pool and patio at the rear, lined by palm trees,and overlooked by some of the guest rooms, which are on three floors, accessed by exterior corridors. Complimentary amenities are continental breakfast and wi-fi.