1.
Tetra Hotel, Autograph Collection
400 W Java Drive, Sunnyvale, CA 94089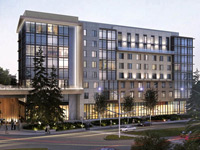 The Tetra Hotel is a member of Marriott's Autograph Collection, a group of distinctive, upscale properties, and shares a site with the AC Hotel - just off Mathilda Avenue on the north side of Hwy 237, part of an extensive business park, though also within walking distance of trails at the edge of San Francisco Bay. Highlights include a full service restaurant, a coffee bar/cafe, a gift shop, a lounge/bar in the lobby, and extensive function space. Recreation amenities are a 24 hour fitness/wellness center and an pool/sundeck, on the third floor; an outdoor terrace linking the two hotels.

2.
AC Hotel San Jose Sunnyvale
1235 Bordeaux Drive, Sunnyvale, CA 94089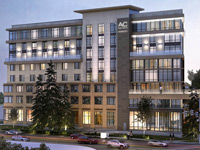 The second AC Hotel in Sunnyvale opens early 2021, near the north edge of the city, close to Mountain View and San Jose - part of a business district north of the Southbay Freeway, within walking distance of hike/bike trails at the edge of San Francisco Bay, and ideally located for visitors to nearby companies such as Apple, Google, Yahoo! and Lockheed Martin. This is a substantial property of eight floors and 164 guest rooms, with European-style decor; amenities include a cafe serving breakfast, a fireplace lounge/bar plus outdoor terrace, 24 hour business & fitness centers, a sundeck and a 3rd floor pool.

3.
AC Hotel Sunnyvale Cupertino
597 E El Camino Real, Sunnyvale, CA 94086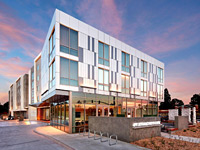 The upscale AC Hotel is prominently sited at the intersection of El Camino Real with Fair Oaks Avenue on the southeast side of Sunnyvale, close to Santa Clara and San Jose. In the vicinity are numerous shops, restaurants and bars. The hotel contains 187 guest rooms, stylishly decorated using subtle colors and a European-influenced design, and equipped with contemporary furnishings. Highlights include a street-level lounge, a fourth floor outdoor dining area/sundeck, an onsite restaurant/bar, nearly 2,500 square feet of meeting space, a fitness center, a sundry shop and an outdoor pool.

4.
Courtyard San Jose Sunnyvale
660 West El Camino Real, Sunnyvale, CA 94087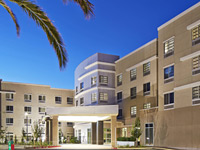 Courtyard San Jose Sunnyvale is located along El Camino Real, close to the city center, a couple of miles from freeways I-280, US 101, 237 and 85. A small shopping center just down the street includes several restaurants, but most of the neighborhood is residential; business districts are a mile or two eastwards. Guests enter the hotel through a modern, brightly decorated lobby with media wall, lounge/bar and plenty of comfortable seating. Also nearby is the Bistro restaurant, open for dinner, lunch and breakfast; more choices are available via the local restaurant delivery service. The Courtyard has the usual three leisure amenities (pool, hot tub, fitness center), plus a business center and meeting space.

5.
Residence Inn Silicon Valley I
750 Lakeway Drive, Sunnyvale, CA 94085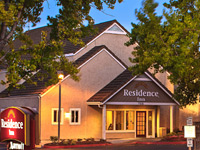 The easternmost of two nearby Residence Inn hotels in Sunnyvale is located along Lakeway Drive - right next to US 101, though most rooms are a little way from the road and offer a quiet night's sleep. There is a shopping center with plenty of restaurants on the far side of the highway along Mission College Boulevard, while to the south stretches one of Silicon Valley's extensive business parks. Like all hotels of this brand, accommodation at the Residence Inn comprises large, modern suites each with a fully equipped kitchen, extra sofa bed, and separate areas for working, sleeping & relaxing. Free evening reception, free breakfast, a fitness center, Jacuzzi and heated outdoor pool are the main amenities.

6.
Residence Inn Silicon Valley II
1080 Stewart Drive, Sunnyvale, CA 94086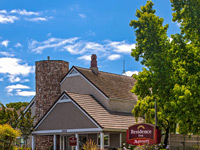 0.7 miles west of its neighbor, the Residence Inn Silicon Valley II (1080 Stewart Drive) has a near identical layout, with the 247 suites split into several separate blocks surrounded by trees and walkways, and a pool, hot tub & sports court at the center. Staff, facilities and services are all top class, the surroundings are safe & quiet, and the nearby main road (Lawrence Expressway) has a good selection of restaurants.

7.
Staybridge Suites Sunnyvale
900 Hamlin Court, Sunnyvale, CA 94089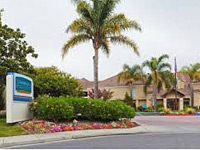 Sunnyvale's Staybridge Suites provides modern, long stay accommodation for business/leisure travelers to the San Jose & Silicon Valley area, or those just passing by along US 101 which runs close by - the hotel is located at the Mathilda Avenue exit, just east of the Hwy 237 intersection. There are 138 large suites, either one or two-bedroom, all with a full kitchen including a dishwasher, and many having views over a central garden area with an outdoor pool, hot tub and many palm trees. Other above average amenities are free full breakfast, free local area shuttle, recreation court, bbq grills, fitness center, children's putting course, and a convenience store.

8.
Hilton Garden Inn Sunnyvale
767 N Mathilda Avenue, Sunnyvale, CA 94085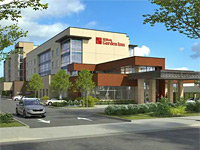 The Hilton Garden Inn is a late 2019 addition to the hotel choices on the north side of Sunnyvale, located along Mathilda Avenue, one block south of the US 101 intersection at the edge of a business district, close to numerous tech companies including Facebook, Google and Apple. A restaurant (open for breakfast & dinner), bar, outdoor pool, 24 hour fitness center and 3,000 square feet of event space are the main amenities. All guest rooms contain a microwave & refrigerator, and some have mountain views. There are four restaurants adjacent.

9.
TownePlace Suites Sunnyvale Mountain View
606 South Bernardo Avenue, Sunnyvale, CA 94087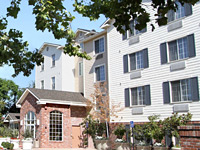 Half way between Sunnyvale and Mountain View, the TownePlace Suites by Marriott is one of several extended stay properties along El Camino Real, and it features 95 modern, medium-sized suites that contain a full kitchen, large work desk, luxurious bedding, pull-out sofa bed, and separate areas for sleeping and living. Free continental breakfast is served, and food for cooking other meals can be purchased from a grocery store across the street; there are also several restaurants nearby. The hotel has an exercise room and a hot tub, though no pool.

10.
Aloft Sunnyvale
170 S Sunnyvale Avenue, Sunnyvale, CA 94086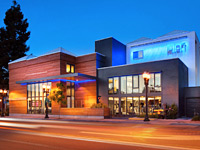 The loft-style guest rooms at the pet friendly Aloft Sunnyvale feature walk-in showers, free high speed wi-fi and extra comfortable bedding, while the hotel offers a 24 hour fitness center, a convenience store, a 24 pantry where light meals can be purchased, and also a lounge/bar, open for drinks and snacks in the evening. The hotel is situated along Sunnyvale Avenue, half a mile north of El Camino Real and 1.5 miles from US 101. Sunnyvale transit station is one block west, for quick travel across the neighborhood.

11.
Ramada by Wyndham Sunnyvale/Silicon Valley
1217 Wildwood Avenue, Sunnyvale, CA 94089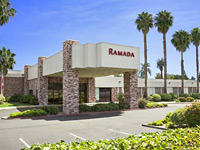 Like most properties of this brand, Ramada Sunnyvale occupies a relatively old building, of two floors and exterior corridors, located at the edge of a residential district by the Lawrence Expressway exit of US 101, 5.5 miles west of San Jose Airport. Sites in the vicinity include Mission College, California's Great America and numerous Silicon Valley businesses. Guest rooms are arranged around a pleasant garden with outdoor pool at the center, viewable from the onsite restaurant. Complimentary amenities are wi-fi, parking and continental breakfast. The hotel's meeting space accommodates events of up to 150 people.

12.
Holiday Inn Express Sunnyvale
852 W El Camino Real, Sunnyvale, CA 94087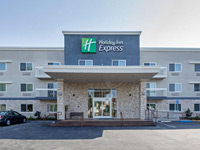 In the middle of Sunnyvale along El Camino Real, the Holiday Inn Express caters for guests in 58 spacious, microwave/refrigerator-equipped rooms, contained within a three floor building which is set back a little from the main road, ensuring a quieter night's stay. There are many restaurants and shops nearby including the stores of Sunnyvale Town Center Mall, 0.7 miles northeast. Daily free hot buffet breakfast is provided. The hotel opened spring 2017, after conversion from another brand.

13.
Best Western Plus Silicon Valley Inn
600 N Mathilda Avenue, Sunnyvale, CA 94085-3508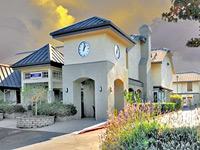 The Best Western hotel in Sunnyvale, CA, has quite a central location in Silicon Valley along Mathilda Avenue, a mile south of the US 101-Highway 237 junction, and a few blocks north of the Central Expressway. The inn's 100 rooms are divided into several blocks either facing the main road or a set little way back, sheltered by trees, and all the rooms are generally bright and clean, equipped with microwave & refrigerator. The hotel serves free full breakfast, is right opposite one restaurant (McDonald's) and a short walk from a dozen others.

14.
Comfort Inn Sunnyvale - Silicon Valley
1280 Persian Drive, Sunnyvale, CA 94089
The largest and perhaps the best of the three Quality Inn hotels in Sunnyvale is located at 940 Weddell Drive, adjacent to the Mathilda Avenue exit of Highway 101, close to Moffett Federal Air Field and Sunnyvale Municipal Golf Course. The 90 rooms & suites are not the newest but all are large and well maintained, containing a microwave, refrigerator, coffee maker and ironing facilities. Free hot breakfast is served and for other meals there is a collection of fast food restaurants 0.3 miles south along Mathilda Avenue. For leisure the Quality Inn offers an exercise room, outdoor heated pool, basketball court and tennis court.

15.
Quality Inn Sunnyvale
1280 Persian Drive, Sunnyvale, CA 94089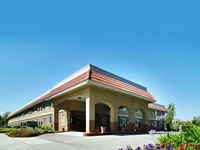 On the north edge of Sunnyvale alongside the Mountain View-Alviso Freeway (Hwy 237), the Quality Inn along Persian Drive is a mid range hotel that receives favorable reviews for its nice rooms, good customer service and general value for money. The freeway and nearby US 101 puts guests within easy reach of all Silicon Valley businesses, and the hotel is within 3 miles of such places as Mission College, Santa Clara Golf Club, California's Great America theme park and the Santa Clara Conference Center. There are 72 rooms, equipped with microwave & refrigerator, and complimented by amenities of an outdoor pool, fitness center, and free enhanced continental breakfast.

16.
Days Inn & Suites by Wyndham Sunnyvale
504 Ross Drive, Sunnyvale, CA 94089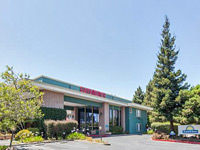 Complimentary amenities at Days Inn Sunnyvale are wi-fi, continental breakfast and a shuttle serving locations within a 3 mile radius, such as Moffett Field, Sunnyvale Golf Course, Mission College and many corporate offices. The hotel is built on the south side of Hwy 237 near the US 101 intersection, adjacent to one restaurant. Trees help shield the property from the nearby main roads, and the place has a pleasant appearance, the accommodation blocks facing inwards, looking across the good-sized parking lot and the outdoor pool at the center. Also available are a fitness center, business center and guest laundry.
17.
Motel 6 Sunnyvale South
806 Ahwanee Avenue, Sunnyvale, CA 94086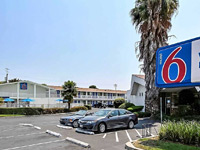 Motel 6 Sunnyvale South sits beside Mathilda Avenue close to the US 101 intersection, set back slightly from the main road behind a restaurant and a gas station, and a short walk from several other dining outlets. An outdoor pool is the principal amenity, at the front of the property, which has two floors and exterior corridors. Accommodations have recently been remodelled, brightly decorated in orange and white, and equipped with modern furnishings. The motel also offers wi-fi, guest laundry and free coffee.
18.
Motel 6 Sunnyvale North
775 N Mathilda Avenue, Sunnyvale, CA 94086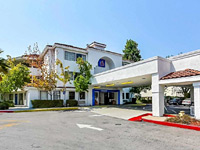 The Motel 6 on the west side of Mathilda Avenue is one of the larger and more impressive properties of the low-price chain; a handsome, white-walled, red-roofed building centered on an enclosed courtyard garden, surrounded by trees and flowering plants, and with a good-sized parking lot around the perimeter. There is one restaurant adjacent and a few others in the vicinity, though the neighborhood is mostly commercial/industrial. Select rooms feature a microwave and refrigerator. The motel is about a mile north of downtown Sunnyvale, close to the US 101 intersection.