1.
Pleasanton Marriott
11950 Dublin Canyon Blvd, Pleasanton, CA 94588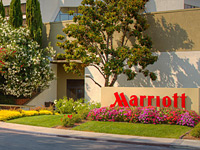 Pleasanton Marriott is a top quality hotel for the business or leisure traveler. The property has 242 luxurious, well furnished rooms, part of a large 6 story building right next to another Marriott hotel (Residence Inn) - just south of the Foothill Road exit of I-880, and opposite Stoneridge Mall. Guest rooms are decorated in a modern style with bold colors, as are many of the public facilities, which include the grand lobby, a business center, a cafe/bar, exercise room, and a selection of meeting rooms. A free shuttle is available to places within 5 miles, so all major sites in the centers of Dublin and Pleasanton are within range.

2.
DoubleTree by Hilton Hotel Pleasanton at the Club
7050 Johnson Drive, Pleasanton, CA 94588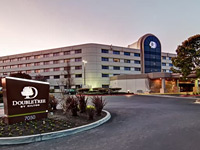 DoubleTree by Hilton Pleasanton has a prominent location beside the I-580/I-680 intersection (southeast side), next to a business park and a short drive from Stoneridge Shopping Center. The large, full service hotel provides all necessary facilities for leisure, business and meetings, with one dining outlet on-site (Players Restaurant), open for breakfast, lunch, dinner and all-day room service. A free shuttle is provided to Dublin/Pleasanton BART station, 2 miles east. The largest meeting room is the Olympic ballroom, catering for events of up to 300 people.

3.
AC Hotel Pleasanton
5990 Stoneridge Mall Road, Pleasanton, CA 94588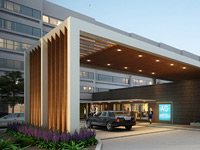 AC Hotel Pleasanton (formerly the Sheraton) opened summer 2019; a stylish, full service property with European-influenced cuisine and decor, situated on the north side of Stoneridge Mall and backing on to I-580, close to the I-680 intersection. Guests are within a short drive of the many attractions of downtown Pleasanton, and of hiking trails in the surrounding hills. The hotel has a cafe, open for breakfast, and a lounge serving snacks and evening drinks. Recreation amenities are an outdoor pool, complete with deck available for functions, and a well-equipped fitness center, where floor-to-ceiling windows afford grand views of the surroundings.

4.
Courtyard Pleasanton
5059 Hopyard Road, Pleasanton, CA 94588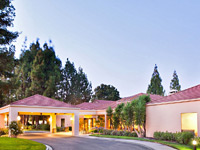 On the north side of Pleasanton, close to Dublin and the I-580/I-680 intersection, the Courtyard by Marriott has a good reputation for cleanliness, comfort, efficient staff and a quiet location - it is found in a modern business/shopping area a few blocks from I-580 along Hopyard Road, and 1 mile from the Dublin-Pleasanton BART station. The Bistro provides freshly cooked breakfast, with other meals available from several adjacent restaurants; there are plenty more dining choices 1.5 miles west at Stoneridge Mall. For leisure, guests at the Courtyard can use the fitness room, heated outdoor pool and hot tub.

5.
Residence Inn Pleasanton
11920 Dublin Canyon Road, Pleasanton, CA 94588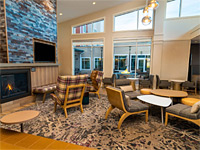 Residence Inn Pleasanton occupies a tree-lined site on the southwest corner of the I-580/Foothill Road junction, just across the street from the many shops & restaurants of Stoneridge Mall. Wooded hills rise to the south, and the hotel is a generally quiet, relaxing place to stay, with landscaped gardens and accommodation comprising 135 studio, one bedroom or two bedroom suites that each contain a full kitchen and an extra sofa bed. The gardens provide the setting for the hotel's outdoor pool, hot tub, bbq rings and tennis court; services inside include free hot breakfast, daily housekeeping and a free evening social hour (Mon-Thu).

6.
Four Points by Sheraton Pleasanton
5115 Hopyard Road, Pleasanton, CA 94588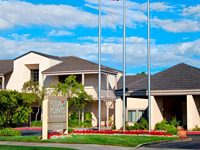 The 214 guest rooms at Four Points by Sheraton Pleasanton are divided between several two story blocks, separated by tree-lined walkways, and centered on a courtyard garden with outdoor pool, patio, ponds and fountain. The hotel has a central location, along Hopyard Road close to the I-580/I-680 intersection, just down the street from the Dublin/Pleasanton station on the BART network. Guests are within walking distance of shopping and dining, while the onsite restaurant, the Mediterranean-influenced Faz, is open all day, and provides room service. Snacks and light meals can be purchased from the hotel's grab-and-go market.

7.
Best Western Plus Pleasanton Inn
5375 Owens Court, Pleasanton, CA 94588-3336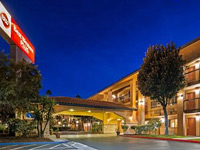 With a central location beside I-580 in the middle of the Pleasanton-Dublin suburbs, the Best Western Pleasanton Inn is well placed for visitors to the Tri Valley area. I-680 and the Stoneridge Shopping Center are a mile west, while just to the east are the many company offices at the Hacienda Business Park. The hotel is quite a large building containing 95 rooms on 3 floors, though has an older design with exterior corridors. Free continental breakfast is served and there are at least 8 restaurants within two blocks; other facilities are an outdoor pool, hot tub and business center.
8.
Motel 6 Pleasanton
5102 Hopyard Road, Pleasanton, CA 94588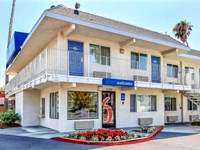 An outdoor pool is the main facility at Motel 6 Pleasanton, an affordable establishment with a quiet location in a business park southeast of the I-680/I-580 intersection, 2 miles by road from Stoneridge Mall. The two floor, exterior corridor property is set back from the access roads behind a gas station and two restaurants, and it has a good sized parking lot, including several truck spaces. Interior facilities are wi-fi, coin-operated laundry and free morning coffee.