1.
DoubleTree by Hilton Livermore
720 Las Flores Road, Livermore, CA 94551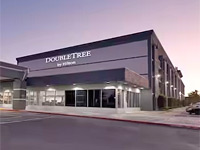 The DoubleTree by Hilton (open summer 2023) is the main full service hotel in Livermore, and it has a prominent location on the north side of town next to I-580 (First Street exit), a short walk from Springtown Golf Course and Plaza 580 Shopping Center. The property is small by Doubletree standards, with four floors and 125 rooms (no suites), some featuring a microwave and a balcony. Access is via exterior corridors. The onsite restaurant provides evening drinks, dinner, lunch and breakfast. The business center and fitness center are both open 24 hours a day. Event facilities comprise nine meeting room configurations, total area 4,200 square feet. At the front of the hotel is an outdoor pool and patio, close to the freeway though hidden from it by a a line of trees.

2.
Courtyard Livermore
2929 Constitution Drive, Livermore, CA 94551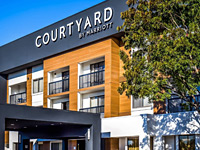 The 121 room/suite Courtyard by Marriott Livermore offers quiet, comfortable, three star lodging in an attractive building close to the edge of the countryside about 5 miles from the town center; there is not much nearby apart from a few other hotels, the local airport and a golf course, though I-580 puts all sites in the Dublin-Pleasanton-Livermore area within easy reach. The all-suite/extended stay hotel has a cafe serving breakfast only, a lounge/bar, a fitness center, indoor pool, hot tub and two meeting rooms.

3.
Residence Inn Livermore
5200 Wolf House Drive, Livermore, CA 94551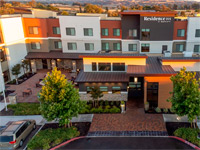 The second Marriott hotel in Livermore opened in 2020, part of the Republic Square development, on the east side of San Francisco Premium Outlets. The Residence Inn has three floors and 112 suites, in studio, one bedroom and two bedroom layouts; all include a full kitchen. Weekday evening receptions and daily hot breakfast are complimentary. All the usual recreation, business and meeting facilities are available. Access is from the El Charro Road exit of I-580, five miles east of the I-680 intersection.

4.
Homewood Suites by Hilton Livermore
5400 Wolf House Drive, Livermore, CA 94551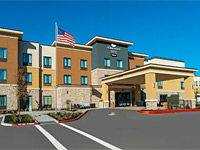 The all-suite/extended stay accommodations at Homewood Suites by Hilton Livermore are available in two bedroom, one bedroom and studio floorplans - all have a full kitchen and a sofa bed. The hotel opened late 2020, situated on the south side of I-580, in between San Francisco Premium Outlets Mall and Las Positas Golf Course, and near several parks including Doolan Canyon, Las Trampas and Pleasanton Ridge. Wi-fi, daily hot buffet breakfast and weekday evening socials are complimentary. The hotel has an indoor pool and a fitness center.

5.
Hilton Garden Inn Livermore
2801 Constitution Drive, Livermore, CA 94550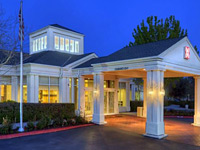 The Hilton Garden Inn is part of a business park on the north side of I-580 near the Airway Boulevard exit, close to the edge of the countryside and within a short drive of many wineries, in the rolling hills to the north. Besides the freeway, travel to area attractions is also facilitated by the BART system - the nearest station is Dublin/Pleasanton, 5 miles west. The hotel has a restaurant on the premises, open for breakfast, lunch and dinner, and providing room service in the evenings. Drinks and snacks can be purchased from a 24 hour convenience store, including meals cookable using the microwaves which, along with refrigerators, are installed in all guest rooms. Also available are indoor & outdoor function space, an indoor pool, and a full business center.
6.
Hampton Inn Livermore
2850 Constitution Drive, Livermore, CA 94550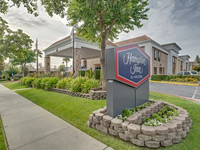 On the west side of Livermore, the Hampton Inn occupies quite an old building, of two floors and 79 guest rooms, which have views of the surrounding, tree-lined parking lot and outdoor pool. Some overlook the exit lanes of I-580 which run past on the west side; the hotel sits beside the Airway Boulevard intersection of the freeway, just across from Livermore Municipal Airport and Las Positas Golf Course. There are various restaurants within walking distance, to the south, though free hot breakfast is available at the hotel, plus other amenities of a fitness center, business center and meeting space for up to 50 people.

7.
Hawthorn Suites by Wyndham Livermore Wine Country
1799 North Livermore Avenue, Livermore, CA 94551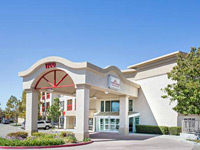 I-580 runs right past Hawthorn Suites Livermore, providing quick travel to places east and west, including adjacent the cities of Dublin and Pleasanton. North-facing rooms overlook open countryside and a small stream, though the property borders a commercial/business district that contains such stores as Home Depot, Kohl's and Wal-Mart, plus around ten restaurants. All accommodations are oversized studio suites, equipped with a kitchenette. Free hot breakfast is served each morning, and free light dinner in the evening, Monday to Thursday. The hotel has a business center and meeting facilities for up to 40 people, together with the usual three leisure amenities of a pool, hot tub and fitness center.

8.
Holiday Inn Express Hotel & Suites Livermore
3000 Constitution Drive, Livermore, CA 94550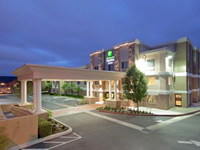 The Holiday Inn Express in Livermore, CA, is part of a small group of hotels just northeast of the Airway Boulevard exit of I-580 - close to Las Positas College, Livermore Municipal Airport, Las Positas Golf Course and several local business parks though still with a generally rural location at the edge of the Black Hills. The hotel offers 92 clean, modern rooms and suites on three floors, plus amenities of an outdoor pool, bbq grills, fitness center, whirlpool and free breakfast buffet.

9.
SenS Suites Livermore SureStay Collection by Best Western
1000 Airway Blvd, Livermore, CA 94551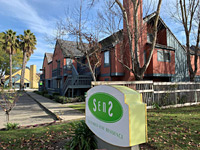 The Best Western hotel in Livermore provides long stay or extra space accommodation in 96 modern suites, each with separate sections for sleeping, relaxing, working and cooking - the latter in a full kitchen complete with stove, microwave, dishwasher and refrigerator. The rooms are split into several adjacent blocks, in a quiet, tree-lined site on the north side of I-580 along Airway Boulevard, half a mile from Livermore Municipal Airport. Both free full breakfast and free weekday evening receptions are provided; the other main facilities are a fitness room, heated outdoor pool and whirlpool.

10.
Best Western Plus Vineyard Inn
7600 Southfront Road, Livermore, CA 94551-8227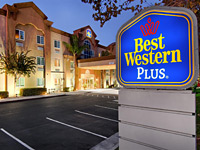 Best Western Vineyard Inn is the most northeasterly hotel in Livermore, located along Southfront Road, next to exit 58 of I-580 and overlooking the grassy hills that rise to the east. Also adjacent is the Vineyard Business Center, with Lawrence Livermore National Laboratory 2.5 miles south. This is a new, clean and modern hotel of 66 rooms, serving free full breakfast and offering amenities of an outdoor heated pool, exercise room and 24 hour business center.

11.
Fairfield Inn & Suites Livermore
220 N Greenville Road, Livermore, CA 94551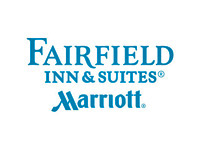 Open fall 2023, the Fairfield Inn is the third Marriott property in Livermore, and like nearly all other hotels it is located along the I-580 corridor - at exit 57, right on the east edge of town, close to Brushy Park Regional Preserve. The immediate neighborhood contains mostly business/industrial premises, but there are a few restaurants in the vicinity. Amenities are the usual free hot breakfast, business & fitness centers, meeting space and a pool (outdoor).

12.
Quality Inn & Suites Livermore
5959 Preston Avenue, Livermore, CA 94551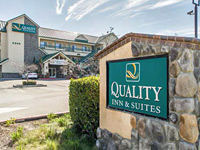 Like most hotels in Livermore, CA, the Quality Inn & Suites lies alongside I-580 on the north edge of town- next to exit 55 (Vasco Road), just over a mile from Lawrence Livermore National Laboratory. Although the surroundings are mostly industrial there is plenty of unspoilt countryside nearby, including over 20 local wineries in Livermore Valley, and rolling hills to the north and south. The hotel provides free continental breakfast and is adjacent to two restaurants; other services are a hot tub, exercise room and business center.

13.
Rodeway Inn Livermore
933 Bluebell Drive, Livermore, CA 94551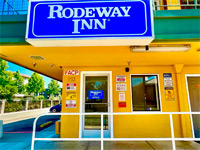 Rodeway Inn Livermore is situated at the First Street exit of I-580 (north side), near several restaurants; at the edge of a residential neighborhood, close to open countryside to the west. Guest rooms are contained within several linked, exterior corridor blocks, looking out either across the parking lot, or a line of trees to the rear. A business center and free wi-fi are the only amenities. Pets are welcome.
14.
Motel 6 Livermore
4673 Lassen Road, Livermore, CA 94550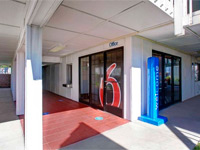 Motel 6 Livermore features modern, brightly decorated rooms with stylish furniture, though the building is relatively old; an exterior corridor, two floor property beside I-580 at the First Street exit. The complex includes a good sized parking lot and an outdoor pool, all well shielded by tall trees from the nearby roads. Other amenities are wi-fi, guest laundry and free morning coffee. Livermore National Laboratory is an easy 2 mile drive southeast. There are several restaurants on the far side of the freeway, at Plaza 580 Shopping Center.