1.
Marriott San Ramon
2600 Bishop Drive, San Ramon, CA 94583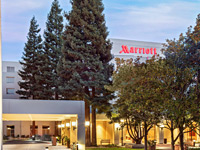 The larger of the two Marriott properties in San Ramon is a popular, well established hotel of 368 rooms & suites, a lobby bar, a seafood/steakhouse restaurant, and 16,500 sq ft of meeting/event space, catering for functions of up to 1,000 guests. The Marriott adjoins a business park (home to AT&T and Chevron) beside the Bollinger Canyon Rd exit of I-680, less than a mile from shopping and dining at the San Ramon Market Place Mall. The six floor building sits amidst extensive, tree-lined grounds, and its other amenities include a large outdoor pool, patio, fitness center, concierge level, gift shop and business center.

2.
Residence Inn San Ramon
1071 Market Place, San Ramon, CA 94583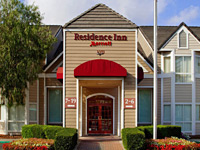 Residence Inn San Ramon is located along Market Place, at the edge of Bishop Ranch Business Park and also close to a good selection of shops & restaurants. Downtown San Francisco is a half hour journey by BART (the nearest station is a few miles south at Dublin/Pleasanton, within range of the hotel's complimentary 5 mile radius shuttle). The 106 suites are all modern, well maintained and cleaned daily by housekeeping; they have a full kitchen, extra sofa bed, and separate sleeping/living/working areas. Free full breakfast is provided each morning, and a free evening food & wine reception, Monday to Thursday.