1.
Marriott Napa Valley Hotel & Spa
3425 Solano Avenue, Napa, CA 94558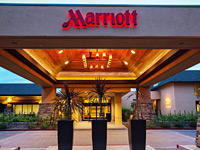 The Marriott is perhaps the most luxurious chain hotel in Napa, offering full service amenities combined with excellent customer service and a good location, in a quiet, mostly residential area on the north side of town alongside Highway 29 which leads through the middle of Napa Valley, passing many of its famous vineyards over the next 20 miles. The hotel's 270 rooms & suites are spread over several two story blocks arranged around a courtyard garden with outdoor pool. Other facilities include a restaurant/bar, cafe, business center, fitness center, hot tub and the Amadeus Spa & salon. The Marriott has particularly good facilities for meetings, with 12 separate rooms totaling over 20,000 square feet of event space.

2.
The Westin Verasa Napa
1314 McKinstry Street, Napa, CA 94559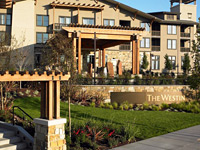 The resort-style Westin hotel benefits from a particularly scenic setting near the center of Napa, backing on to the tree-lined Napa River, directly opposite Oxbow Preserve, a peaceful city park. At the rear of the hotel is a secluded courtyard garden with pool, hot tub and plenty of comfortable seating, overlooking the river. Bank Cafe/Bar, open for breakfast, lunch & dinner, also has riverside views, while the signature restaurant, La Toque, serves French and Californian dishes in a stylish, modern setting. Accommodations range from single bed guest rooms to two bedroom suites. The historic Napa Valley Wine Train runs right past the front of the hotel, traveling northwards to St Helena, past many vineyards and wineries.

3.
Hotel Indigo Napa Valley
4195 Solano Avenue, Napa, CA 94558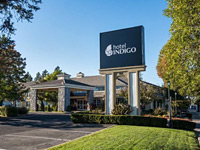 On the north side of Napa close to open countryside, Hotel Indigo Napa Valley (formerly the Ivy Hotel) provides elegant, stylish, boutique-style accommodation, with upscale facilities and attentive staff. On site amenities are headed by a restaurant/lounge, open for breakfast, dinner & room service; also available are an outdoor pool, whirlpool, fitness center, business center and convenience store. The 115 rooms have colorful, modern decor, and all contain a refrigerator and microwave. The hotel faces the western Hwy 29 frontage road 3 miles from downtown Napa and 2 miles from the edge of the wine country.

4.
Embassy Suites Napa Valley
1075 California Boulevard, Napa, CA 94559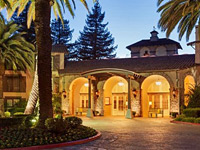 The Embassy Suites faces the central freeway exit for Napa, the intersection of Hwy 29 with First Street, in a mostly residential neighborhood but adjoining the wooded corridor of Napa Creek. In contrast to the tall buildings of most hotels of this brand, the property has a low rise, resort-style layout, the rooms in three floor blocks around a large courtyard garden, and all is well shielded from the surroundings by mature trees. A group of tall palms stands guard at the entrance, which leads to an elegant fireplace lobby, the far side of which opens out to a pond with fountains and waterfalls, complete with resident black swans. Both hot breakfast and evening receptions are complimentary, while other meals are served at the Grille 29 restaurant/lounge. Guests are accommodated in two-room suites, all featuring a microwave, refrigerator and wet bar.

5.
Hotel Napa Valley, an Ascend Hotel Collection Member
1556 Polk Street, Napa, CA 94559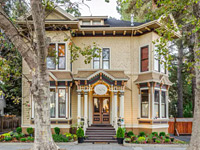 Hotel Napa Valley is a small, boutique establishment with 21 guest rooms, situated along a quiet street in a residential area though still close to the city center - off Jefferson Street, half a mile from the Napa River. Accommodations are equipped with coffee maker, microwave and refrigerator, while complimentary amenities are wi-fi, hot breakfast, all-day coffee and evening receptions; there are no other facilities apart from a small business center.

6.
Hilton Garden Inn Napa
3585 Solano Avenue, Napa, CA 94558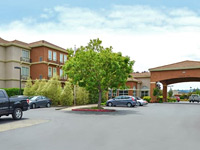 The onsite restaurant at Hilton Garden Inn Napa provides breakfast, dinner and evening room service, while a wine bar offers drinks between 5 and 9 pm. Snacks may be purchased from a 24 hour convenience store, including cookable meals, heated using the microwaves in each guest room. Accommodations also feature a refrigerator, coffee maker, large work desk and free wi-fi. Leisure amenities are an outdoor pool, hot tub and fitness center, this also open 24 hours. Guests here to work can use a business center and meeting space for up to 100 people. The hotel faces the western Hwy 29 frontage road on the north side of Napa, bordered to the west by the playing fields from the local middle school.
7.
Hampton Inn & Suites Napa
945 Hartle Court, Napa, CA 94559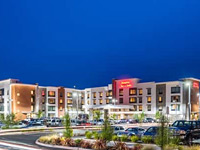 Although just 1.5 miles from the city center, the Hampton Inn enjoys a quiet, semi-rural setting on the east bank of the Napa River, right next to the Napa Valley Vine Trail. Also in the vicinity are a cinema, restaurants and several large stores such as Target and Home Depot. Accommodations include a selection of studio suites featuring a sofa bed, microwave and refrigerator. Free hot breakfast is provided daily, also available in a take-out version. 3,000 sq ft of meeting space can cater for events of up to 200 people. The hotel has an outdoor pool at the rear, beside a patio with fire pits. Snacks, drinks and sundries can be purchased from a 24 hour convenience store.

8.
SpringHill Suites Napa Valley
101 Gateway Road East, Napa, CA 94558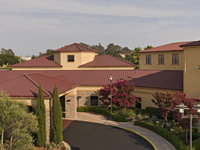 Marriott's most affordable all-suite brand is represented by a property on the south side of Napa - in a quiet location next to a business park just off the Napa Vallejo Highway, 7 miles from the town center. SpringHill Suites Napa Valley has 100 modern, spacious studio suites, all equipped with a panty area (microwave, refrigerator, coffee maker), large work desk, free internet access, pull-out sofa and of course the extra comfortable Marriott bedding. Free buffet breakfast is prepared each morning; for other meals there is a small selection of restaurants nearby though most are several miles north. Outdoor amenities are a pool, hot tub, patio and fire pits, while indoors the SpringHill Suites has a fitness center, 24 hour market, business center and over 6,000 square feet of meeting/event space.

9.
Cambria Hotel Napa Valley
320 Soscol Avenue, Napa, CA 94559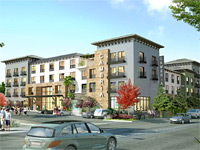 Cambria Hotel Napa Valley, a luxurious, boutique, full service property of 90 well-appointed guest rooms, opened spring 2021, offering a restaurant/lounge, fitness center, outdoor pool with terrace bar, and a range of function rooms. The hotel serves local cuisine, accompanied by a wide range of wines from the surrounding vineyards. The Cambria occupies a spacious site right beside a tributary of the Napa River, along Soscol Avenue (Hwy 221), which is lined in both directions by many shops and restaurants. The historic downtown district is one mile north.

10.
Hawthorn Suites by Wyndham Napa Valley
314 Soscol Avenue, Napa, CA 94559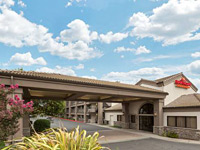 The Hawthorn Inn has a southerly location in Napa, along Hwy 121, though the long, narrow, exterior corridor building is angled away from the main road, and the north-facing rooms overlook a small, wooded stream. To the south is a shopping center with around a dozen restaurants and such stores as Office Depot, Target, Home Depot and Raley's supermarket. The hotel has an indoor pool, fitness center & hot tub, and it provides free wi-fi and free hot buffet breakfast. All accommodations contain a wet bar, refrigerator and microwave.

11.
Best Western Plus Inn at the Vines
100 Soscol Avenue, Napa, CA 94559-4010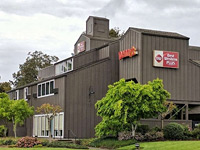 Best Western Inn at the Vines is a 68 room hotel on the south side of Napa along Soscol Avenue (Highway 121), close to John F Kennedy Memorial Park and Napa Valley College, and it offers relatively cheap lodging in this rather expensive town. Facilities are still quite good, with an outdoor pool & spa, and free full breakfast served each morning (at the adjacent Denny's restaurant). The rooms are clean, newly re-furnished and equipped with microwave & refrigerator.
12.
Motel 6 Napa
3380 Solano Avenue, Napa, CA 94558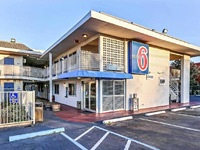 At the Redwood Road exit of Hwy 29, just across from Northwood Shopping Center, the Motel 6 provides affordable, reliable lodging in an old-style building of 60 rooms, two floors and exterior corridors, enclosed by a spacious parking lot and adjacent to various business including three restaurants. The city center is 2.5 miles southeast, while Napa Valley extends 25 miles north, towards Calistoga. Guest amenities at the Motel 6 are free wi-fi, free morning coffee and an outdoor pool.