1.
Courtyard Vallejo Napa Valley
1000 Fairgrounds Drive, Vallejo, CA 94589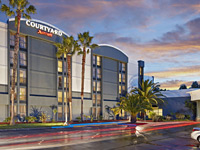 Vallejo's Courtyard by Marriott is the closest hotel to Six Flags Discovery Kingdom, located directly opposite the entrance along Fairgrounds Drive, and is also within walking distance of several restaurants, shops, a golf course and Dan Foley Park beside Lake Chabot. A little further afield, Napa Valley starts ten miles north, and the nearby interstate 80 provides quick travel to San Francisco (30 miles south). The hotel has a cafe serving breakfast (not free) and dinner, plus a full service lounge/bar; for leisure guests can take advantage of a fitness center, hot tub and outdoor pool - situated at the rear of the hotel, away from the road.
2.
Hampton Inn Discovery Kingdom Napa Gateway
1596 Fairgrounds Drive, Vallejo, CA 94589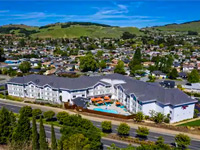 The most popular attraction near the Hampton Inn hotel in Vallejo, CA, is the Six Flags Discovery Kingdom, entrance to which is just half a mile south along Fairgrounds Drive, on the far side of Highway 37. The immediate neighborhood is mostly residential, though a short drive east on the freeway reaches a group of restaurants and large stores, around the junction with I-80. The hotel has 117 spacious rooms & suites, most containing a refrigerator and microwave; those facing east, away from the main road, are rather quieter. At the front of the hotel is a small outdoor pool and hot tub, with sundeck and cabanas; other facilities include free hot breakfast and a business center. The property opened early 2019, after renovation of an existing building.

3.
Surestay Hotel By Best Western Vallejo Napa Valley
300 Fairgrounds Drive, Vallejo, CA 94589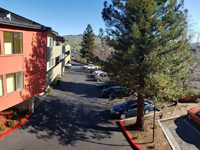 A line of trees shields the Surestay Hotel By Best Western from I-80, which runs past to the rear, while rooms at the front look out across a quiet, residential neighborhood. The hotel is accessed from the Redwood Street exit of the freeway; on the far side are a supermarket and several restaurants, while the main shopping area in town, Gateway Plaza, is one mile north. Continental breakfast and wi-fi are complimentary. Guest rooms are equipped with a microwave and refrigerator. A business center is the other main amenity.

4.
Quality Inn near Six Flags Discovery Kingdom-Napa Valley
1185 Admiral Callaghan Lane, Vallejo, CA 94591
The Quality Inn hotel in Vallejo occupies a fairly new building with a quiet location, at the edge of the countryside on the northeast corner of town, though just one block from the junction of Highway 37 and I-80. The relatively cheap room rates include free hot breakfast, while the adjacent shopping center contains around 20 restaurants. Also close by - 1.7 miles by road - is Six Flags Discovery Kingdom beside Lake Chabot, plus the Solano County Fairgrounds and the nine-hole Joe Mortara Golf Course. For relaxation the hotel offers an outdoor pool, hot tub and exercise room.

5.
Econo Lodge Vallejo
458 Fairgrounds Drive, Vallejo, CA 94589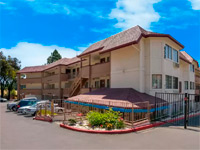 Econo Lodge Vallejo is contained within a tree-lined exterior corridor building of three floors, a little more elegant than most properties of this low priced chain, though still with the limited range of amenities: wi-fi, free morning coffee and guest laundry, plus a pleasant outdoor pool, out-of-sight of the access road. The motel sits close to the Fairground Drive exit of Interstate 80, 0.7 miles south of the entrance to Six Flags Discovery Kingdom. There is one restaurant adjacent.

6.
Super 8 by Wyndham Vallejo/Napa Valley
2070 Solano Avenue, Vallejo, CA 94590
The budget-priced accommodations at the interior corridor Super 8 Vallejo come with amenities of free continental breakfast, free internet access and basic business services. All rooms contain a microwave/refrigerator, and most feature a balcony, giving views either of the access road (Solano Avenue) and a residential district to the north, or of a group of shops & restaurants to the south. I-80 runs right past to one side, leading to Six Flags Discovery Kingdom 3 miles north.
7.
Motel 6 Vallejo - Six Flags West
1455 Enterprise Street, Vallejo, CA 94589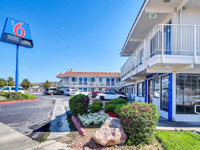 Motel 6 Vallejo Six Flags West overlooks the busy junction of highways 29 and 37 on the west side of the city, within sight of grassy hills to the north and mud flats at the edge of San Francisco Bay to the west. The place is fairly small, with 54 spacious but simply-furnished rooms, and it provides free morning coffee. All-day dining is available from Denny's restaurant, right next door. The main visitor attraction in the area, Six Flags, is 4 miles away by road.