1.
Courtyard Fairfield Napa Valley Area
1350 Holiday Lane, Fairfield, CA 94534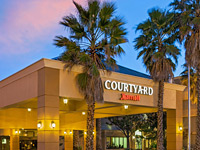 One of comparatively few Fairfield area hotels actually in town rather than a few miles west in Cordelia Junction, the Courtyard is a typically clean, well maintained establishment containing 137 recently upgraded rooms, a restaurant (serving breakfast only), fitness center, hot tub and outdoor pool. The main shopping mall in Fairfield (Westfield Solano) is 0.7 miles east, on the far side of I-80 which runs right past the Courtyard and is used in part to reach Napa Valley, starting 18 miles west. Access to the hotel from the interstate is via exit 44, Travis Boulevard. There are several other restaurants nearby, in and around Woodcreek Plaza Shopping Center.

2.
Residence Inn Fairfield Napa
4860 Business Center Drive, Fairfield, CA 94534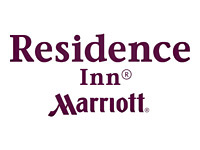 The Residence Inn by Marriott is a summer 2023 addition to the group of hotels in southwest Fairfield, near the I-680/I-80 intersection - on the north side, adjoining a wooded creek, a quiet location set back a little from the freeway. Shopping and dining are within walking distance. The all-suite hotel offers comfortable accommodations in three floorplans, studio, one bedroom and two bedroom; all include a fully-equipped kitchen, and separate living area. Daily hot breakfast and weekday evening receptions are complimentary. Food for cooking can be ordered via the grocery delivery service.

3.
Staybridge Suites Fairfield Napa Valley Area
4775 Business Center Drive, Fairfield, CA 94534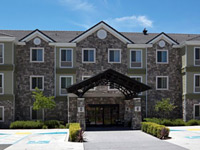 Staybridge Suites Fairfield Napa Valley Area is an elegant, three floor property providing long stay accommodation in 82 modern suites, each containing a full kitchen plus dishwasher, a work desk with free internet access, and a large TV with DVD player. The hotel lies alongside I-80 (exit 41), 6 miles west of the center of Fairfield at Cordelia Junction and 15 miles from the south end of Napa Valley - in a mostly rural setting though close to a few shops and the new residences at Green Valley Lake Park. The other main amenities are an indoor pool, whirlpool, recreation court, convenience store, fitness and business centers (both open 24 hours), free hot breakfast and free evening wine reception (Mon to Thu).

4.
Homewood Suites by Hilton Fairfield-Napa Valley Area
4755 Business Center Drive, Fairfield, CA 94534
The residential-style lodging at Homewood Suites by Hilton Fairfield is available in studio, one bed or two bed layouts, with all suites including separate living/sleeping areas and a fully equipped kitchen. Free breakfast buffet is provided each morning, plus a free evening reception, Monday through Thursday. Those here to work can take advantage of free wi-fi, a business center and meeting space, while leisure facilities are a fitness center, indoor pool/whirlpool and an outdoor sports court. The modern and well reviewed hotel has a quiet setting on the north side of the I-80/I-880 junction, mostly surrounded by fields.

5.
Hilton Garden Inn Fairfield
2200 Gateway Court, Fairfield, CA 94533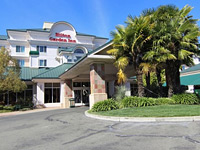 Guests arriving at Hilton Garden Inn Fairfield are greeted by a pretty garden at the front, with tree-lined outdoor pool, hot tub and sundeck. The spacious parking lot is at the rear, while inside are a good range of facilities including a convenience store, fitness center, 24 hour business center and 9,000 square feet of meeting/event space. Hot breakfast is complimentary, while other meals can be purchased from the Pacific Rim-style Ahi's Seafood & Chops restaurant, on the premises. A free reception is staged once a week, when wine and cheese are provided. The hotel sits right beside Gateway Plaza Mall near the center of Fairfield, at the Travis Boulevard exit of Interstate 80.

6.
Surestay Hotel by Best Western Fairfield Napa Valley
3331 N Texas Street, Fairfield, CA 94533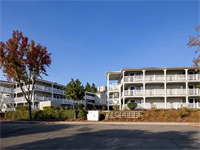 Guest rooms at the Best Western in Fairfield, CA are divided between two exterior corridor blocks, each of three storys, separated by an enclosed courtyard garden with outdoor pool and hot tub. All accommodations contain a microwave and a refrigerator. The pet friendly hotel adjoins Interstate 80 (east side), 3 miles due north of downtown Fairfield, close to the edge of the rolling countryside. Complimentary continental breakfast is prepared each morning. The parking lot is shared with one restaurant, and there are several more within walking distance

7.
Best Western Cordelia Inn
4373 Central Place, Fairfield, CA 94534-1604
One of several hotels in Cordelia Junction, beside exit 41 of I-80 (Suisun Valley Road/Pittman Road), Best Western Cordelia Inn is 18 miles from both Napa and Vallejo, and 5 miles from the center of Fairfield. The 60 rooms are large, clean, and have nice views of the hotel's outdoor pool area or over the partly wooded hills either side of the interstate. The two floor hotel serves free continental breakfast and is within 0.3 miles of several restaurants including Denny's.

8.
Fairfield Inn & Suites Fairfield Napa Valley Area
315 Pittman Road, Fairfield, CA 94534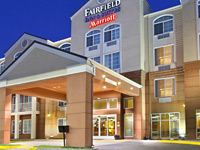 In Cordelia Junction near interstate 80, the Fairfield Inn - named of course after the brand rather than the location - offers mid price lodging in 68 modern, comfortable rooms with amenities of a 24 hour fitness center, guest laundry, business center, indoor pool and spa. The inn serves the expected free continental breakfast and is within easy walking distance of various restaurants - closest is Denny's. Access is from the Suisun Valley Road exit of interstate 80, 13 miles from Napa and the first of the many Napa Valley wineries.

9.
Comfort Inn Cordelia
4441 Central Place, Fairfield, CA 94534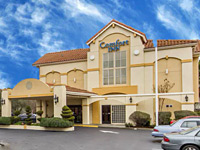 Like most hotels in Fairfield, CA, the Comfort Inn is 5 miles southwest of the town center in Cordelia, alongside interstate 80 close to the junction with I-680. Room rates are towards the cheaper end of the market but the facilities are still quite good, including an outdoor pool, exercise room, guest laundry and free hot continental breakfast. Several restaurants are within walking distance, though a much better selection can be found in Fairfield, starting 3 miles east.

10.
Quality Inn Fairfield Napa Valley Area
2170 N Texas Street, Fairfield, CA 94533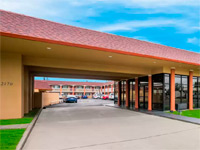 Quality Inn Fairfield has the traditional two floor, exterior corridor layout, the rooms arranged around the central parking lot, which also contains an outdoor pool, and adjoins a Korean restaurant. Interior facilities are a business center, guest laundry and a dining area for the free breakfast. Wi-fi is also complimentary. All accommodations feature a microwave, coffee maker, refrigerator, hairdryer and ironing equipment. The motel is located in north-central Fairfield along Texas Street, near the intersection with Air Base Parkway.

11.
Studio 6 Fairfield - Napa Valley
4376 Central Place, Fairfield, CA 94534
Studio 6 Fairfield occupies the same site as the Motel 6 - at the Pittman Road exit of Interstate 80 - the main difference being that the guest rooms feature a full kitchen and extra living space. All accommodations are modern in style, decorated in bright colors, and are contained within a three floor, exterior corridor building. General amenities, shared with the two properties, are free coffee, free wi-fi, coin-operated laundry and a seasonal outdoor pool.

12.
Travelodge by Wyndham Fairfield/Napa Valley
4625 Central Way, Fairfield, CA 94534
Although small, the 106 rooms and suites at Travelodge Fairfield are clean and comfortable, and the motel is a good choice for budget accommodation in the Napa Valley - Vallejo area. The inn has friendly staff, and facilities of free breakfast (continental), guest laundry, and some rooms with microwave/refrigerator. The surroundings are mostly farmland, though with a small selection of shops, restaurants and other hotels nearby, around the village of Cordelia - 5 miles from Fairfield, next to the I-80/I-680 junction.

13.
Econo Lodge Fairfield
1349 West Texas Street, Fairfield, CA 94533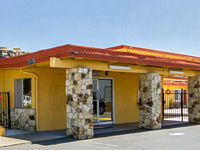 The pet friendly Econo Lodge has a south central location in Fairfield along Texas Street, within walking distance of many restaurants and small shops, and a sports park two blocks west. Fairfield Civic Center is half a mile away, while the main shopping center in town (Gateway Plaza) is one mile north. The motel is small, with just 36 rooms (all containing microwave, refrigerator and work desk), on two floors of the exterior corridor building. The usual free wi-fi and free continental breakfast are provided.
14.
Motel 6 Fairfield - Napa Valley
4376 Central Place, Fairfield, CA 94534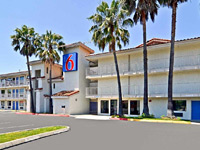 Motel 6 Fairfield enjoys a semi-rural location in Cordelia Junction, facing I-80 at the Pittman Road exit; 5 miles west of the city center and 13 miles south of Napa. Guests are a short walk from Scandia Family Fun Center, where attractions include miniature golf, arcades, baseball machines and a raceway. In the other direction, there are many restaurants close by. Guest rooms at the Motel 6 feature modern decor and free wi-fi; some have long stay facilities. Also available are a business center, outdoor pool and coin-operated laundry.
15.
Motel 6 Fairfield North
1473 Holiday Lane, Fairfield, CA 94533
There are two restaurants (Denny's, Burger King) adjacent to Motel 6 Fairfield North, which is situated along a quiet side road just off Travis Boulevard, close to the I-80 intersection; nearby are many other dining outlets, and shops including Raley's supermarket. North facing rooms have nice views over a field towards grassy hills, while those on the south side overlook an outdoor pool, shielded from the access road by a line of mature trees. The exterior corridor, pet friendly motel provides wi-fi and free morning coffee.