Please refer to the
disclosure notice
for information about the affiliate (commissionable) links on this page.
Map of Hotels in Suisun City, CA
1.
Hampton Inn & Suites Suisun City Waterfront
2 Harbor Center, Suisun City, CA 94585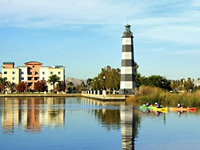 Open 2009, the handsome new Hampton Inn & Suites in Suisun City has a quiet and scenic location in a residential area 200 feet from the waterfront and so convenient for the pleasant footpaths that lead southwards alongside the canal banks. There are also plenty of restaurants nearby, though good quality free breakfast (including a few hot items) is served at the hotel. Rooms are clean and well decorated, the staff are very helpful, and the hotel has a wide range of amenities such as a spacious lobby, a convenience store, fitness center, outdoor pool, hot tub, business center and meetings space. Highway 12 runs past just north, connecting with I-80 three miles west.