1.
Sheraton Sonoma County - Petaluma
745 Baywood Drive, Petaluma, CA 94954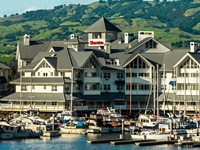 Sheraton Sonoma County has a spectacular location overlooking Petaluma Marina, near the US 101/Hwy 116 intersection on the southeast edge of town, 6 miles from Petaluma Village Premium Outlets. There are hundreds of wineries within a couple of hour's drive. Tolay Restaurant, on the premises, is open all day, accompanied by an extensive wine list. At the rear of the hotel, directly on the waterfront, is a secluded courtyard with outdoor pool, hot tub and patio; the hotel also has a 24 hour fitness center and 16,000 square feet of function space, largest single capacity 800.

2.
Hotel Petaluma, Tapestry Collection by Hilton
205 Kentucky Street, Petaluma, CA 94952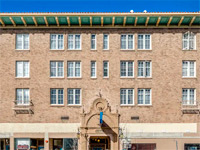 Hotel Petaluma is one of the relatively few hotels in the city center, located along busy Washington Street just two blocks from the Petaluma River, within walking distance of numerous restaurants, bars, shops and other attractions, including Phoenix Theatre and a 14 screen cinema. The guest rooms are divided between two linked, three and four floor buildings, and have views over the partly residential neighborhood. The pet friendly hotel has an onsite restaurant/bar, plus meeting space and a business center. Wi-fi is complimentary.

3.
Courtyard Petaluma Sonoma County
700 Caulfield Lane, Petaluma, CA 94952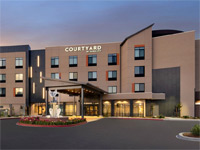 The Courtyard by Marriott is part of the Riverfront development, on the west side of US 101 just north of the Petaluma River; a 122 room/suite hotel offering all the usual amenities including an outdoor pool/hot tub, fitness & business centers and meeting space, plus an onsite restaurant, the Bistro, open for breakfast, lunch & dinner. There are several other dining outlets within walking distance, to the north, while the varied attractions of downtown Petaluma are one mile west.
4.
Hampton Inn Petaluma
450 Jefferson Street, Petaluma, CA 94952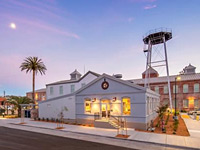 The 75 room Hampton Inn Petaluma opened summer 2018 after conversion of the historic Petaluma Silk Mill (built 1892), which in recent times had been involved in production of parachutes and fishing line. The building sits along Lakeville Street near the city center, within sight of the Petauma River, and just down the street from the local SMART rail station. Free hot breakfast is served each morning, and a small selection of nearby restaurants provide other meals. Guest rooms are equipped with a coffee maker, work desk, refrigerator and (by request) a microwave. The hotel has a fitness center though no pool.

5.
Home2 Suites by Hilton Petaluma
1205 Redwood Way, Petaluma, CA 94954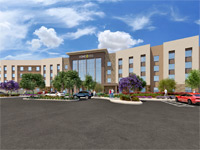 Newly constructed in 2022, Home2 Suites by Hilton Petaluma has a prominent location along one of the main approaches to the city, Petauma Boulevard, off US 101, backing on to a small lake and within a short walk of numerous shops, brewpubs and restaurants, and the popular Synergy Health Club. All 140 accommodations are suites, studio and one bedroom, and all have a full kitchen. Hot breakfast is complimentary, while recreation amenities are a fitness center and an outdoor swimming pool. Also available are a business center and a 520 square foot meeting room.

6.
Best Western Petaluma Inn
200 S McDowell Blvd, Petaluma, CA 94954-3506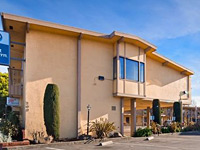 The Best Western hotel in Petaluma, CA, lies one block away from Highway 101, 1.5 miles from the town center, in a largely residential area though next to several large stores including Safeway, together with a good selection of fast food restaurants. Petaluma is centrally located between the redwood forests, Point Reyes National Seashore and the Sonoma County wineries, and the Best Western is a relatively inexpensive place to stay when visiting this varied area. The inn has a motel-style design with 73 rooms on 2 floors, plus amenities of free continental breakfast, heated outdoor pool, sun deck and guest laundry.

7.
Quality Inn Petaluma
5100 Montero Way, Petaluma, CA 94954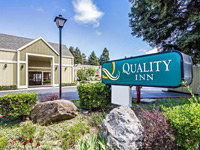 On the north edge of town near the start of open, hilly countryside, Quality Inn Petaluma occupies a spacious site with several detached blocks arranged around the parking area, lined by mature trees and with an outdoor pool at one end. The hotel is part of a small development with restaurants, shops and other businesses, along the Old Redwood Highway near its junction with US 101. Petaluma Village Premium Outlets Mall is 2 miles south with the town center 2 miles further. There are 110 rooms in total, all well maintained and equipped with a refrigerator; some contain a microwave and whirlpool bath. The other main amenities are free continental breakfast, a gift shop, exercise room and hot tub.
8.
Motel 6 Petaluma
1368 N McDowell Blvd, Petaluma, CA 94954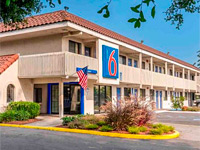 Motel 6 Petaluma has the familiar two floor, exterior corridor layout, its rooms overlooking the central parking area and outdoor pool. Rates are low and the location easily reached, just off US 101 along McDowell Boulevard, a street lined by various restaurants and other businesses including Lagunitas Brewing Company, which offers free tours each day. The motel provides free coffee, free local calls, and a coin-operated laundry.