1.
AC Hotel Santa Rosa West
300 Davis Street, Santa Rosa, CA 95401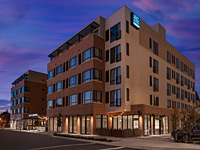 New for 2020, the AC Hotel in Santa Rosa occupies a small block between 5th, 4th and Davis Streets, and US 101 - in the downtown area, just across the freeway from Santa Rosa Plaza, and a short walk from Railroad Square. With five floors and 142 rooms this is a substantial property, offering full service amenities, and a modern, European-influenced design. Besides the restaurant/bar on the premises, there is a wide range of dining outlets in the vicinity. The hotel also has the usual facilities for meetings, events and recreation.

2.
Courtyard Santa Rosa
175 Railroad Street, Santa Rosa, CA 95401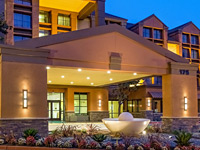 Santa Rosa's Courtyard by Marriott hotel has a central location alongside US 101 just north of the junction with Highway 12, and two blocks from the main shopping center in town, the Santa Rosa Plaza. The Courtyard is a modern, five floor, 138 room/suite building surrounded by plenty of parking space, with a restaurant on site (open for breakfast only), and many more close by; most are a little way north around Wilson Street (Railroad Square). For relaxation, guests can choose from an outdoor pool, whirlpool and fitness center.

3.
Hilton Garden Inn Sonoma County Airport
417 Aviation Blvd, Santa Rosa, CA 95403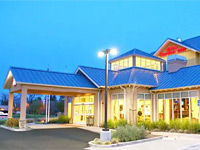 Seven miles north of downtown Santa Rosa and nine miles south of Healdsburg, the Hilton Garden Inn is well placed for explorations of the surrounding Sonoma County wine district, and is also just 30 miles from the Pacific coastline, the nearest oceanfront preserve being
Sonoma Coast State Park
. The hotel has a rural setting, backing on to a patch of woodland and an artificial lake, and separated by a field from US 101 which runs past 600 feet to the east. A free shuttle is operated to Sonoma County Airport, 1.5 miles west. Breakfast, lunch, dinner and evening room service are available from the Great American Grill restaurant, while drinks & snacks can be purchased from the 24 hour convenience store. Other facilities include a lounge/bar, indoor pool, fitness center and meeting space.

4.
Best Western Wine Country Inn & Suites
870 Hopper Avenue, Santa Rosa, CA 95403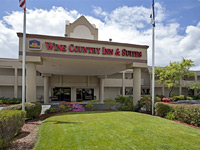 An outdoor heated pool, gardens, fitness center and whirlpool are the main leisure amenities of Santa Rosa's Best Western Wine Country hotel, located on the north side of town alongside US 101 (close to the Mendocino Avenue exit), and at the edge of the famous Sonoma County vineyards - 30 major wineries are found within a 10 mile drive. Free breakfast is served and for other meals there are several restaurants in the neighborhood, closest being Hunter Steakhouse just next door. The inn has 86 nicely decorated rooms on 2 floors, with exterior corridors; all contain a refrigerator and microwave.

5.
Best Western Plus Garden Inn
1500 Santa Rosa Avenue, Santa Rosa, CA 95404-5428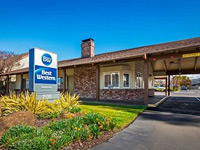 Best Western Garden Inn is a few blocks south of the center of Santa Rosa and the US 101 - CA 12 intersection, in a busy commercial district with many restaurants and several large stores. This is a small but clean and comfortable hotel, with some of the 78 rooms overlooking a tree-lined, landscaped garden and outdoor pool - a quiet, peaceful place, despite the proximity of the main road (Santa Rosa Avenue). Breakfast is available at the on-site Garden Cafe, open until 11 am.

6.
Quality Inn & Suites Santa Rosa
3000 Santa Rosa Avenue, Santa Rosa, CA 95407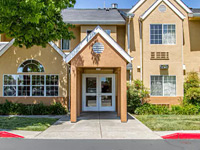 The Quality Inn & Suites is a south Santa Rosa hotel, newly opened, and located along Santa Rosa Avenue, one block east of highway 101 in a partly residential district but close to the edge of the Sonoma Mountains. The 68 rooms are on two floors, with interior corridors; some have a microwave & refrigerator. Amenities include free continental breakfast, a small exercise room, and high speed internet access, though no swimming pool.

7.
Travelodge by Wyndham Santa Rosa
1815 Santa Rosa Avenue, Santa Rosa, CA 95407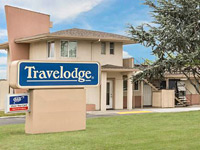 The 31 guest rooms at the pet friendly Travelodge Santa Rosa are all on the ground floor, extending around three sides of the small parking area, with views eastwards across the busy access road (Santa Rosa Avenue). Nearby are many restaurants and shops, plus several larger stores including Costco, Target and Best Buy. All rooms are equipped with a refrigerator and free wi-fi; some contain a microwave. The rear of the property conceals a tree-lined pool and sundeck, well away from the road. The motel has a south-central location in Santa Rosa, at the Baker Avenue exit of US 101.
8.
Motel 6 Santa Rosa South
2760 Cleveland Avenue, Santa Rosa, CA 95403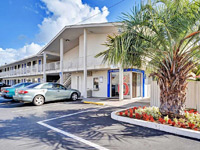 The building is fairy old, with exterior corridors, but the 100 guest rooms at Motel 6 Santa Rosa South are modern in appearance, colorfully decorated and stylishly furnished. The budget-priced property is part of a line of motels, restaurants and other businesses between US 101 and Cleveland Avenue, on the north side of the city, and is partly shielded by trees from the sometimes busy surroundings. An outdoor pool and coin-operated laundry are the main two amenities, together with wi-fi and free morning coffee.
9.
Motel 6 Santa Rosa North
3145 Cleveland Avenue, Santa Rosa, CA 95403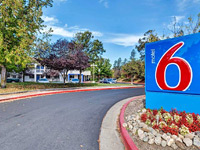 Guests at Motel 6 Santa Rosa can take advantage of a pleasant, tree-lined outdoor pool, positioned away from the access road (Cleveland Avenue); other amenities are wi-fi and free coffee. The motel adjoins a small shopping center with two restaurants, on the west side of US 101, 3 miles north of the city center. More dining outlets can be found in and around Coddington Mall, 0.8 miles away. The motel has the familiar two floor layout, the rooms entered via exterior corridors.