1.
InterContinental Los Angeles Downtown
900 Wilshire Boulevard, Los Angeles, CA 90017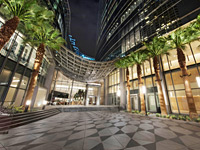 The newly constructed, five star InterContinental Los Angeles Downtown opens in 2017, occupying floors 28 to 68 of the 73 story Wilshire Grand Tower, set to be the tallest building in California, part of a $1 billion project that also includes retail and office space. The tower sits between Wilshire Blvd and 7th Street, adjacent to the 110 freeway, a few blocks from many famous city center locations. Features of the luxurious, 900 room/suite hotel include a 70th floor 'sky lobby', outdoor bar, observation deck, restaurant and rooftop pool.

2.
JW Marriott Hotel Los Angeles at LA LIVE
900 West Olympic Blvd, Los Angeles, CA 90015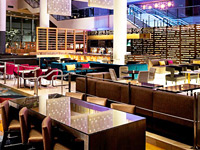 The luxury, five star, 21 story JW Marriott Los Angeles hotel is adjacent to the spectacular LA Live entertainment/sports complex that includes living space, movie theaters, restaurants, bars and events venues. The central location also puts guests within easy reach of many other downtown Los Angeles sites such as the LA Convention Center, Staples Arena and the Nokia Theater. Dining options are the lobby level gLAnce Wine Bar, a coffee house, two restaurants (Asian and Californian), a lounge/bar and a rooftop (fourth floor) pool bar, while the hotel also has a well equipped spa and 100,000 sq ft of event space, together with all the usual amenities for leisure, business and meetings.

3.
Hotel Indigo Los Angeles Downtown
889 Francisco Street, Los Angeles, CA 90015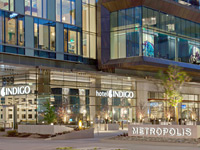 The 350 room, 18 story Hotel Indigo is one of the main components of the Metropolis project, also including retail and residential properties, occupying one block between Francisco Street and the 110 Freeway, on the west side of downtown Los Angeles. The luxury, boutique property sits between the Financial Center to the north and the entertainment venues of LA Live to the south, and is also within walking distance of many other city center locations; the hotel opened early 2017. The design and decor reflect the varied history of the city, referencing amongst other aspects the Hollywood nightlife scene and the speakeasies of the Prohibition era. The hotel has a wide range of facilities for leisure, meetings and dining.

4.
Hilton Checkers Los Angeles
535 South Grand Avenue, Los Angeles, CA 90071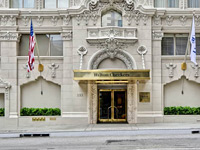 One of the most central of downtown Los Angeles hotels, Hilton Checkers occupies a historic 1920s building along Grand Avenue, at 13 stories (188 rooms) relatively small compared to some of its more modern neighbors, but providing luxurious accommodations with high quality customer service, and retaining the original style & decor. Locations within one block include Los Angeles Public Library, Maguire Gardens, Pershing Square and the Canadian Consulate, together with a fine selection of restaurants & bars. On-site dining is available at Checkers Downtown, open all day and also offering room service and private sittings for groups of up to 16. Other highlights are a rooftop patio, fitness room and a selection of meeting rooms.

5.
DoubleTree by Hilton Hotel Los Angeles Downtown
120 S Los Angeles Street, Los Angeles, CA 90012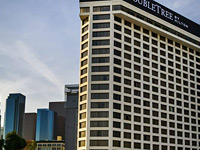 Formerly Kyoto Grand, the new, fully renovated DoubleTree Los Angeles opened late 2012, adding to the luxury hotel choices in the city center. The elegant building rises 21 stories at the junction of 2nd & Los Angeles streets, within a few blocks of such locations as Union Station, City Hall, LA Times, Civic Center, and an extensive selection of restaurants, bars, movie theaters and other entertainment. The new LA Live development is less than 2 miles west. The DoubleTree's restaurant is Azalea, which like the hotel itself has an Asian theme, open all day for breakfast, lunch, dinner & room service. Meetings and banquets are catered for by 9,000 sq ft of event space, including a spectacular rooftop garden. Other facilities are a free local area shuttle, a lobby lounge, a fitness center and a business center.

6.
Courtyard Los Angeles Downtown
901 W Olympic Blvd, Los Angeles, CA 90015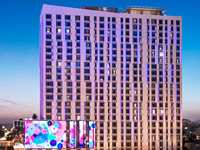 Open summer 2014, Courtyard Los Angeles Downtown is one of three new Marriott hotels in the city center, right opposite the JM Marriott and sharing a building with the Residence Inn. The 23 story tower is situated along Olympic Boulevard at the north edge of the LA Live development, one block from the Harbor Freeway and half a mile from the nearest Metro station (7th Street/Metro Center). Like all newly built hotels of this brand, the Courtyard features a brightly-decorated lobby with media boards, a restaurant open for breakfast & dinner, meetings space and business facilities, plus an indoor pool and fitness center.

7.
Residence Inn Los Angeles Downtown
901 W Olympic Blvd, Los Angeles, CA 90015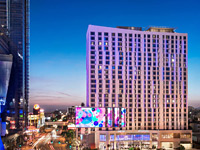 Residence Inn Los Angeles Downtown occupies the northern half of a newly constructed 23 story building on the north side of Olympic Boulevard, within walking distance of LA Live, the Staples Center, the Grammy Museum, the Convention Center and many other city center locations. The other half is the Courtyard hotel; both properties sit on top of a 1,000 sq ft pedestrian plaza, and opened summer 2014. There are 219 suites available at the Residence Inn (studio, one bedroom and two bedroom), all with a full kitchen. Hot breakfast and evening receptions are complimentary, while the other facilities are a restaurant, lounge, coffee bar, fitness center, third floor outdoor pool and a gift shop.

8.
Avenue Hotel, an Ascend Hotel Collection Member
321 North Vermont Avenue, Los Angeles, CA 90004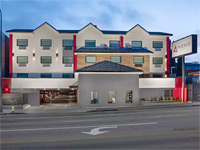 The stylish guest rooms, easily-reached location and helpful management team make the Avenue Hotel a good choice for affordable accommodation in west Los Angeles. The four floor property is located along Vermont Avenue, which leads to the famous
Griffith Observatory
4 miles due north, and is just one block from US 101, allowing quick travel to other area attractions in Hollywood, Burbank and downtown LA. The metro system provides an alternative to driving, and the nearest stop (Vermont/Beverly) is right next door. Amenities are free wi-fi and free continental breakfast.

9.
Holiday Inn Express LA West Downtown
611 S Westlake Avenue, Los Angeles, CA 90057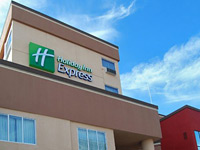 The new Holiday Inn Express in west central Los Angeles provides affordable, comfortable, reliable accommodation with all the necessary amenities, including free hot breakfast, free wi-fi, free local area shuttle, a fitness center, convenience store, business center and meeting space, though no pool. The 106 room/suite hotel occupies a compact site along a quiet back street one block from Wilshire Boulevard, a short walk from MacArthur Park and close to many restaurants & bars. Downtown Los Angeles begins one mile east, beyond the 110 Freeway.

10.
Best Western Plus LA Mid-Town Hotel
603 S New Hampshire Avenue, Los Angeles, CA 90005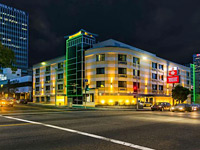 In the Koreatown/Wilshire district, 3 miles west of downtown Los Angeles, Best Western Plus LA Mid-Town offers visitors reliable and economically priced accommodation in a lively neighborhood close to many restaurants, bars and small shops. The Wilshire/Vermont stop of the purple & red metro lines is just across the street, allowing quick transport to other locations. Free full breakfast is served, and the other amenities of the three floor hotel are a fitness center, business center and complimentary wi-fi. Guest rooms contain a microwave and a refrigerator.

11.
Best Western Plus Dragon Gate Inn
818 N Hill Street, Los Angeles, CA 90012-2395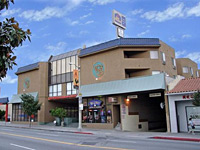 Reflecting its location in the center of Los Angeles Chinatown, the AAA Three Diamond-rated Best Western Dragon Gate Inn features Chinese decorations in all the 52 spacious guest rooms, a selection of Chinese shops on the ground floor, and of course numerous Chinese restaurants within a few blocks. Free continental breakfast is served at the on site cafe. The hotel is one of the closest to the LA Dodger Stadium (one mile), and is a similar distance from the financial district in downtown Los Angeles. The 101 and 110 freeways meet half a mile west, so other city attractions are easily reached.

12.
Comfort Inn Los Angeles
2717 West Sunset Blvd, Los Angeles, CA 90026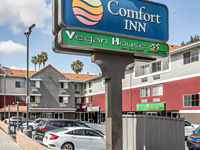 The smaller of two Comfort Inn properties close to the center of Los Angeles is situated near the eastern end of Sunset Boulevard, the famous road that crosses right across northwest LA, passing many popular locations including Hollywood, 4.7 miles from the hotel. The immediate neighborhood has less of interest, however - a mixture of restaurants, small shops and private residences; the city center is 3 miles south. The inn is reasonably priced and well maintained; its amenities are free continental breakfast, free gated parking, guest laundry, and a microwave/refrigerator in each of the 44 rooms.

13.
Ramada by Wyndham Los Angeles Downtown West
1901 W Olympic Blvd, Los Angeles, CA 90006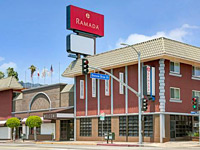 The recently upgraded and renovated Ramada LA Convention Center offers full service amenities at relatively low rates, befitting its location a little way removed from the city center, along Olympic Boulevard, though the Staples Center, LA Live and Los Angeles Convention Center are just one mile east. The hotel is quite large, containing 130 nicely-furnished rooms & suites (all equipped with refrigerator/microwave) in a three story building enclosing 3 hidden courtyards, one holding the outdoor pool. It also has a restaurant on site, and is close to many other Asian-style dining outlets in the nearby Chinatown, Little Tokyo and Koreatown districts. Also available are free internet access, free parking, a fitness center, business center, sun deck and 300 capacity meeting room.

14.
Ramada by Wyndham Los Angeles/Wilshire Center
3900 Wilshire Blvd, Los Angeles, CA 90010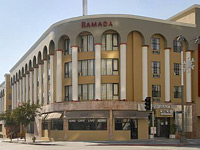 The Ramada is an affordable hotel along Wilshire Boulevard in the Koreatown district, 4 miles west of downtown Los Angeles and one block from the Wilshire/Western station of the LA Metro (purple line). There are numerous restaurants nearby and one on the premises (room service available), together with a lounge/bar. Complimentary amenities are wi-fi and underground parking, but there are few other facilities. All guest rooms contain a refrigerator, and a few have a sofa bed.

15.
Super 8 by Wyndham Los Angeles Downtown
1341 W Sunset Blvd, Los Angeles, CA 90026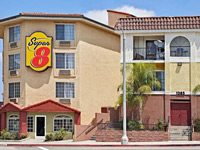 The surroundings are busy and urban, along Sunset Boulevard, but guests at Super 8 Los Angeles are a short walk from the extensive woodland and lawns of Elysian Park, and also just half a mile from the LA Dodger Stadium. Rooms are contained within a narrow, three story building with exterior corridors and a rather small parking lot on one side. Wi-fi, continental breakfast and parking are complimentary. All accommodations contain a microwave and refrigerator. A small number of restaurants are close by, mostly to the north along the main road. The edge of downtown Los Angeles is 1.5 miles south.

16.
Rodeway Inn Los Angeles Convention Center
1904 W Olympic Blvd, Los Angeles, CA 90006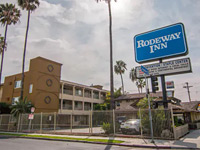 The Rodeway Inn on the south side of Olympic Boulevard, features affordable rates, clean & comfortable rooms, a reasonable amount of free parking, and a nice, sheltered outdoor pool. The neighborhood, at the edge of Koreatown, is considered generally safe. Los Angeles Convention Center and the new LA Live development are a mile east along the main road. Other facilities at the Rodeway Inn include free internet access, free continental breakfast, and a refrigerator/microwave in most of the 54 rooms.